Minutes from the recent and surprising rate decision are the highlight of this week's events. Here's an outlook for the Australian events, and and updated technical analysis for AUD/USD, that briefly touched parity in the past week.
AUD/USD  daily chart with support and resistance lines marked. Click to enlarge: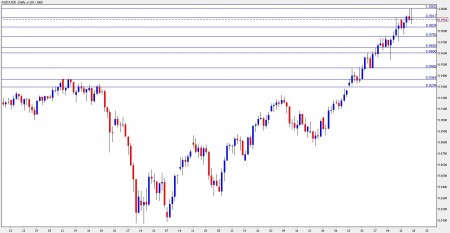 The Aussie moved one step closer to parity and briefly touched this point on Friday. Not only Australian fundamentals will move the Aussie this week – Chinese figures will also have an impact. Let's start:
New Motor Vehicle Sales: Monday, 00:30. Sales of cars and trucks serve as a good gauge for consumer spending in Australia. After a few months of decline, sales unexpectedly rose by 0.3% last month, showing that this sector has reawakened. Another small rise is expected now.
Monetary Policy Meeting Minutes: Tuesday, 00:30. There were high expectations for a rate hike last time, and the disappointment was painful though temporary for the Aussie. We'll now get to see if the pause came on internal worries, or more likely, as part of he currency war – an effort to keep the Aussie lower. We'll get hints on future releases.
MI Leading Index: Tuesday, 23:30. This index from the Melbourne Institute mixes 9 indicators into one. Most of these economic numbers have already been released, but this still has an impact on the Aussie. The indicator disappointed with a 0.1% drop two months ago, but quickly recovered with a rise of 0.4%. Another small rise is expected now.
Chinese GDP: Thursday, 2:00. China is Australia's main trade partner, and has "saved" Australia from entering a recession. China's steaming hot economy grew by an annual rate of 10.3% in Q2, and is now expected to "slow down" to a 9.5% growth rate. Note that a few more indicators are released from China, with CPI being the most notable except the GDP. Any GDP release will rock the Aussie.
Import Prices: Friday, 00:30. This quarterly release printed a big jump of 1.9%, much more than expected. Q3 will probably be a different story, with an unchanged number.
* All times are GMT
AUD/USD Technical Analysis
The Aussie ranged between last week's high of 0.9917 and the 0.9750 support line at the beginning of the week, before making a move higher. It briefly touched parity and finally closed at 0.9902, higher, about 50 pips higher than last week.
Looking down, 0.9850, which was the previous historic low in 2008, remains a minor line of support. Below, 0.98 was also a resistance line in 2008 and also works as a minor support line. More serious support appears at 0.9750, which did its job this week and also capped the pair on its way up.
Even lower, 0.9650 served as a support line during the Aussie's climbed higher. It's followed by 0.96, which worked as resistance just before that. The next line of support is 0.9465, which capped the pair for a few days in September, and immediately afterwards provided strong support.
The next lines below are 0.9366, which was a peak back in April, and 0.9327, which worked as fierce resistance several times during the past year. The Aussie jumped above this line on a weekend gap.
Above, the previous week's high of 0.9917 provides minor resistance, as the Aussie couldn't settle above this line. AUD/USD parity remains a very strong resistance line. A break above this line will send the pair to uncharted territory.
I remain bullish on the Aussie.
Almost all the Australian fundamentals point to more strength. We'll now get to see if more rate hikes are on the road ahead. With the delay of the American report on China, the Aussie has more room for gains in the near future.
Further reading:
Want to see what other traders are doing in real accounts? Check out Currensee. It's free..