AUD/USD erased gains and the support line after the news about the Korean clashes broke out. There are lots of economic indicators to rock the pair as well. Here's a quick update on technicals, fundamentals and community trends.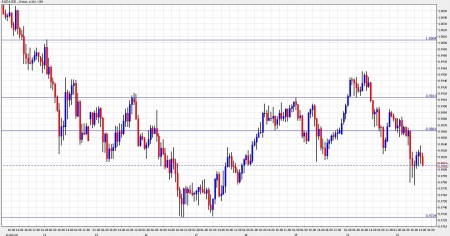 AUD to USD under 0.9863.
AUD/USD Technicals
Asian session:  Active session Aussie break down as low as 0.9775.
Current Range: 0.9725 to 0.9860
Further levels in both directions: Below  0.9725, 0.9660. Above 0.9863,  0.9915,  1.0000, 1.0080, 1.0180, 1.0220, 1.03.
Parity is a big technical hurdle.
Significant support is at 0.9660.
AUD/USD Fundamentals
13:30 US GDP. Exp. +2.3%.
15:00 US Existing Home Sales. Exp. 4.5 million.
19:00 US FOMC Meeting Minutes
23:00 Australian CB Leading Index.
00:30 (Wednesday) Australian Construction Work Done.  Exp. 2.3%.
AUD/USD Sentiment
North Korean attack on South Korea surprises the world and triggers risk aversive trading. The Aussie is sensitive to this news.
Irish crisis is far from over. This has a small impact on the Aussie.
Fears that Spain and Italy will also need bailout packages impacts the whole world, not only the Euro. European debt issues hurt the Aussie.
There's still a high chance of a rate hike from China. China's hike of the reserve ratio rate on Friday hurt the Aussie.
Currensee Community: 93% are short, 7% are long. 367 open positions in real accounts trading this pair at the moment. The community continues seeing more falls in AUD/USD.
Want to see what other traders are doing in real accounts? Check out Currensee. It's free..