After suffering from the floods in Queensland and mediocre employment data, the Aussie now faces important data at home and from China. Here's an outlook for the events down under, and an updated technical analysis for AUD/USD.
China, which already influenced the Australian dollar with a rate hike and a report on slower growth, will impact the Aussie again with GDP and inflation reports, simultaneously. Very interesting week indeed.
AUD/USD daily chart with support and resistance lines marked. Click to enlarge: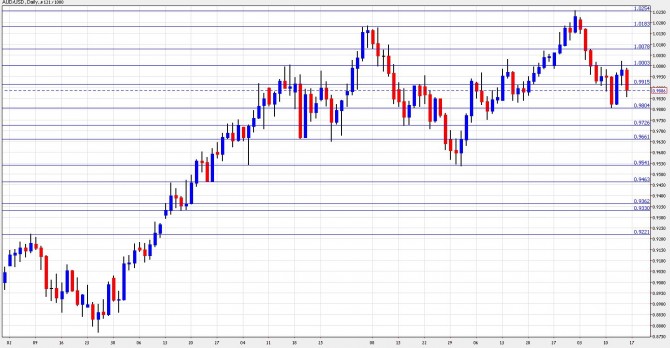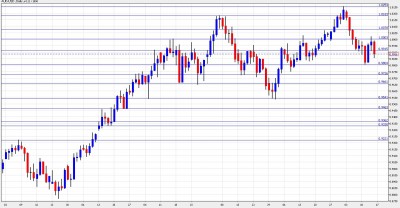 MI Inflation Gauge: Sunday, 23:30. As official inflation figures are released only once per quarter in Australia, this indicator by the Melbourne Institute fills the gap. After dropping to 0.1% two months ago, inflation picked up and reached 0.4% last month. A similar figure is expected now.
New Motor Vehicle Sales: Monday, 00:30. The volume of sales for this important product serves as a good indicator for the whole economy. A small rise of 0.2% was reported last month. A drop is expected now.
Westpac Consumer Sentiment: Tuesday, 23:30. 1200 consumers are surveyed for this  indicator. After a sharp drop of 5.3% two months ago, a small rise of 0.2% was reported last month. A bigger rise is predicted this time.
MI Inflation Expectations: Wednesday, 23:30. Completing their similar figure released earlier in the week, inflation expectations went in the opposite direction, dropping below 3% last month to 2.8%. A rise above 3% is now likely.
Chinese GDP: Thursday, 2:00. Australia's main trade partner releases two major indicators together. GDP for the fourth quarter of 2010 closes the year and provides also the 2010 figure as well. A growth rate of 9.4% is expected, a bit lower than 9.6% in the previous quarter and still very high. A higher growth is better for Australia.
Chinese CPI: Thursday, 2:00. Prices have become a worry in China, after inflation passed the 5% mark, and triggered a rate hike that hurt the Aussie. Chinese inflation is now predicted to ease to 4.7%. Note that the Chinese authorities raised the reserve ratio requirements in the past weekend. This happened quite frequently in recent months.
Import Prices: Friday, 00:30. This quarterly figure rose by 0.7% last time, and is now predicted to accelerate and print a 0.9% rise. A rise of above 1.5% might change the picture about a rate hike in Australia.
AUD/USD Technical Analysis
The Aussie continued the decline, falling as low as 0.98, a new line on the chart (didn't appear last week, before making an attempt to rise but failing to reconquer parity before closing at 0.9886.
The Aussie now faces immediate resistance at 0.915, a line which was a stop on the way up, and served as a pivotal line in recent months. Above, parity is the obvious line of resistance, that also worked well in the past week.
Above, 1.0080 was the bottom line of a high range that the Aussie enjoy in November. 1.0180 is the top border and is another line of resistance. The last line on the upside it 1.0250 – the multi-year high.
Looking down, 0.98 is the immediate line of support, which proved to be strong just now. It's followed by 0.9724, which was a tough support line in recent months.
0.9660 is the next line of support – it worked in both direction, and especially as support in October. 0.9540 was the bottom in November and also in September, and serves as important support.
Lower, 0.9460 was a stepping stone on the way. The next two lines are neighbors – 0.9366 and 0.9327 worked as resistance lines many times in the past. The last line on the downside is 0.9220, a peak seen many months ago.
I am neutral on AUD/USD.
The impact of the floods is worse than thought earlier. Together with the Chinese tightening moves, they serve as a balance to the strong Australian fundamentals.
Further reading: