The pound managed to hold to support in a busy week. The upcoming is no less busy, with inflation and employment figures being the highlights. Here's an outlook for the British events, and an updated technical analysis for GBP/USD.
It didn't happen in the past week. Yet again, the interest rate was left unchanged, in a rate decision that was closely watched for a changed. Central bankers will continue rocking the pound in the upcoming week, as many speeches are scheduled.
GBP/USD daily chart with support and resistance lines on it. Click to enlarge: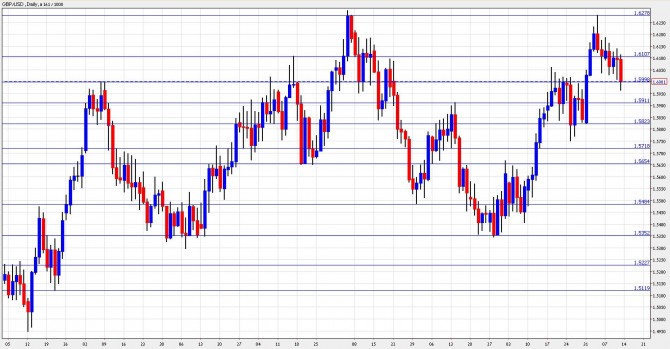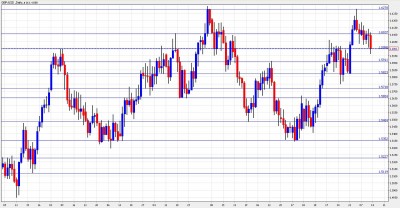 CPI: Tuesday, 9:30. British inflation, which is already above target for a long time, is expected to escalate and cross the 4% mark. After surprising and reaching an annual rate of 3.7% last month, a pace of 4.1% is predicted now. This will increase the pressure for a rate hike. Also Core CPI is expected to rise from 2.9% to 3%, and the RPI (Retail Price Index) is likely to rise to 4.8%.
BOE Inflation Letter: Tuesday, 10:00. The governor of the BoE, Mervyn King, is obliged to write a public letter to the Chancellor of the Exchequer, when inflation misses the 1-3% target. This letter is highly likely. King will explain he reasons for the rise and especially lay out the measures to tackle it. Will he implicate an upcoming rate hike?
CB Leading Index: Tuesday, 10:00. While most of the 7 components of this index have already been released, the publication still has an impact on the pound. After many months of rises, this indicator remained unchanged last month. It's now likely to drop.
Nationwide Consumer Confidence: Wednesday, 00:00. This survey of 1000 consumers is released rather early. After a positive surprise last month, we're expecting a fresh deterioration from 53 to 49, showing consumers' fears.
Employment data: Wednesday, 9:30. The employment situation in Britain is somewhat sensitive. The Claimant Count Change represents the change in the number of people claiming for unemployment benefits in the past month, January. It has fallen in the past three months in small numbers. A drop of 3.3K is expected after last month's drop of 4.1K. A rise will be worrying, while a drop of more than 10K will be great. The unemployment rate in December probably remained unchanged at 7.9%. Also note the Average Earnings Index which probably rose by 2%.
BOE Inflation Report: Wednesday, 10:30. One day after the fresh inflation figures are released, Mervyn King will present the inflation report. This isn't limited only to inflation and always consists of projections for the whole economy. King will present the report in a press conference and may release more hints about the upcoming monetary policy in the months to come. High volatility is due during the span of the press conference.
Andrew Sentance  talks: Thursday, 9:35. Sentance has been calling for a rate hike for a very long time. In his appearance at conference in London, he's expected to reiterate his stance for an immediate rate hike, and might imply on more. Also Martin Weale now supports a hike.
CBI Industrial Order Expectations: Thursday, 9:00. The survey of 550 manufacturers has shown a big drop in order volume expectations last month. The score plunged to -16. It's now expected to rise up to -9.
Retail Sales: Friday, 9:30. In the past two months, this important consumer indicator fell short of expectations. December's 0.8% fall is probably related to the bad weather in the UK, and a correction of 0.6% is likely for January.
Mervyn King talks: Friday, 15:20. BoE governor has a third opportunity to influence the pound this week, when he'll speak in a panel held in Paris. He'll have the chance to relate to more data.
Paul Tucker talks: Friday, 18:30. King's deputy at the BoE has been in line with his boss up to now. Speaking in Cambridge, Tucker might shed some light on his views about inflation. He hasn't made a public appearance in quite some time.
* All times are GMT
GBP/USD Technical Analysis
Cable was trading around the 1.6110 line throughout most of the week, and eventually fell below 1.60 (mentioned last week). The break isn't confirmed, as GBP/USD closed the week just at 1.6001, above the line.
Looking down, 1.60 is still support, but it might be broken easily, as we're just there. This round line was served as a peak back in August and dominated trading since then. Below, 1.5910 is minor support on the way down.
Lower, 1.5820 is the next support line, after serving as such before the recent surge.  IT's followed by 1.5720, which is already a stronger line, that worked in recent months.
Further below,  we already reach a stronghold at 1.5650. This was the top border of wide range that GBP/USD traded in the past few months.  It's followed by 1.5480, which is a minor line.
The next line is important – 1.5350. It was the bottom border or the wide range.  It hasn't been broken for a long time.  1.5230 capped the pair in the beginning of the summer, and is now has a different role.  It's followed by 1.5120, which already worked as support, and is a minor line now
Looking up, 1.6110 is only a minor line of resistance, after being shattered in the past week. Significant resistance is found at 1.6280, which capped the pair earlier in the year, and was only temporarily breached in November.
Higher, an old peak at 1.6450 is the next line, and it's followed by 1.67 which prevented further moves back in 2009
I am bearish on GBP/USD.
As the MPC avoided a rate hike, this takes out some of the hot air that sent the pound higher, at least in the upcoming week. With an improvement in US unemployment contrasting the situation in Britain, more falls are likely now.
Further reading: