After a busy week that saw a false breakout, cable traders await another tense one, with the rate decision being the highlight. Here's an outlook for the British events, and an updated technical analysis for GBP/USD.
While the manufacturing and services sectors are picking up after a temporary fall, the all-important services sector is still stuck. Will this continue weighing on the pound?
GBP/USD daily chart with support and resistance lines on it. Click to enlarge: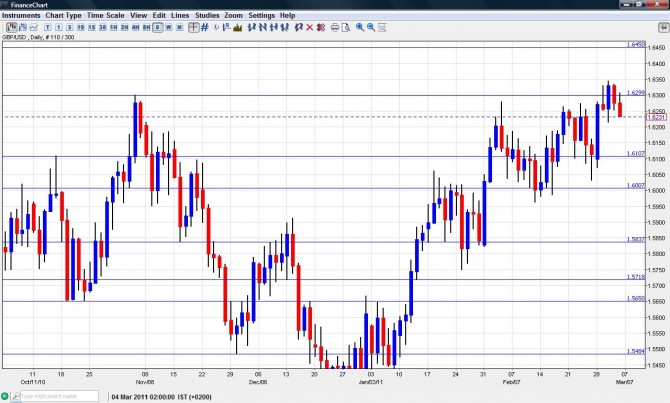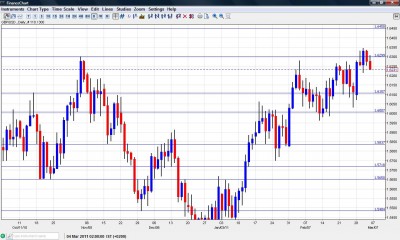 BRC Retail Sales Monitor: Tuesday, 00:00. The British Retail Consortium provides this "mini-retail sales" figure, that is released before the official numbers. After a few shallow months, the indicator showed a rise of 2.3% last month. A small drop is predicted now –  a correction.
RICS House Price Balance: Tuesday, 00:00. This indicator shows the balance between areas of rising prices and areas with dropping ones. It has been negative for quite some time, but it's already above the bottom. From the bottom of -49%, it rose steadily to -31% and is now expected to be in the -20%.
BRC Shop Price Index: Wednesday, 00:00.  With inflation being a hot topic, this inflation-related figure is also important. Prices in shops have risen by an annual rate of 2.5% last months, higher than in previous months. Another rise is expected now.
Trade Balance: Wednesday, 9:30. Britain's trade deficit is widening in recent months, disappointing the pound. The deficit reached 9.2 billion last time, and is predicted to remain at the same levels now.
Manufacturing Production: Thursday, 9:30. The previous release was very disappointing – a drop instead of a rise, after a few good months. So,the total output is expected to correct and rise this time, but the scale will probably be low, not the 0.6% seen earlier.
Rate decision: Thursday, 12:00. The Monetary Policy Committee is seriously split on policy. 3 out of 9 members already want a rate hike to curb inflation, that already reached an annual pace of 4%. One of them, Andrew Sentance, even wants a raise of 0.50%. While there's already a substantial chance of a rate hike, at least to appease the hawks, Mervyn King is likely to avoid a hike for another month. He still sees the inflation related to the rise in commodity prices rather than domestic policy. In any case, this rate decision will be exciting. Yet again, no statement is expected, as the members cannot agree on one.
NIESR GDP Estimate: Thursday, 15:00. This think tank fills in the gap for the quarterly GDP releases. It publishes its estimation once a month, for the 3 months that ended just now. They have shown a drop of 0.1% in the economy's output in the three months that ended in January. They're now expected to show growth of the same scale.
PPI: Friday, 9:30. Inflation is also expressed in producer prices.In the past five months, the rise in prices has exceeded expectations. PPI Input, the more important figure, jumped by 3.9% two months ago and didn't correct last month as it rose by 1.7%. A rise of a similar scale to is predicted now. PPI Output is likely to post a modest rise.
GBP/USD Technical Analysis
Pound/Dollar began the week with a leap back up, and two false breakouts of 1.63 before retreating and eventually closing at 1.6230.
Looking up, 1.63 remains strong resistance. It capped the pair also earlier in the year, and was only temporarily breached now. GBP/USD couldn't convincingly break above this line just now.
Further above, an old peak at 1.6450 is the next line, after being a swing high back at the beginning of 2010.  Higher, important resistance is found at 1.67 which prevented further moves back in 2009. In the distance, 1.7040, the peak of 2009 is the last stronghold.
Looking down, initial support is found at the 1.6110 line, although it is only minor support at the moment.  It's followed by 1.60 which which is not only a round number but also served in both directions in recent months.
Below, very minor support is found at 1.5910. It was a peak recently. It's followed by 1.5820 which worked in both directions before the pair moved higher.
Further below we find 1.5720 which is already a stronger line, that worked in recent months.  Further below we have an important cushion – 1.5650. This was the top border of wide range that GBP/USD traded in the past few months.
I am bearish on GBP/USD.
The weak GDP in Q4, the failure of the services sector to pick up and Mervyn King's warnings about a double dip recession, all weigh against the upcoming rate hike in Britain.
Further reading: