EUR/USD  continues  to trade in a  narrow range, as the markets await for Fed Chair Benarnd Bernanke to address the Federal Reserve Annual Symposium at Jackson Hole on Friday. With ECB head Mario Draghi a late no-show, Bernanke's speech promises to be the highlight at the annual meeting of central bankers, particularly with  renewed speculation over QE. Will Bernanke have any surprises up his sleeve?  In today's economic news, the markets were treated  to more weak German data, as Unemployment Change  was higher  than forecast. There was some good news as the yield on 10-year Italian bonds continued to drop. In the US, today's key release is  Unemployment Claims.
Here's an update about technical lines, fundamental indicators and sentiment regarding EUR/USD.
EUR/USD Technical
Asian session: Euro/dollar  edged upwards to 1.2560, and consolidated at 1.2551. The pair is steady in the European session.
Current range: 1.2520 to 1.2587.
Further levels in both directions: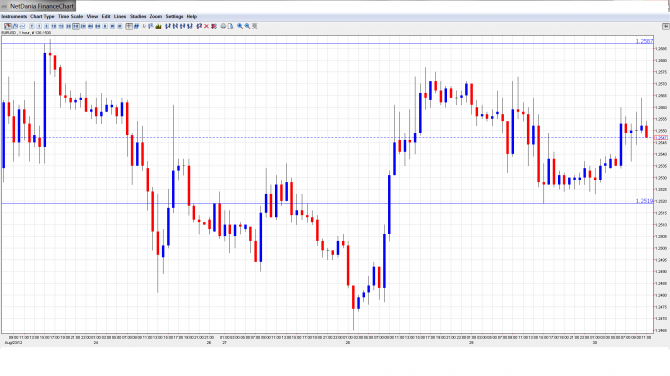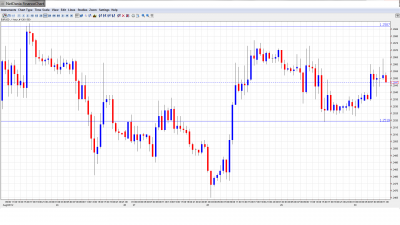 Below: 1.2520, 1.2440, 1.24, 1.2360, 1.2330, 1.2250, 1.22, 1.2144, 1.2043, 1.20, 1.1876 and 1.17.
Above: 1.2587, 1.2623, 1.2670, 1.2743 and 1.2814.
1.2520 continues to provide weak support, 1.2440 is stronger.
Uptrend support is currently very far.
1.2587   is the next line of resistance.
Euro/Dollar steady as markets  await Bernanke speech in Jackson Hole – click on the graph to enlarge.
EUR/USD Fundamentals
7:55  German Unemployment Change. Exp. +7K. Actual +9K.
8:10 Euro-zone Retail PMI. Actual 44.4 points.
Tentative: Italian 10-year Bond Auction. Actual. 5.86%.
12:30 US Unemployment Claims. Exp.370K.
12:30 US Core PCE Price Index. Exp. +0.1%.
12:30 US Personal Spending. Exp. +04%.
12:30 US Personal Income. Exp. +0.4%.
14:30 US  Natural Gas Storage. Exp. 65B.
EUR/USD Sentiment
Markets eye Bernanke speech: With ECB head Draghi a surprising no-show, all eyes will be on Fed Chair Bernanke when he addresses the Federal Reserve meeting of central bankers in Jackson Hole, Wyoming on Friday. Most analysts are doubtful that Bernanke will signal that QE is imminent, and predict that he will shy away from any specific policy announcements. At the same time, many market players are speculating    that Bernanke will  hint at Fed  intervention. Members of the Federal Open Market Committee are apparently divided on whether the Fed should take action to jump-start the US economy. The FOMC meets next on Sep. 12, so it's a safe bet that the QE speculation game will continue.
Draghi  a no-show at  Jackson Hole: ECB head Mario Draghi raised eyebrows  with his late decision not to attend the Jackson Hole conference, citing a "heavy work schedule". In fairness, Draghi does have his hands full, as the ECB is busy preparing a plan to help lower borrowing costs for struggling Euro-zone members, notably Spain and Italy. The ECB will be holding a critical September 6 meeting, with the debt crisis the most important item on the laundry list. If the central bank announces some long-awaited steps, Draghi's absence at Jackson Hole will quickly be forgotten.
Italian, Spanish  yields show slight improvement: If there is a ray of sunshine in the bleak debt crisis, the declining yields for Italian and Spanish bonds could be it. Thursday's Italian 10-year Bond Auction saw yields drop to 5.82% from 5.96% in July. Spanish 10-year yields  have been fairly  steady, in the 6.40% range. This is  a far cry from the unsustainable rates above 7% which we saw just last month. Lower rates mean lower borrowing costs, which is a critical factor for the struggling economies  of Italy and Spain.
Greece asks for more time, Germany objects: Greek Prime Minister Antonis Samaras is seeking an extension until 2016 to meet the bailout targets. Samaras has declared that he only wants more time, not more money, while German officials have tersely responded that "more time means more money". As part of the 130-billion euros bailout package from the EU and the International Monetary Fund (IMF), the Greek government has committed to sweeping cuts of 11.5 billion euros in 2013 and 2014. However, the Troika must give its approval before Greece can receive the next installment of 31.5-billion-euros. Talks with the troika will continue in September.
Disappointing trip for Greek PM: Greek PM Samaras met with the leaders of Germany and France last week, but failed to extract any firm promises of aid or extensions. Chancellor Merkel was very complimentary of Greek PM Samaras, but had nothing concrete to offer her Greek guest, noting that Europe was in a "decisive" phase in the debt crisis. French President Hollande stated that he wanted to see Greece remain in the zone, but said that any discussion of delays in Greek repayments could only take place after the upcoming Troika report. Meanwhile, discussions about a manageable Grexit are getting louder: this time from the ECB's Jörg Assmussen, that echoed Eurogroup chief Juncker. German grumbling is growing over Greece's request for an extension, and a senior member of the Christian Social Union, a coalition partner, said he saw Greece leaving the euro next year. Other coalition partners are dead set against providing Greece with more time or money.   See how to trade the Grexit with EUR/USD.
Spain downgrades economy: There was further bad news out of   Spain as the country saw its economy downgraded for 2010 and 2011. Q2 for 2012 worsened to -0.4%, and the employment situation is abysmal, with an unemployment rate of over 24%. The region of Catalonia has officially asks for aid from the central government's liquidity fund, which could speed up an official bailout request from the Spanish government. There are reports of ongoing negotiations between Spain and its European peers regarding a formal aid request. The Spanish government wants the ECB to resume purchasing government bonds on the open market. The ECB, however, is under pressure to provide a helping hand only if Spain accepts new conditions by formally requesting help from Euro-zone bailout funds. Spain is due to repay over 30 billion euros in October, so expect some agreement to be hammered out very shortly.