EUR/USD tumbled down to 4 month lows as the solution for Cyprus left worrying precedents for the future. The beginning of a new month puts the focus on Mario Draghi and the ECB. Will the central bank pull a new magic trick? In addition, we have PMIs as well as many other interesting events are on our list for this week. Here is an outlook for the upcoming events and an updated technical analysis for EUR/USD, now in lower ground.
The updated decisions for Cyprus spared holders of small accounts, but left a lot of uncertainties and open wounds. The suggestion that "bail ins" by depositors could be seen elsewhere certainly created a scare. Banks in Cyprus have already opened, but capital controls are expected to remain for quite some time – not exactly one open market. It's not only Cyprus: Unemployment claims in Germany disappointed last week, with a 13,000 rise, following a 2,000 contraction in the previous month. Also the US saw some disappointing data, but the economy continues growing. Let's start:
Updates: The haircut for deposits for big accounts in the Bank of Cyprus was announced over the weekend, and will reach 60%. German Preliminary CPI gained 0.5%, just above the estimate of 0.4%. Spanish Unemployment Change dropped  5.0 thousand, blowing  away the estimate of 30.2 thousand.  Spanish Manufacturing PMI was not as positive, coming in at 44.5 points. The estimate stood at 46.2 points. In Italy, the story was much the same. The Unemployment Rate dropped from 11.8% to 11.6%, but the Manufacturing PMI dropped to 445. points, missing the estimate  of 45.4 points. The Eurozone Unemployment Rate remained steady, at a record high of 12.0%. In Italy, President Giorgio Napolitano convened a panel of 10 experts to try and come up with a solution to forming a government, after coalition talks failed. EUR/USD is steady, as the pair was trading at 1.2836. Eurozone CPI Flash Estimate came in at 1.7%, just above the estimate of 1.6%. Spanish Services PMI  climbed to  45.3 points, beating the estimate of 44.3. The story was similar with Italian Services PMI, which rose to 45.5 points, easily beating the estimate of 43.4 points. Eurozone Final Services PMI came in at 46.4 points, just shy of the forecast of 46.5 points. Spanish 10-year bonds recorded a yield of 4.48%, lower than the previous yield of 4.90%. Eurozone PPI rose 0.2%, matching expectations. French 10-year bonds fell to a yield of 1.94%. This was lower than the previous yield of 2.10%. As expected, the ECB held the benchmark interest rate at 0.75%. The markets will  be closely following the follow-up press conference, hosted by ECB head Mario Draghi. EUR/USD was testing the 1.28 line, as the pair was trading at 1.2812.
EUR/USD daily graph with support and resistance lines on it. Click to enlarge: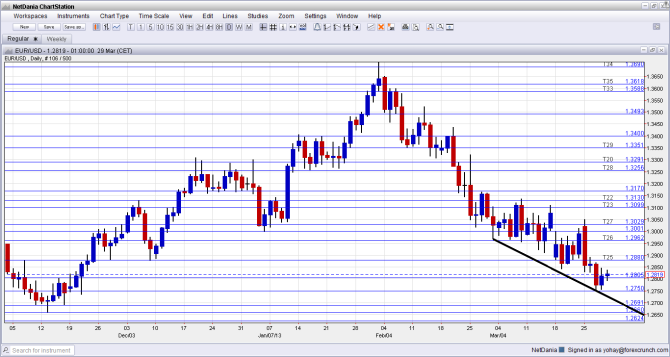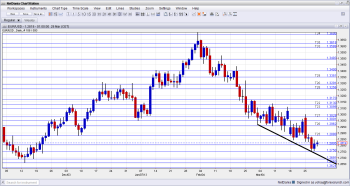 German Prelim CPI:

Tuesday. Consumer price index increased 0.6% in February after a 0.5% drop in January, yet below the 0.7% CPI expected by analysts. The lack of inflationary pressures affects the euro-zone average nearing the 2.0% ECB target in the medium rate. A further rise of 0.4% is expected now.

Spanish employment data:

Tuesday, 7:00. Spanish jobless claims slowed in February, reaching a five year low of 59,444 from 132,100 in January, supporting claims that the worst is over for Spain. Deputy Economy Minister Fernando Jimenez Latorre said  Spain's recession will moderate in the first three months of the year. The country's record jobless rate will reach to 27% this year, nearly a third of all unemployed in the euro region. Another improvement is expected with 30,200 jobless claims.

Manufacturing PMIs:

Tuesday.

 Manufacturing activity in Spain, Italy and the Eurozone did not seem to improve much in February, Figures remained in contraction I Spain, reaching 46.8 from 46.1 in January   while worsening again in Italy, down to 45.8 from 46.7. Meantime Eurozone Manufacturing Purchasing Managers' Index registered 47.9 in February, following an earlier flash reading of 47.8 but still below the 50 point line for the 19th month running.  Manufacturing activity in Spain is expected to worsen to 46.2, Italy with 45.4, and the Eurozone remain at 46.6.

 

Italian Monthly Unemployment Rate:

Tuesday. Italy's unemployment rate soared to a 21-year high in January, reaching 11.7% from 11.3% in December, indicating Italy is still in recession, showing no signs of recovery. The weak economy, high taxes and rising unemployment were the main issues at the national elections, however there was no clear majority and the leadership performance is worse than expected.  A further increase to 11.8% is expected now.

Unemployment Rate:

Tuesday, 9:00. The unemployment rate in the euro zone continued to climb in January posting another record of 11.9%, following 11.8% in the previous month, going higher than the 11.8% predicted by analysts. Inflation also eased in February to an annual rate of 1.8%, down from 2% in January. The jobless data show that wage growth continues to weaken from already low rates, further depressing consumer spending.  A further increase to 12% is predicted now.

CPI Flash Estimate:

Wednesday, 9:00. Inflation in the euro zone eased in February, registering 2.0% in the previous month, enabling economic leaders to extend stimulus to boost economic growth. Modest wage increase was the major calming force which lowered inflation rate below economists' predictions. The slow recovery of the Eurozone, raises expectations that the ECB will cut interest rates this year. Another decline to 1.6% is forecasted this time.

Services PMIs:

Thursday. A sharp drop among Italian and Spanish businesses drove the euro zone's private sector back into recession in February. Spain's service sector plunged to 44.7 from 47 in January, setting a new 2012 deficit target of 5.8%, much softer than the 4.4% agreed with Brussels. Italy dropped to 43.6 from 43.9, entering a ninth straight month of decline, with a small chance of recovery in the coming months. The Eurozone Final Services PMI increased to 47.9 from 47.3, above the 47.3 anticipated but still below the 50 point line indicating contraction. The disappointing figures pose a renewed threat of another recession for the Eurozone. Services PMI expected readings are: in Spain 44.3, Italy 46.4 and the Eurozone 46.5.

PPI  :

Thursday, 9:00.

Euro zone  factory prices increased for the first time in four months in January, rising by 0.6% from 0.2% drop in December, amid a climb in energy costs, although on a yearly base, producer prices hit a six-month low of 1.8%.  

The  data  provides a somewhat mixed signal to the European Central Bank. A smaller rise of 0.2% is anticipated.

Rate decision: Thursday, 11:45,  press conference at 12:30.  The ECB will likely keep interest rates unchanged once again, even though  some members wanted a rate cut back in March. The economic situation is getting worse in the euro-zone, and the crisis in Cyprus looms over the banks. These issues could change the tone, but not the rate. Mario Draghi will probably express less confidence than in March, when he boosted the euro. New measures to stabilize the banks are more likely than a rate cut at this point. Real interest rates are still low. An unexpected rate cut would send the euro tumbling down.
Retail Sales:

Friday, 7:00. Despite the weak PMI data released earlier, Retail sales surprised with a 1.2% rise in January, beating predictions for a 0.3% rise, following 0.8% drop in the previous month. A decline of 0.3% is expected this time.

German Factory Orders:

Friday, 10:00. German factory orders registered an unexpected drop of 1.9%   in January, following a 1.1% gain in December, amid sluggish demand in the crisis-stricken Eurozone. On a yearly base, orders even declined by 2.5%, questioning the recent assumptions that the worst of the Eurozone's protracted debt crisis was over. Nevertheless, surveys revealed, consumer confidence has picked up. A gain of 1.2% is forecasted now.
*All times are GMT
EUR/USD Technical Analysis
Euro/dollar started the week with a small gap lower but quickly moved higher and conquered 1.30. This victory was short lived and the pair tumbled down. After trading under the 1.2880 line (mentioned last week), it fell deeper, to a four month low at 1.2751 before recovering and settling above 1.28 to close at 1.2819.
Technical lines from top to bottom:
We start from lower ground this week. 1.34 was a stubborn cap during the spring of 2012 and continued its stubborn stance in January 2013 – the line now serves as resistance. These are the  head and shoulders lines.  1.3350 was a peak in January 2013 and worked very nicely as support during February. The line is weaker now.
Below, 1.3290 served as resistance before the pair collapsed in May, After many failures to break higher, the euro finally pushed through.  1.3255 provided support during January 2013 and also beforehand. A recovery attempt failed to reconquer this line.
1.3170, which was the peak of September, served as support for the pair after the break in December and worked as strong resistance after the Italian elections. This is a key line, now on the upside.  1.3130 proved to be strong resistance during December 2012 showed its strength in March 2013 as well.
1.3100 is a minor line after working as temporary resistance in December 2012.  The very round 1.30  line was a tough line of resistance for the September rally. In addition to being a round number, it also served as strong support. It is becoming stronger.
1.2960  provided some support at the beginning of the year and also in September and October – the line is strengthening once again after working as a triple bottom. It remains an important line.  Lower,  1.2880  worked in both directions during 2012 and was the beginning of the uptrend support line. The recent breakdown turned the line into strong resistance.
Lower, 1.2805 was the bottom border of the wide 1.2805-1.3170 that characterized the pair's trading for a long time.  Below, 1.2750 worked as a separator of ranges during November, and stopped the pair's drop in March. This is a key line on the downside.
This is followed by the round number of 1.27, which is minor as A more important line is the trough of November 1.2660.
1.2624, which was a bottom in January 2012 is the next significant line, especially when looking at the weekly chart. Further below, 1.2587 is worth mentioning.
Downtrend Support
As shown on the graph (think black line), EUR/USD is sliding on downtrend support since late February. A break below this line could accelerate the losses.
I remain bearish on EUR/USD
While banks are open in Cyprus, a lot of damage has been done to confidence in the euro-zone's banks, especially after the ill-timed statement by Eurogroup head Dijsselbloem. Many people wonder why they should hold more than  €100K in the banks. The crisis could spread to Slovenia, even if there is little in common between the countries.
Also the bigger countries are struggling: Italy isn't getting closer to a government, and is probably headed to new elections. The economies in France and Germany are struggling and unemployment remains sky high in Spain, Greece and many other countries. Draghi will find it hard to express optimism, and he has a more limited set of tools this time.
Also US figures have taken a turn for the worse after a good streak, but the economy continues growing. The upcoming Non-Farm Payrolls should give an assurance of the steady recovery path the US is going through.
More technical analysis:  EUR/USD Bearish Trend Drops to 50% of Prior Bullish Trend  by  James Chen.
If you have interest in a different way of trading currencies, check out the  weekly binary options setups, including EUR/USD and more. Further reading: