The Canadian dollar had its worst week  of 2014, as USD/CAD  jumped about 200 points, closing close to the 1.11 level. This week's major releases  are Manufacturing Sales, Core CPI and Wholesale Sales.  Here is an outlook on the major market-movers and an updated technical analysis for USD/CAD.
Canadian  housing  data  was a mix last week, as Building Permits shined, while Housing Starts softened. US employment data was soft, but consumer confidence and retail sales  beat the estimates.
[do action="autoupdate" tag="USDCADUpdate"/]
USD/CAD daily chart with support and resistance lines on it. Click to enlarge: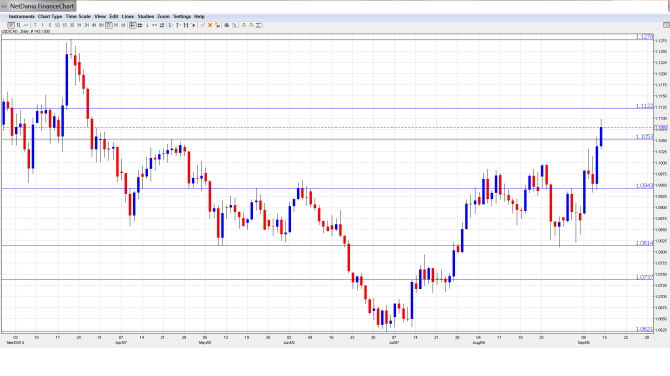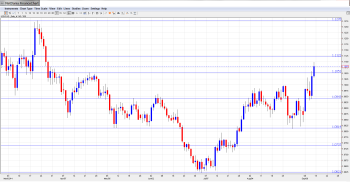 Manufacturing Sales: Tuesday, 12:30. This is the first major release of the week.   The indicator posted a respectable gain of 0.6% last month, edging above the estimate of 0.5%. The markets are expecting a strong jump of 1.1% in August.
BOC Governor Stephen Poloz Speaks: Tuesday, 16:45. Poloz will address an event in Drummondville, Quebec. Analysts will be looking for clues as to monetary policy or interest rate shifts in the speech. Any remarks  which are "out of the ordinary" could affect the movement of USD/CAD.
Foreign Securities Purchases: Thursday, 12:30. Foreign Securities Purchases is directly linked to currency demand, since foreigners must use Canadian dollars in order to purchase Canadian securities. The indicator came in at $-1.07 billion, way off  the estimate of $14.68 billion.  The markets are expecting an improvement in the upcoming release, with the estimate standing of $2.47 billion.
Core CPI: Friday, 12:30. Core CPI is considered the most important inflation indicator. It is more reliable than CPI, since it removes the most volatile items that are included in CPI. The index has posted two straight declines of -0.1%, as Canada continues to struggle with a lack of inflation.
CPI: Friday, 12:30.  CPI has been dropping, and fell to -0.2% last month, edging lower than the estimate of -0.1%. The forecast stands at -0.1%.
Wholesale Sales: Friday, 12:30. Wholesale Sales  softened last month, posting a gain of 0.6%. This beat the estimate of 0.4%. The markets are expecting an improvement in the August reading, with an estimate of 0.8%.
* All times are GMT.
USD/CAD Technical Analysis
USD/CAD opened the week at 1.0886.  The pair  headed  higher after touching  a low of 1.0884, as support held firm at 1.1122 (discussed last week). The pair climbed just  shy of 1.11,  hitting a high of 1.1098.  USD/CAD closed at 1.1080.
Live chart of USD/CAD: [do action="tradingviews" pair="USDCAD" interval="60″/]
Technical lines, from top to bottom:
With USD/CAD posting strong gains, we begin at higher levels:
1.1494 was a key resistance line in November 2006.
1.1369 was breached in October 2008 as the US dollar posted  sharp gains, climbing as high as the 1.21 level. This line has remained steady since July 2009.
1.1278 has provided resistance since March. This line marked the start of a rally by the Canadian dollar, which dropped below the 1.09 level.
 1.1122 held firm as the pair came close to the 1.11 level. This line is weak resistance.
1.1054 was breached by the surging US dollar and starts the week as an immediate support line.
1.0944  has reverted to a support role and is a strong line.
1.0815 had been under pressure but gained some breathing room as the pair trades at higher levels.
1.0737  marked a cap in mid-2010, before the US dollar tumbled and dropped all the way into 0.93 territory.
1.0621 is the final support line for now. This line marked a low point for the pair  in early July.
I  am  bullish  on USD/CAD
The Canadian dollar collapsed last week, unable to put up much of a fight against the US dollar juggernaut. The greenback is on a roll and could rack up further gains against the loonie, unless key Canadian  releases shows unexpected strength.
Listen to our latest podcast about: gold and inflation, the Scottish referendum and the pound, and the FOMC meeting.
And subscribe on iTunes.
Further reading: