EUR/USD seems vulnerable to weak inflation numbers, as we warned in the morning show.
And what happens in the next rally?  Perhaps we could have another sell opportunity:
Here is their view, courtesy of eFXnews:
"In the near term, the FOMC's decision not to raise interest rates has raised concerns about the severity of the global environment. If such fears materialise, then investor risk appetite is likely to fall and that could easilyspark some further unwinding of short positions in funding currencies, having the effect of pushing the euro higher.
The euro area's balance of payments position could also support that – the current account surplus was 2.6% of GDP in the 12 months to July, which was up from 1.8% for the equivalent period last year. The improved euro area fiscal position (deficit estimated at 2.3% of GDP this year) is also positive for the euro. In an environment of heightened risk reduction, it is conceivable that the euro could benefit and residual long USD positions get squeezed.
SELL RALLIES IN EUR/USD. Nevertheless, our central case view remains one of modest euro depreciation from here. The domestic environment in the US continues to impress, and we are told that the FOMC's decision to keep interest rates on hold in September was a close call. The inflation environment in the euro area remains poor and the policy is firmly fixed on trying to counteract that.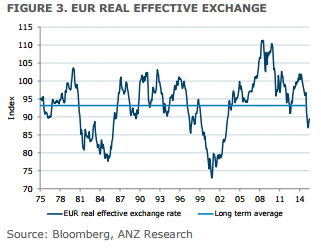 The ECB is also likely to try and offset any unwarranted EUR appreciation by strengthening its forward guidance and possibly easing policy further. Expectations of that may help cap rallies in the euro. It is worth remembering that the ECB's fragile inflation forecast is based on the assumption of an average exchange rate of 1.12 vs the USD. Were it to appreciate sustainably, that would undermine their efforts to restore price stability."
Dylan Eades, Brian Martin – ANZ
For lots  more FX trades from major banks, sign up to eFXplus
By signing up to eFXplus via the link above, you are directly supporting  Forex Crunch.