BTC/USD just crossed the closely-watched $10,000 line. This was eyed by many people and become closer to reality over the weekend. After Bitcoin achieved the big prize, is the sky the limit? Will this extra publicity trigger even higher levels such as 15K or 20K? Or will some investors and speculators cash out and sell the cryptocurrency sending the price lower?
The move above $10,000 took its time with cautious trading just under the magic number. But when it broke higher, it went all the way to a new high of 10,928 dollars. From there, we had some profit taking and $10,622 seems to be forming a level of resistance.
More:
Here is the hourly chart: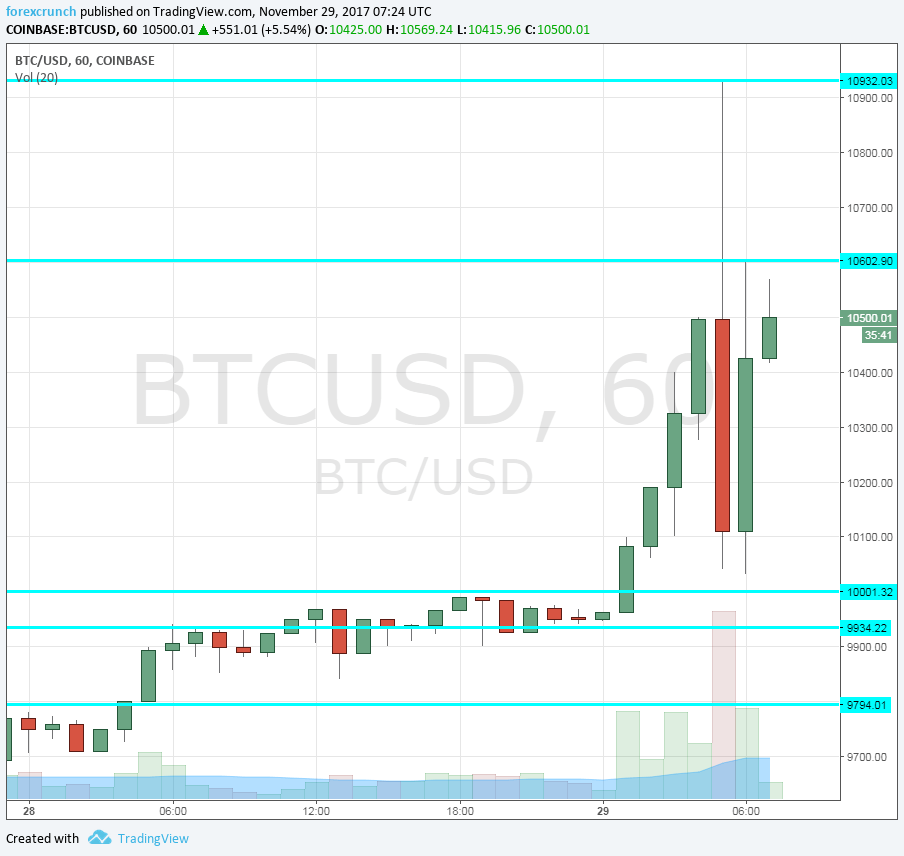 The price of the cryptocurrency did not take a break and went up from $8367 to around $9600. After some consolidation, the pair advanced gradually made a move to higher ground. The gradual rise allows to point out some levels on the downside:
The first stop is $9940, where the price took a pause on Tuesday morning. $9795 was a stubborn cap that lasted for a few hours on Monday. Below, we find $9440, a swing and the bottom of the recent range.
Next down the line, $9195 capped the coin on Sunday, after the initial surge. Back then, it found a cushion at $8902.
On the upside, we can point out to 11,600, which would mimic the recent gain from around $8400 to $10,000. Yet as this uncharted territory, any round level on the upside could serve as a level of resistance: 11K, 12K and of course $15K.
Bitcoin or bust?
Prices of cryptocurrencies are rising quite rapidly. Any talk of a bubble just seems to draw further speculation. Bubbles are also opportunities as well, at least for some people.