For years crypto traders and investors have said that in times of financial turmoil crypto assets would rise and prove that the financial system is inferior to digital assets. Some analysts have suggested in the past that if the regular financial system crashes then the flow of money could move into digital assets and push prices. Over the past three weeks, stock markets have really taken a turn for the worse. Risk sentiment is at very low levels and the Dow Jones index suffered its biggest fall since the infamous "Black Monday" crash. You would think that if Bitcoin and the other crypto majors would benefit if the stock market dropped as the digital assets could offer some protection or just another place to store money.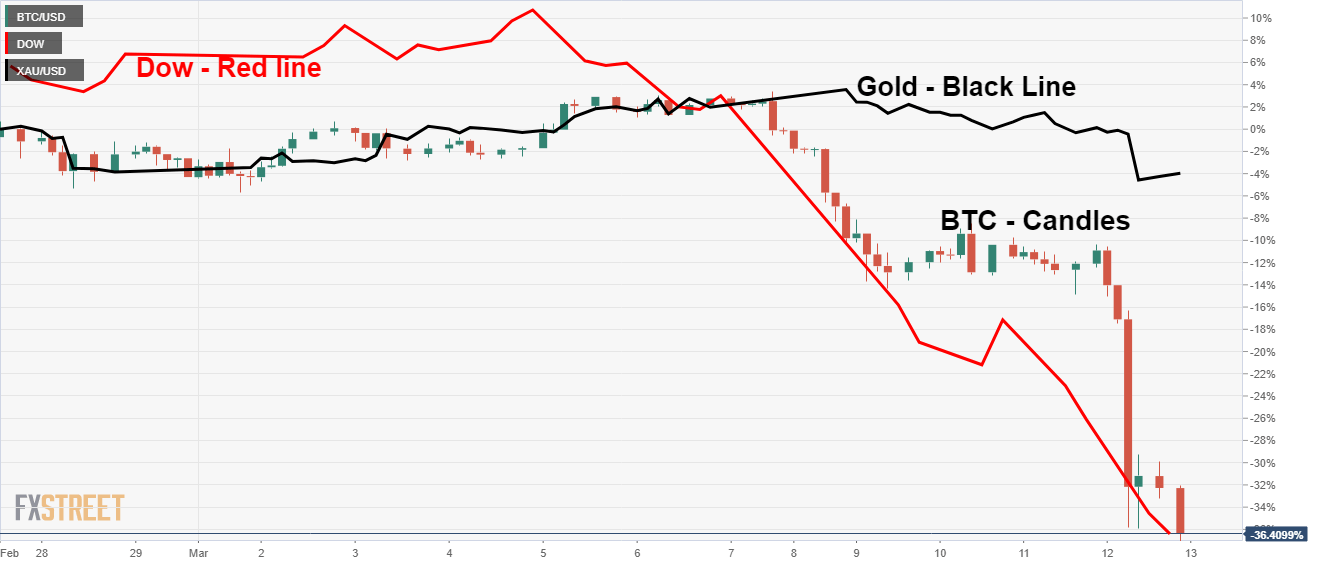 The chart above shows that all the major asset classes are falling apart from the USD (not in the graph). Stocks, gold and bond prices all fell today. This indicates that the market is fully moving over to cash. Some market participants have suggested this could be due to margin calls and redemptions. One thing is for sure there is panic in the air and no safe place for funds right now. This is reflected in the fact that the US dollar rising still. Today the US Dollar index is trading 1% higher and at its highs, the currency was up around 1.80%. 
So why didn't Bitcoin pick up the slack?
I just think like everything else the price of Bitcoin and other major cryptos sold off because traders and investors just want to move to cash. We have to remember gold is a proven safe haven and the precious metal has still fallen. The next few sessions will be very important and also the weekend when the financial markets are closed. Last weekend there was a sell-off in crypto-assets and this weekend we could see some more volatility. 
Looking ahead we cannot forget there is an average price for mining one Bitcoin and we are heading into the halving. According to TradeBlock the average cost to mine one BTC is $6,851 and after the halving, this could rise to $12,525. Inherently, this could dramatically reduce supply and many crypto analyst's are predicting a price increase.