Many important events are lined this week with Housing Data, BOC Business Outlook Survey and Trade Balance. Here is an outlook on the major events this week and an updated technical analysis for USD/CAD.
Canada successfully handled its economy during the global recession with its strong banking system avoiding the property crash seen in the United States and much of Europe. Unemployment was considerably better than in the US and expectations for 2010 annual growth reach 3% much brighter than in other countries. However Canada's central bank expects growth to slow to 2.3 percent this year, weaker than the 2.7 percent growth many expect for the United States.
USD/CAD daily chart with support and resistance lines marked. Click to enlarge: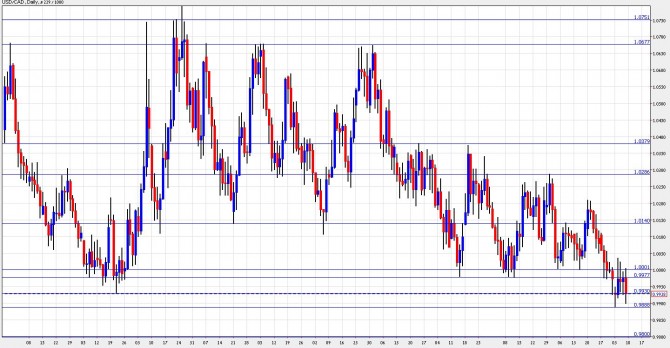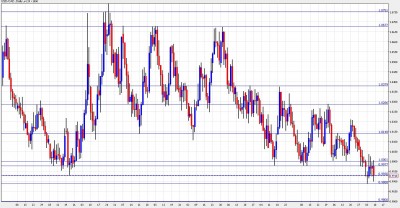 Building Permits: Monday, 13:30. The value of building permits fell 6.5% to $6.2 billion in October more than analysts expected after September's 14.9% gains pointing to a continued slowdown in Canada's housing market. A rise of 1.2% is predicted.
BOC Business Outlook Survey: Monday, 15:00. In October's survey Canadian businesses remained positive about the outlook over the next 12 months, but the generally expect growth to be modest, owing in part to a weaker U.S. economy. The coming survey is expected to be in line with the previous survey.
Housing Starts: Tuesday 13:15. Housing starts rose for the first time in four months to a seasonally adjusted annual rate of 187,200 in November following 167,800 in October suggesting that Canada's housing market is improving. The leap in November is largely due to construction in Ontario. A bigger increase of 179K is expected now.
NHPI: Wednesday, 13:30. The New Housing Price Index (NHPI) rose by 0.1% in October following a 0.2% in September. This rise was less than 0.2% expected. The New Housing Price Index measures changes over time in the selling prices of new residential houses agreed upon between the contractor and the buyer at the time of the signing of the contract. The same rise of 0.1% is forecasted now.
Trade Balance: Thursday: 13:30. Trade Balance deficit shrank in October to $1.71 Billion from $2.31 Billion in September due to increase in exports to the US. Industrial goods, precious metals and copper ores were the main cause of increase in exports. Deficit is expected to grow to $2.00 Billion. Also oil prices will be felt here.
New Motor Vehicle Sales: Friday, 13:30. New Motor Vehicles Sales dropped an unexpected 0.3% in October compared to 4.2% gain in September when forecasts predicted a 3.3% rise. New Motor Vehicle Sales for the year stand at 134,427.  A rise of 0.9% is forecasted.
USD/CAD  Technical  Analysis
The Canadian  dollar started the year with a bang, with USD/CAD dropping to two year lows. Maybe CAD/USD will eventually feel more comfortable..
It later returned to the area of parity, finally closing just under the 0.9930 line (mentioned last week).
Looking up, 0.9977 is now only a minor line, after being shattered in the past week. The obvious line of parity continues to be a strong line of resistance.
Above parity, 1.0140 worked as resistance in December and also as support beforehand and is the next important line. Above, 1.0280 also worked in both directions, being resistance recently.
The next line is    1.05 which capped the pair twice during the summer and is the next minor line of resistance.  Even higher, the strong 1.0680 worked as resistance in July and in August, for more than one day in each attempt to break higher.
Even higher, 1.0750 was a swing high during May and also the limit  of a long-term range in 2009. The last line is, 1.0850, which was also a swing high back then.
Looking down, 0.9930 was the low point in 2010, and it was breached just now. Below, the fresh low of 0.9888 is a minor line of support. It's followed by two historic lows at 0.98 and 0.97, that worked as strong support back in 2008.
I remain bearish on USD/CAD.
The strong jobs report from Canada and the improving US economy both support the Canadian dollar, which has more room for gains against the greenback.
Further reading: