It's been a dismal past two weeks for the dog's hodlers as the Dogecoin price continued to slither down to well below the $20 level. However, recent days have shown a bullish tendency for the canine themed cryptocurrency and this positive sentiment may well propel the coin up.
Ever since Elon Musk tweeted about Doge and made all sorts of outlandish statements, the coin has been on a rollercoaster. Reaching an all time high of $0.75 in late April, lots were boldly saying that it could reach the $1 level pretty quickly.
As retail investors piled into Doge, the price went south alongside all other in mid-May when it descended to below the $0.30 level. This was seen as critical support but the June crash continued to eat away at that level with price. It does seem that institutional investors have started accumulating the crypto too. So what's in store for Doge now that Musk seems to have gone AWOL on it?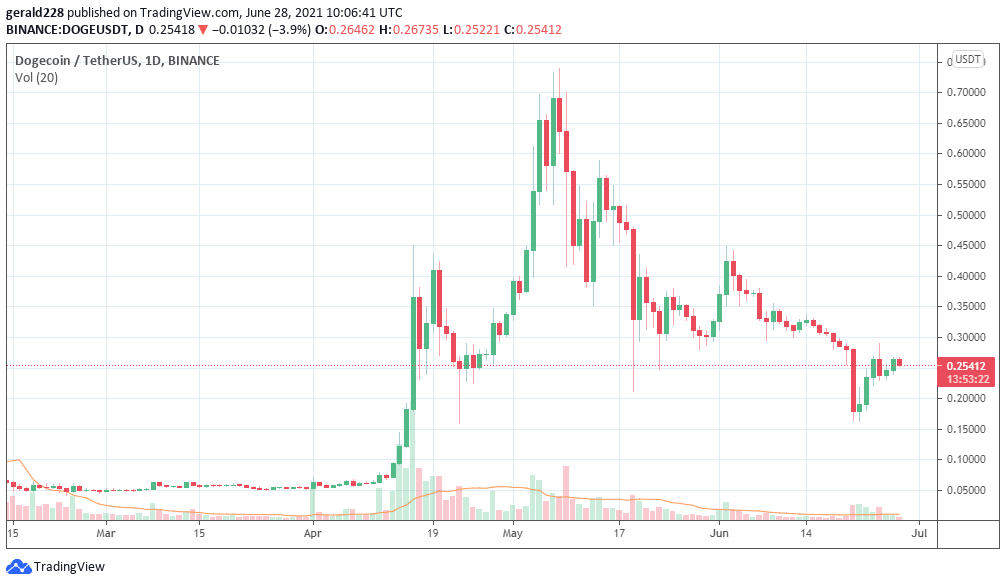 Short-Term Dogecoin Price Forecast – Testing $0.30?
After reaching a low of $0.1786 on June 21, Doge has been relatively unstable with sharp bullish bursts and tempered declines. It is currently trading in the region of $0.25-$0.26 although it reached the $0.265 level overnight. $0.27-$0.28 seems to be an important resistance level as this was the price when a steep 30% descent began to the $0.17 mark on 2 June. Still, Doge recovered extremely well from that low and was by a considerable 40% to the $0.26 level by end of June.
Short term, Doge appears to be playing around the $0.25-$0.26 levels before the next leg up where it can test the $0.30 level if sentiment remains bullish. However, there could also be a reversal if the $0.23 level is broken and a decline could go all the way down to $0.10-$0.15. The latter scenario seems unlikely though as support at $0.23 seems quite strong.
Long term prediction for Doge – will bulls return to the meme market?
As Doge continues to consolidate, the long-term indications remain very bullish for the coin. In a few days, it is expected to once again test the $0.30 level and after that, the $0.50 level is a realistic possibility. Other factors that come into play are crypto market sentiment.
The ongoing spectre of regulation and FUD (Binance UK crackdown) could have an effect although Elon's tweets definitely have more rocket power.
However, on a positive note it seems that institutional investors are piling into Dogecoin in a big way. This can be observed from the movement of the 200-day MA. These investors are targeting high probability trading opportunities and this is evident in the way the Dogecoin price moved. All this bodes well for another bullish streak for the dog themed meme crypto.
Looking to buy or trade Dogecoin now? Invest at eToro!
Capital at risk