George Lipordezis has launched a new venture in the field of financial technology, fintech, called Echofin.
Here is information about the new tool, as provided by the company. Will this be the new standard?
Echofin LLC has developed a communication platform for financial traders. The platform is meant to be used by brokers, a group of traders, mentors or team leaders who want to monetize their followers, coach them, host webinars or just create a trading community. It is essentially a chat platform loaded with financial widgets, charts, alerts, live audio/video streaming and most importantly billing integration.
Here are three typical use cases:
Create an open trading community: This can be utilized mostly by brokers who want to create a place where traders and instructors meet to exchange trading ideas or discuss market moving events. It is very common that many forex brokers invite their customers for a commentary session during the NFP. What a better solution for them to have all their customer under a fully managed environment loaded with all the relevant financial tools.
Create a closed trading community: This is for a group of traders, such as a hedge fund, who want to have a common place to discuss their strategies, share files and charts within a secure environment. This is similar to what Symphony offers.
Create Premium rooms: This is for educators/mentors who want to monetize their followers. The educators can create free and premium rooms. The goal here is to keep engaged the free users while trying to convert them to the premium room. Usually, premium rooms come with premium financial tools. More details are provided below.
Following are the most notable features we currently offer:

Billing integration
What differentiates us from other generic use (or developer-centric) chat platforms such as Slack, HipChat and Webinato (ex omNovia) is the billing integration. The platform can be utilized as a monetization tool by instructors/gurus/educators and those who have followers and seek to monetize them.
We have tightly integrated billing withing the user registration flow. The educator can generate billing buttons, similar to Paypal buttons, to embed them on their landing pages or send out by email. Besides that, the educator has no worries to maintain accounts on billing providers; we do the charge on his behalf. Bellow is an example of such a billing button embed on a customer's web site:https://www.wallstjesus.com/
1) The educator is able to generate billing buttons, similar to Paypal buttons, to embed them on their landing pages or send out by email: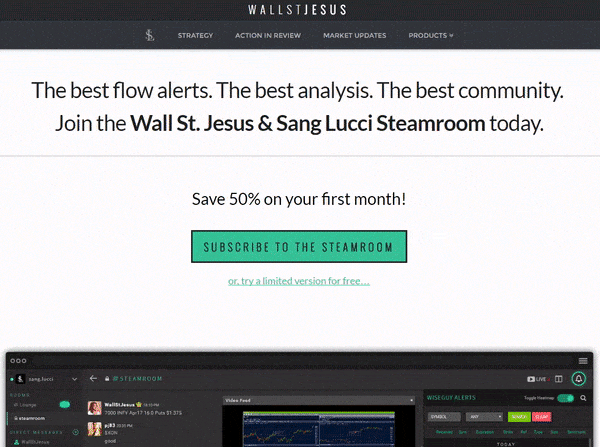 Alternatively, if the user joins for free to a non-premium chatroom he can upgrade within the platform without leaving the chat environment: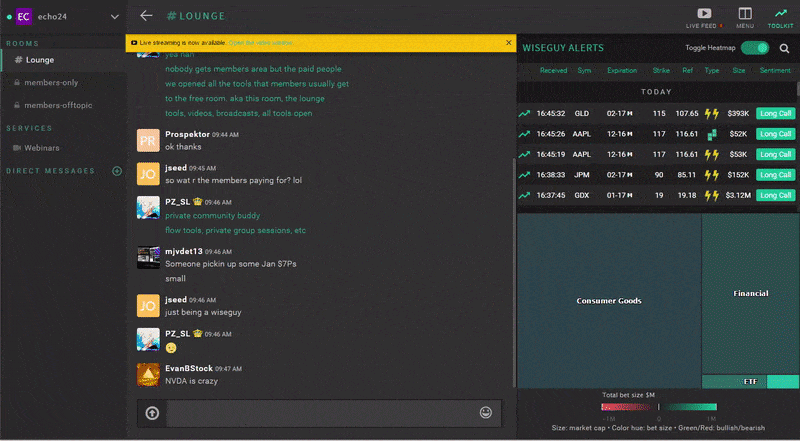 Financial tools
What makes the platform so compelling from the financial use perspective are the tools around the chat. Each environment is equipped with its custom made financial tools such as alerts, charts, market heat maps, macroeconomic data widgets and others. We leverage our vast experience in developing web-based financial tools and our access to a broad range of data vendors to provide tailor-made financial widgets for all cases. Bellow is a set of such custom-made tools for the options market: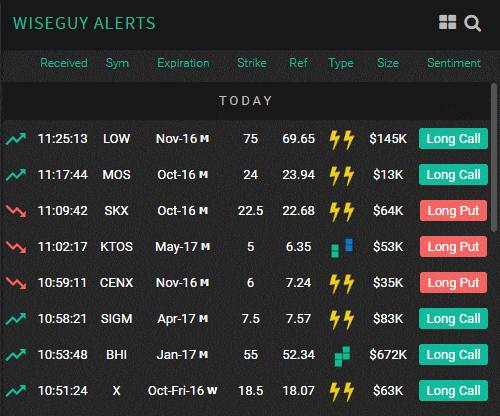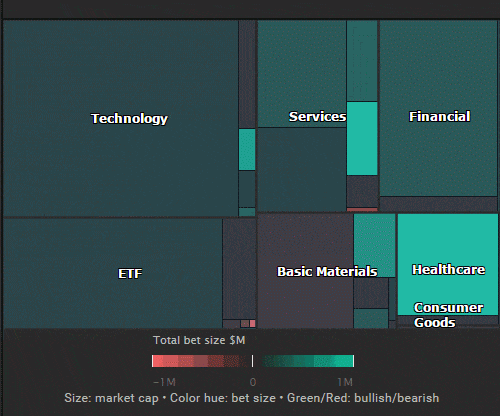 Live broadcasting / Webinars
The platform allows the educator to broadcast in real-time audio, video or even his desktop screen, webinar in action. More often instructors broadcast their trading terminal charts to explain with voice complicated trade setups. Here is how it looks like with an instructor broadcasting within the chat room: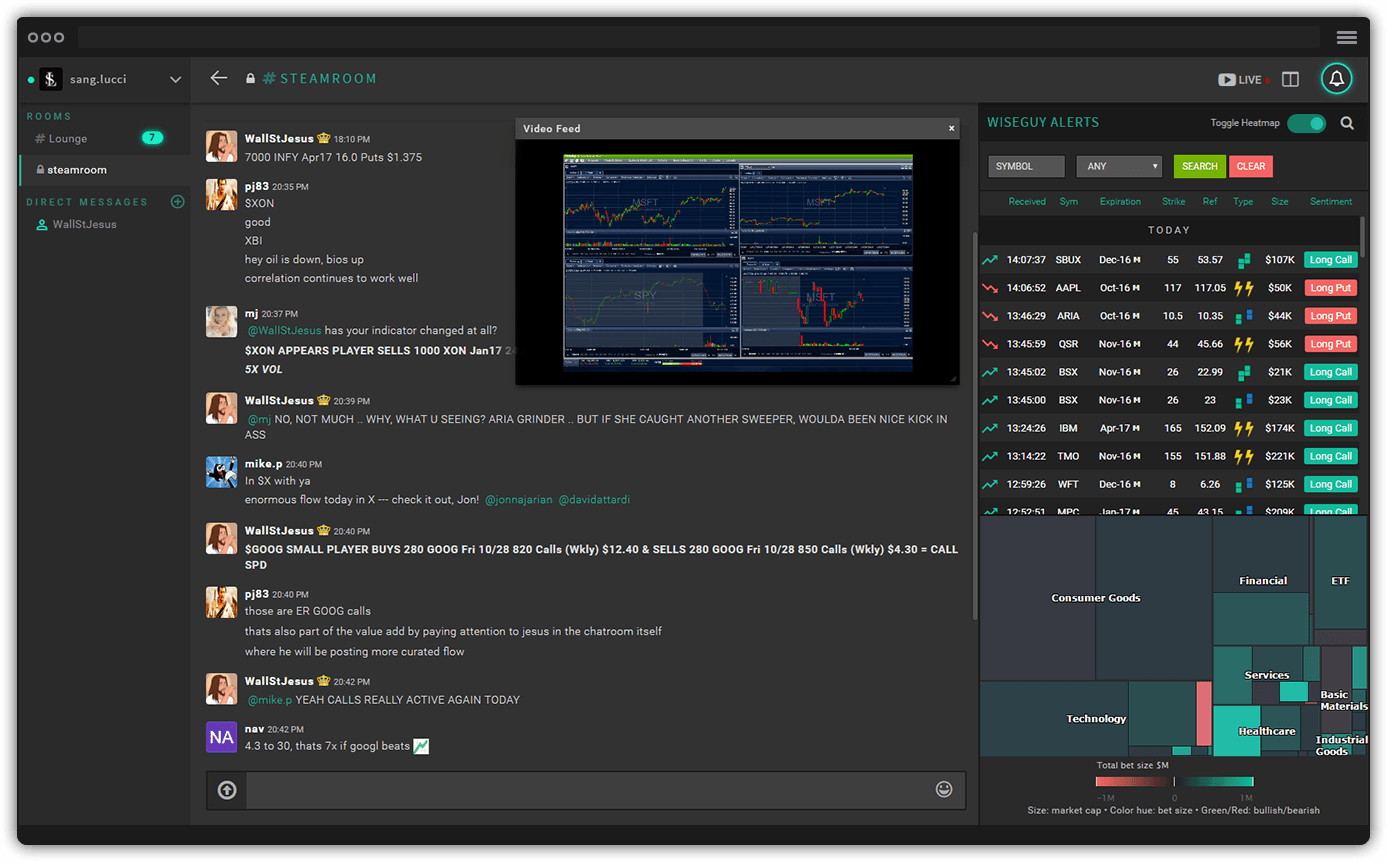 User management and moderation
The platform provides fine-grained user management. There are discrete roles of admin, moderators and instructors and of course simple user. Moderators can moderate the messages of a user, has the power to mute or even ban a user from the chat. That way the community can be protected by misbehavior users.
Third-party Integrations
The platforms come with several third party integrations to easily integrate with existing tools and services that someone might have already in place, such as email campaign services, user tracking tools, CRM, video hosting platforms, etc.
Marketing/Financial Insights
The backend provides deep insights of user subscriptions, conversion rate, lifetime value analysis. The chat provider has a full overview of the platform usage and the revenue generated.
Get the 5 most predictable currency pairs