It's election day in the US, after a long race. According to the latest polls, incumbent President Barack Obama commands small yet significant leads in enough states to carry him to a second term in the White House. Challenger Mitt Romney is not trailing that far behind, at least on the national level, but Obama has the advantage.
Update:  Obama is re-elected – EUR/USD jumps towards resistance  – will the dollar continue weakening, or could this turn around?
According to the latest aggregated polls, Obama could carry 290 to 303 electoral votes, passing the threshold of 270 needed to win. Note that when using a wide array of polls, the margin of error is lower. Obama also has a better chance of winning the popular vote – this could make a difference on the resolution of the fiscal cliff. EUR/USD is sliding towards the recent two month lows.
Update:  US Election Results Timetable
Additional trade idea:  Sell EUR/USD on Obama Win, Buy AUD/USD on Romney Win
Another site using aggregate polls gives Obama a 92% chance of winning, and an advantage of 2.9% in the popular vote. Other national polls give a smaller advantage, but even the Gallup poll, that consistently gave Romney a significant lead among likely voters and registered voters alike, shifted in the last minute and now gives Romney only a 1% advantage among likely voters, and gives Obama a 3% advantage among registered voters.
The elections matter a whole lot to currencies, due to the fiscal cliff issue: big tax hikes and spending cuts are set to come into effect in 2013 if no deal is reached between Democrats and Republicans. It is clear that some deal will be reached but there is a logical perception that a more favorable deal will be reached faster under Romney than under Obama, given the unfortunate debt ceiling debacle in the summer of 2011.
So, a victory for Obama is the less favorable outcome for markets, and could trigger a "risk off" reaction favoring the US dollar. However, recent signs already show that this result could already be priced in.
The outcome of the popular vote also makes a difference: a split between what majority of Americans votes and the actual person winning the elections will add to the split between the parties in Congress. If Obama also wins the popular vote, it will be somewhat easier to cut a deal on the fiscal cliff.
See how to trade the US elections with EUR/USD.
EUR/USD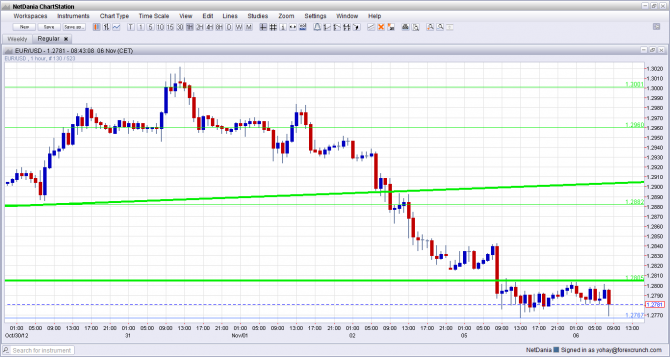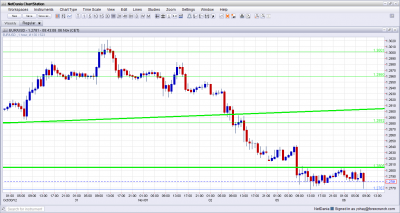 The world's most popular pair already broke out of the long term range on Monday and fell under 1.28. Yet it didn't go too far and marked a new low at 1.2767, above support at 1.2750.
Another move towards 1.2767 was seen in the European session, and we could see more cautious moves.
For more, see the euro to usd forecast.
Update: a different opinion:  USD to vote Romney
Further reading:  5 Reasons Why Greece Could Leave the Euro-Zone After the US Elections