EUR/USD  struggled to continue advancing as the dollar found its footing. The upcoming week features a constant stream of data including PMIs, industrial output and more. Here is an outlook for  the highlights of this week and an updated technical analysis for EUR/USD.
Inflation fell below expectations for the second month in a row, weighing on the euro. This vindicates Draghi's cautious stance. The good news comes from a surprising drop in unemployment to 8.8%. Hopes for a grand coalition in Germany continued helping the euro. In the US, upbeat new home sales helped the dollar recover as Powell tried not rocking the boat. Outgoing Chair Yellen was relatively optimistic and the upwards revision of GDP to 3.3%  as well as tax reform also supported the dollar.
[do action="autoupdate" tag="EURUSDUpdate"/]
EUR/USD daily chart with support and resistance lines on it. Click to enlarge: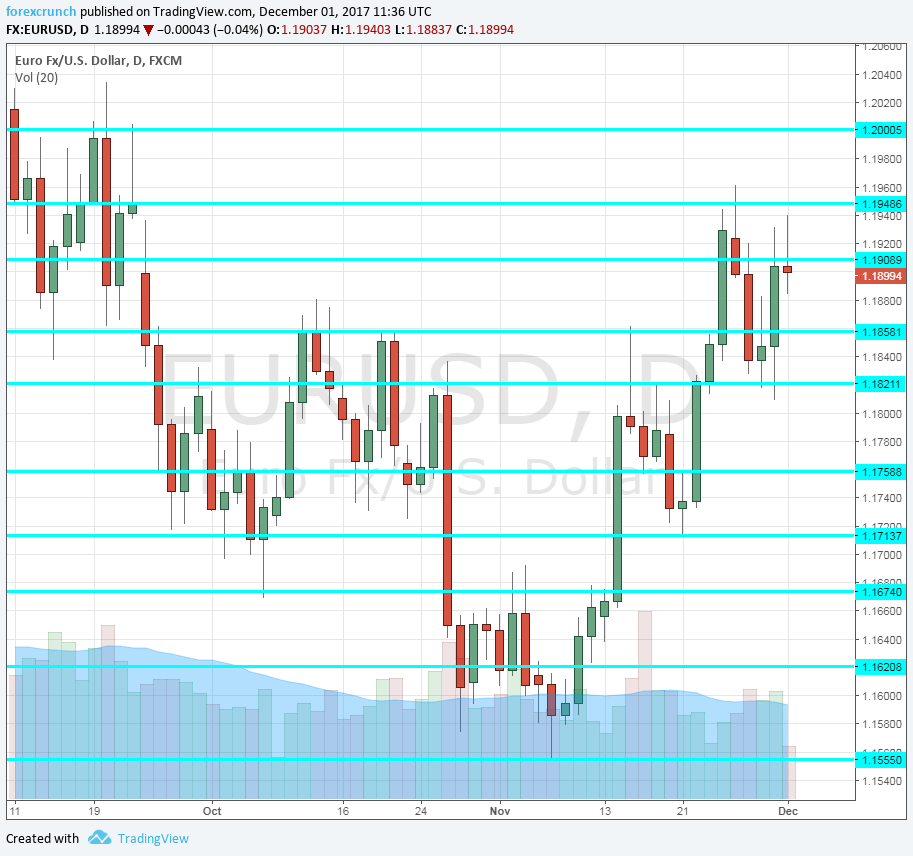 Eurogroup Meetings: Monday. The group of euro-zone finance ministers will convene to discuss recent matters. Progress in Greece's program, political uncertainty in Germany, Italy, and still in Spain, and Brexit are all on the agenda. In addition, the ambitious French plans to bring the euro-zone together will also be floated around, but any progress will be hard to achieve until there is a new government in Berlin.
Spanish Unemployment Change: Monday, 8:00. The fourth-largest economy in the euro-zone still suffers from an elevated unemployment rate despite significant improvements. The monthly and timely release of the change in the number of those out of work provides an interesting snapshot. A rise of 56.8K in unemployment was quite disappointing in October, despite the seasonal effect. A rise of 54.3K is on the cards.
Sentix Investor Confidence: Monday, 9:30. According to this 2800-strong survey, confidence continues rising to levels last seen before the crisis. The score reached 34 points in November. The last report for the year could be even better. A small slide to 32.3K is forecast.
PPI: Monday, 10:00. Producer prices are seen as "inflation in the pipeline". PPI advanced by 0.6% in September, better than expected. A more modest rise is likely now: 0.4%.
Services PMIs: Tuesday morning: 8:15 for Spain, 8:45 for Italy, final French figures at 8:50, final German figures at 8:55 and the final euro-zone numbers at 9:00. Markit reported a score of 54.6 points for Spain's services sector, a drop from previous levels but still above the 50-point threshold that separates growth from contraction. An increase to 55.2 is projected. Italy, the third-largest economy, lagged behind with 52.1 points in October. A rise to 53.4 points is predicted. According to the initial numbers for November, France had an impressive level of 60.2 points. Germany had only 54.9 (contrary to its excellent manufacturing number) and the euro-zone saw 56.2 points as a whole. These three preliminary figures are expected to be confirmed now.
Retail Sales: Tuesday, 10:00. The publication for the euro-zone comes after the major countries have already released their own numbers. Nevertheless, surprises are quite common. In September, the volume of sales increased by 0.7%, a recovery after two months of drops. A drop is likely this time: 0.6%. We already know that Germany saw a drop of 1.2%, so this will weigh on the all-European number.
GDP (revised): Tuesday, 10:00. The euro-zone grew by 0.6% q/q in Q3 according to data already published, for the second quarter in a row. A confirmation of the figure is expected now.
German Factory Orders: Wednesday, 7:00. The volume of factory orders in Germany have risen by 1% in September, a relatively moderate change in comparison to the usually volatile publication. We may see a slide for the month of October: 0.1%.
Retail PMI: Tuesday, 9:10. This measure for the retail sector remains in expansion territory, standing at 51.1 points in October. The number for October could be slightly higher.
German Industrial Production: Thursday, 7:00. Contrary to factory orders, Germany's industrial output dropped in September, by 1.6%. Also here, we can expect volatility, but this has its impact on the euro. A gain of 1% is estimated.
French Trade Balance: Thursday, 7:45. France continues suffering from a chronic trade deficit which widened to 4.7 billion euros in September. The same deficit is expected now.
Mario Draghi talks Thursday, 16:00. The President of the ECB will hold a press conference in front of the  Bank of International Settlements. This comes one week before the central bank makes its decision and also publishes new forecasts. Draghi may react to the upbeat growth figures, but also to the latest disappointment in inflation developments. He usually moves the euro.
German Trade Balance: Friday, 7:00. Contrary to France, Germany enjoys a wide trade surplus, which stood at 21 billion back in September. The high surplus keeps the euro bid. A wider surplus of 22.3 billion is forecast.
French Industrial Production: Friday, 7:45. Output grew by 0.6% in September, as expected and after a few months of a see-saw. Will we see a drop now? A slide of 0.1% is forecast.
* All times are GMT
EUR/USD Technical Analysis
Euro/dollar started the week by holding onto support at 1.1910 (mentioned last week). That did not hold for too long though.
Technical lines from top to bottom:
The cycle high of 1.2090 looms above.  1.20 is the obvious round level and also worked as resistance in September.
1.1950 was the high level seen in November and a stepping stone towards 1.20. 1.1860 capped the pair in August and in October while working as support in September.
1.1820 worked as a cushion to the pair in late November and works as weak support.  1.1760 served as a cushion in November and also played a role beforehand.
1.1710 was the high of August 2015 and also worked as support in November.  1.1670 was a swing low in October. and hasn't worked too well.
The 2016 high of  1.1620 slowed down the pair also in October.  1.1555 was the low point in November and works as a cushion.  It is followed by the round number of 1.15.
1.1445 is the June 2017 peak and immediate resistance. The next level of support is only 1.1370.
I remain bullish on EUR/USD
The Fed is hesitating regarding the next moves while Europe looks more stable. This could continue supporting the pair
Follow us on Sticher or iTunes
Further reading:
Safe trading!