EUR/USD  is now trading on the high end of the range, after German Chancellor Angela Merkel reiterated her commitment to resolving the crisis, including the use of ECB funds. This counters calls in Germany for curbing the powers of the ECB.  The pair is also cheered by the upcoming Spanish bailout request. US indicators point in different directions, depending on which sector you look at.
Here's an update about technical lines, fundamental indicators and sentiment regarding EUR/USD.
EUR/USD Technical
Asian session: Euro/dollar remained on high ground after the move yesterday in the US session.
Current range: 1.2360 – 1.24.
Further levels in both directions: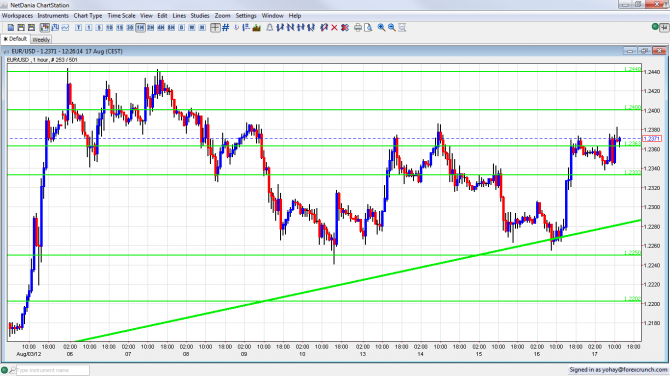 Below: 1.2360, 1.2330, 1.2250, 1.22, 1.2144, 1.2043, 1.20, 1.1876 and 1.17.
Above: 1.24, 1.2440, 1.2520, 1.2623, 1.2670, 1.2743 and 1.2814.
Note that the pair enjoys uptrend support – it started in mid-July and the pair bounced off this line.
1.24 is looming above. Will it be broken in the third try.
1.2250 emerges as strong support.
Euro/Dollar on high ground – click on the graph to enlarge.
EUR/USD Fundamentals
6:00  German PPI. Exp. +0.4%. Actual: 0%.
8:00 Euro-zone  Current Account. Exp. 7.8 billion. Actual: 12.7 billion.
9:00 Euro-zone trade balance. Exp. 5.4 billion. Actual 10.5 billion.
13:55 US UoM Consumer Confidence. Exp. 72.5 points.
14:00 US CB Leading Index. Exp. +0.2%.
EUR/USD Sentiment