EUR/USD  is screaming higher after stronger than expected inflation numbers. CPI is at 0.8% and core CPI at 1%. Strong German numbers gave the euro early support, but reports about a Russian invasion of the Crimea peninsula weigh. As implications for the ECB decision are digested, the focus moves again to the US with the second estimate of GDP and other important indicators. A strong end to the week and month are awaited.
Here is a quick update on the technical situation, indicators, and market sentiment that moves euro/dollar.
EUR/USD Technical
EUR/USD remained stable on high ground after rising in the previous US session.
Current range: 1.38 to 1.3832.
Further levels in both directions: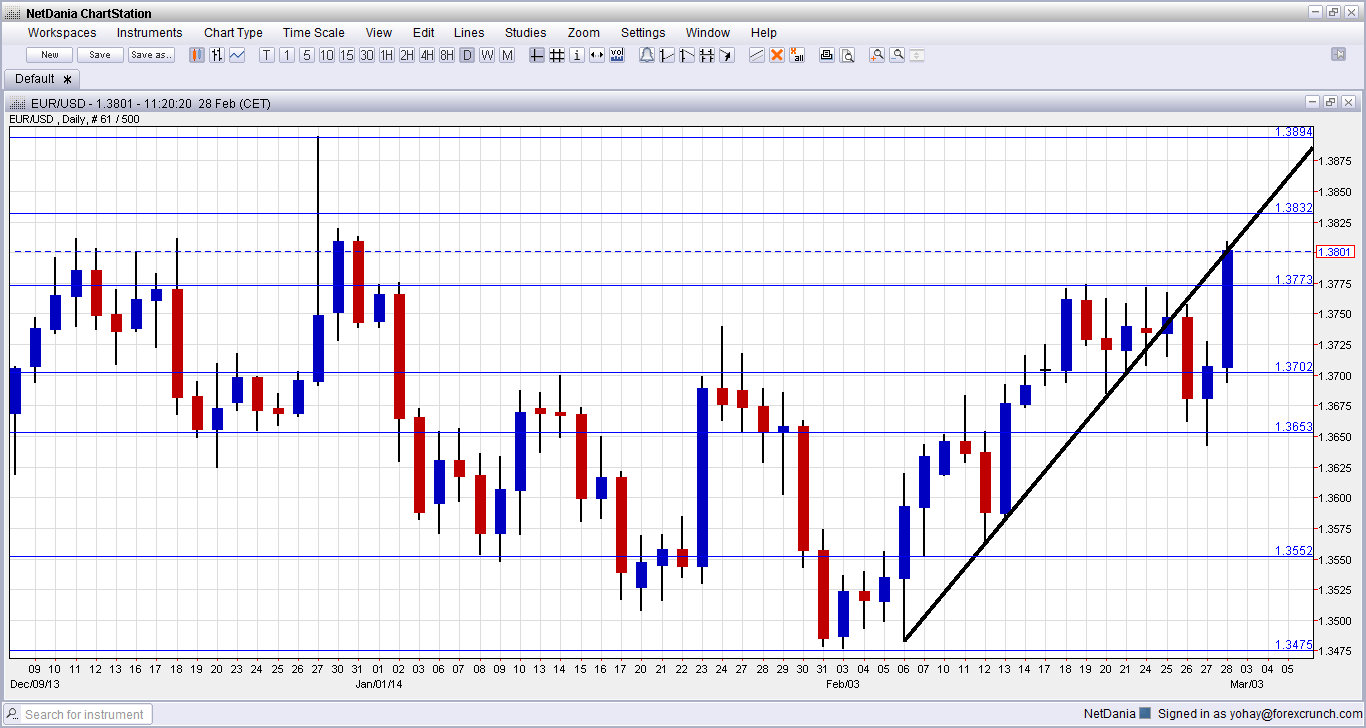 Below: 1.3773, 1.37, 1.3650, 1.3580, 1.3515, 1.3450 and 1.34
Above: 1.3830, 1.3895, 13915 and 1.40 and 1.4214.
1,3830 is strong resistance.
The previous double top of 1.3773 turns to support.
EUR/USD Fundamentals
7:00  German Retail Sales. Exp. +1.2%, actual +2.5%.  
7:45  French Consumer Spending. Exp. -0.8%. Actual -2.1%.
9:00 Italian unemployment rate. Exp. 12.7%, actual 12.9%.
10:00 Euro-zone CPI Flash Estimate. Exp. +0.7%. Actual +0.8%. Core CPI +1%. Big euro rally.
10:00 Euro-zone unemployment rate. Exp. 12%.
10:00 Italian CPI. Exp. +0.5%.
10:00 FOMC member Richard Fisher talks.
13:30 US GDP (second estimate). Exp. +2.6%.
14:45 US Chicago PMI. Exp. 57.9 points.
14:55 US UoM Consumer Sentiment. Exp. 57.9 points.
15:00 US Pending home sales. Exp. 2.9%.
15:15 US FOMC members Narayana Kocherlakota and    Jeremy Stein talk.
*All times are GMT
For more events and lines, see the  Euro to dollar forecast.
EUR/USD Sentiment
More:  Euro-zone inflation: a look to February 2013 can explain the surprise