EUR/USD traded in a relatively narrow range in the post Easter week. Will it break out now? Critical inflation data from Germany and from the euro zone stands out. In addition,  retail sales, employment data and some more PMIs among the highlights of a very busy week. Here is an outlook on the highlights of this week and an updated technical analysis for EUR/USD.
Germany released promising readings indicating robust recovery. Flash manufacturing PMI beat expectations reaching 54.2 while the services PMI surged to 55 points from 53.0 in March. Furthermore, The German IFO business climate edged up to 111.2 points. On the other hand, Draghi weighed in and repeated the explicit connection between the exchange rate and monetary policy. Markets seem to want action and not only words at this point. Let's start:
[do action="autoupdate" tag="EURUSDUpdate"/]
EUR/USD daily chart with support and resistance lines on it. Click to enlarge: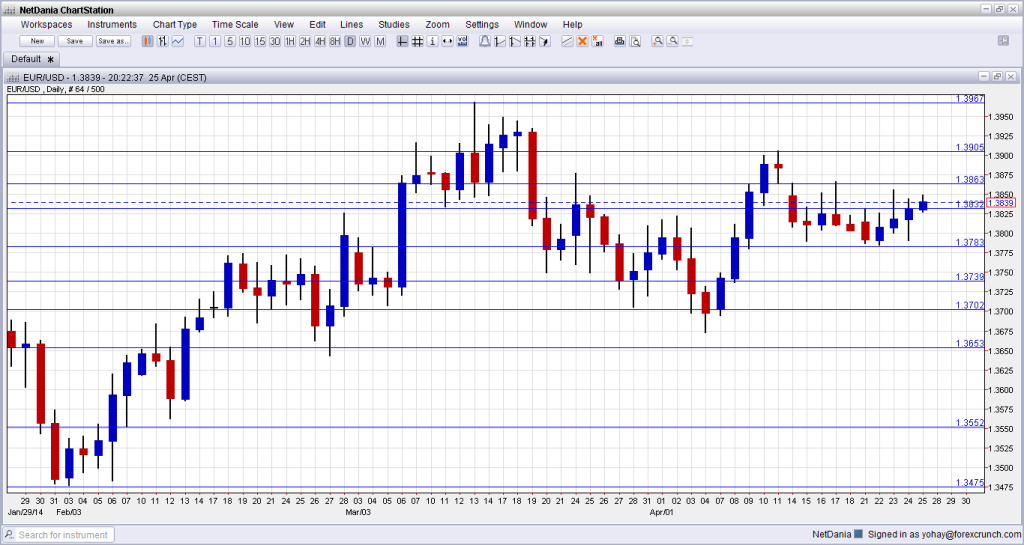 German Flash CPI: Tuesday: states release the data during the day, with the German wide number at 12:00. German CPI numbers have a strong influence on the whole euro-zone number. Given the current focus, each state release can have a significant impact. CPI and the European Harmonized Index of Consumer Prices (HICP) both rose by 0.3% last month and both are now expected to drop by 0.1%. Year over year, CPI is expected to advance from 1% to 1.3% and HICP from the lows of 0.9% to 1.3%.
GfK German Consumer Climate: Tuesday, 6:00. The GfK survey showed German consumers remained positive about the state of the economy, remaining at 8.5. Domestic demand improved due to positive economic expectations. However, analysts believe the crisis in Ukraine may soon start to weigh on sentiment if sanctions are imposed on Russia. German consumer sentiment is expected to remain unchanged at 8.5 points.
Spanish Unemployment Rate: Tuesday, 6:00. Spain's high unemployment rate continued to rise in the fourth quarter of 2013, a painful reminder of the hardships Spain need to face in its path to recovery. Despite 8,400 fewer people out of work, the unemployment rate increased to 26.03% of the workforce, which contracted by 73,400 people to 22.65 million. The economy was in slump since 2008 exiting a two-year recession in the third quarter of 2013. Economists believe the unemployment rate will remain above 25% this year before declining to 24.4% by the end of 2015. Spanish unemployment rate is expected to decline mildly to 25.6%.
M3 Money Supply: Tuesday, 8:00. Euro zone M3 money supply increased at an annual pace of 1.3%, picking up slightly from 1.2% in January. The reading was, in line with market forecast. Meantime, loans to private sector declined 2.2% annually in February, while expected to fall 2.1% drop and following January's 2.2%. Euro zone money supply is expected to grow by1.4%.
German Retail Sales: Wednesday, 6:00. German retail sales edged up unexpectedly by 1.3% in February, rising for the second consecutive month, following a 1.7% climb in the previous month while economists expected a 0.3% decline. The strong figures indicate that German economy is resilient and will post a strong GDP release for the first quarter of 2014. German retail sales are predicted to contract 0.5% this time.
French Consumer Spending: Wednesday, 6:45. French consumer spending increased mildly in February rising 0.1% after a 2.1% slump in January. Economists expected a much stronger reading of 1.0%. Households continued to cut back on spending on food in February for the fourth consecutive month, and spending on energy also declined, although not as sharply as in January.  Overall, French consumer spending in February was 0.3% below the level recorded the same month last year. French consumer spending is expected to rise 0.3%.
Spanish Flash GDP: Wednesday, 7:00. Spain's gross domestic product (GDP) grew 0.3% in the final quarter of 2013, in line with market consensus and following a 0.1% expansion in the third quarter. This was the second increase on a quarterly basis since the first quarter of 2011. However, on a yearly basis, GDP declined 0.1%, meeting the market estimates. The European Commission predicted in its autumn forecast, that Spain will grow 0.5% this year. Moreover, the ratings agency Standard & Poor's estimated a growth rate of 0.8% this year and a 1.2% expansion rate next year. Spain's  GDP is expected to increase 0.2% this time.
German Unemployment Change: Wednesday, 7:55. The number of people out of work in Germany declined by 12,000 in March. This was the fourth month of falls indicating that the strength of the job market in Europe's leading economy will boost GDP growth this year. The jobless rate remained unchanged at 6.7%, after the reading for February was revised down from 6.8 percent. Germany's unemployment rate is much lower than the euro zone average, where the jobless rate reached 11.9% in February. However recent surveys have taken a turn for the worse in light of the Russia -Ukraine crisis. The number of unemployed in Germany is expected to decline by 10,000.
CPI Flash Estimate: Wednesday, 9:00. Annual consumer inflation in the Euro area member states was 0.5%, lower than the 0.7% posted in February. Economists predicted a 0.6% inflation rate. This was the sixth month of low inflation defined by the ECB as the "danger zone" of below 1%. Mario Draghi, suggested that the bank will take bold action should the outlook deteriorate. Inflation is expected to gain momentum with a 0.8% reading.
EU Economic Forecasts: Wednesday, 9:00. EU commissioner Olli Rehn announced at the winter economic forecast in February, that the Eurozone's recovery is gaining ground. Rehn showed higher than expected growth rates and forecast a 1.2% expansion this year and 1.8% in 2015. However, the unemployment rate remained the biggest downside risk to the Euro-area recovery.
Manufacturing PMIs: Friday. Spanish manufacturing activity increased at the fastest rate in almost four years in March, rising to 52.8 from in 52.5 in February. Respondents were hopeful about growth in the first quarter of the year. Spanish manufacturing sector continued to expand in March, finishing off a solid first quarter. Furthermore, rises in new and existing orders suggest that further growth in the coming months. Meantime, Italian manufacturing inched up to a seasonally adjusted 52.4 in March from a reading of 52.3 in February. Analysts had expected the index to fall to 52.2. Italian manufacturing posted three consecutive months of expansion averaged 52.6 achieving the best quarterly performance since the second quarter of 2011. The Eurozone Manufacturing also remained in expansion with 53.0 points in March, unchanged from February and in line with market forecast. Spain manufacturing is expected to advance to 53.2, Italy's manufacturing sector is also expected to rise to 53.0, while the Eurozone is anticipated to remain at 53.3.
Unemployment Rate: Friday, 9:00. The Eurozone may have emerged from recession last year, but the labor market continues to falter with a stubbornly high unemployment rate of 11.9% in February following 12% in the previous month. These high g\figures suggest recovery is still fragile but the situation varies wildly from country to country. While Germany continues to have low jobless rate of 5.1%, countries that had to make spending cuts such as Spain has the bloc's highest rate alongside Greece at 25.6%. Overall, the number of unemployed in the Eurozone declined, but only by 35,000, leaving almost 19 million still out of work. Eurozone  unemployment is expected to remain unchanged at11.9%.
* All times are GMT
EUR/USD Technical Analysis
Euro/dollar  started the week with a slow move towards 1.3830 (mentioned last week), but this early attempt failed. After dropping to 1.3785, the pair did make a move higher towards 1.3860, but eventually dropped and closed around the 1.3830 line.
Technical lines from top to bottom:
1.4105 provided support for the pair during August 2011. It is followed by 1.4055, which worked as a lower line in that period of time.
The all important round number of 1.40 is of high political importance. We have seen how  getting close to the line triggered a critical comment that sent it down. Below, the 2014 high of  1.3964  will be closely watched.
The April peak of 1.3905 serves as minor resistance. It is followed by 1.3865 which capped the pair during the same time as well.
1.3830, which was a long serving 2013 peak comes back into the focus after capping the pair in March 2014 and serving as a clear separator several times. 1.3785 worked as support for the pair during April and served as resistance beforehand.
1.3740, which provided some support at the end of 2013 is now key support to the downside. The round number of 1.37, is another support line after capping the pair in December.
1.3650  provided support in December and worked as resistance in September 2013, and is also a significant line. Also the February rally fell short of this line. Below,  1.3560  worked as good support twice during February 2014.
The January 2014 low of 1.3515 provides minor support on the way down. 1.3450 worked as resistance in August 2013 and as support in September and October. It is now a key line on the downside.
I remain bearish on EUR/USD
The ECB has created high hopes from April's inflation numbers, and this could result in a big disappointment. The exchange rate of the euro has been high during this month and the effect of Easter is not necessarily that strong. Adding the recent  depreciation of the Chinese yuan, the euro-zone is in danger of importing deflation. In the US, we finally get top tier indicators for a "clean" month. Given some positive early indications for April, the numbers could certainly be strong.  In addition, with EUR/USD close to the "line in the sand" of 1.40, a downwards move seems to be the path of least resistance.
More EUR/USD:
If you are interested a different way of trading currencies, check out the  weekly binary options setups, including EUR/USD and more.
Further reading: