EUR/USD had a positive week, riding on the confident message from Mario Draghi and recapturing the broken uptrend support line. The ECB president will have another opportunity to rock markets now. In addition, industrial production and the all-important GDP figures are the highlights of this week. These are the main highlights for this week. Here is an outlook on the major events and an updated technical analysis for EUR/USD.
The ECB left all rates unchanged and president Mario Draghi gave a calm speech in which he provided an explanation for each inflation worry. Even though the ECB doesn't really expect a change, it remains open to action, depending on data coming in March. PMI readings released earlier indicated modest improvement in January with positive Services PMIs from Spain Italy and the Eurozone  as well as solid figures in the manufacturing sectors but Eurozone Retail Sales disappointed by dropping 1.6%. In the US, the Non-Farm Payrolls report came short of expectations, but another drop in the unemployment rate with a big upgrade to past data left analysts skeptical that the taper train would derail. What is the next direction of the pair? Let's start,
[do action="autoupdate" tag="EURUSDUpdate"/]
EUR/USD daily chart with support and resistance lines on it. Click to enlarge: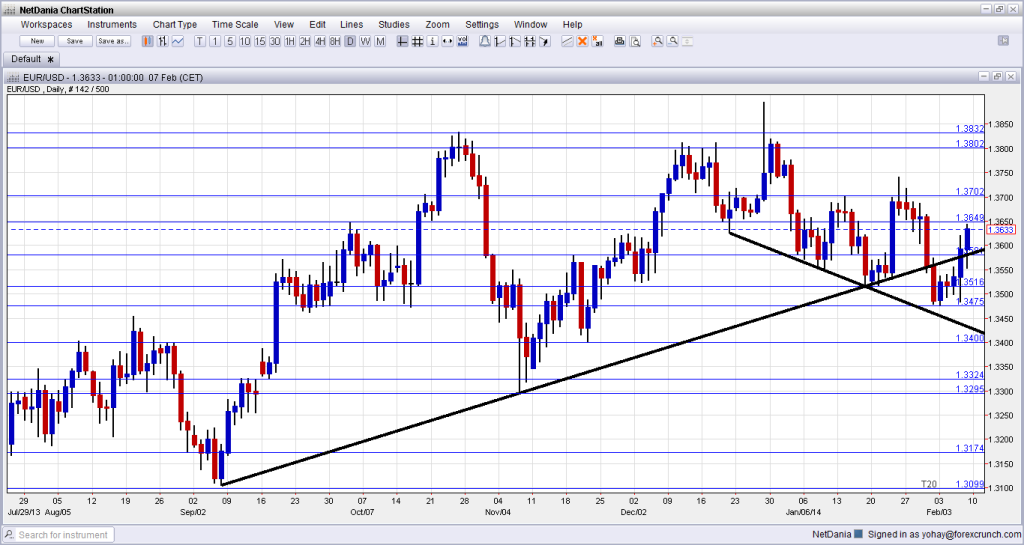 French Industrial Production:

Monday, 7:45. French industrial sector rebounded into expansion zone in November, rising 1.3%, following a 0.5% decline in October. 

Industrial production rose 1.3% in November month-on-month, outrunning expectations of 0.4% growth. Manufacturing production climbed 0.2% compared to the 0.3% gain in the previous month, below forecast of 0.2% improvement. On a yearly base, industrial production advanced 1.5% in November, while manufacturing production improved 1.6%. Meanwhile, French manufacturing Purchasing Managers' Index (PMI) for December edged down to 47.0, lower than the 47.1 predicted by analysts. French industrial  is expected to decline 0.1% this time.

Italian Industrial Production:

Monday, 9:00. Italy's industrial production advanced 1.4% in November compared to the same month in the previous year, ending a 26-month of year-on-year declines. Production edged up 0.3%. GDP stopped contracting in the third quarter of 2013, after declining eight consecutive quarters. Analysts believe exports will be the main growth locomotive in Italy during 2014. Between January-November 2013, Italian exports to non-European Union (EU) countries climbed by 1.2% compared to the same period in 2012, while trade surplus reached 16.6 billion euros. Italy has shown signals of improvement since the last quarter of 2013, but the way to solid recovery will be painfully slow. Italian Industrial Production is predicted to remain unchanged.

Sentix investor confidence:

Monday, 9:30.  Analysts in the euro zone were more optimistic regarding economic prospects in January with a jump to 11.9, after posting 8 points in December 2013. Analysts expected a more modest rise to 9.7 points. The euro zone's recovery is expected to accelerate this year, despite record high unemployment. A decline to 10.3 is forecasted.

Industrial Production:

Wednesday, 10:00. Euro zone industrial production advanced 1.8% in November exceeding forecast of a 1.6% climb, suggesting stronger growth momentum in the final quarter of 2013. This major improvement was fueled be a 3.0% climb in capital goods production and a 2.2% increase in durable goods. On a yearly base, industrial production rose 3.0% in November after a upwardly revised 0.5% rise in October. Euro zone industrial production is expected to fall 0.2% in December.

Mario Draghi speaks:

Wednesday, 10:30. ECB President Mario Draghi will speak in Brussels

.

He may talk about the ECB's recent decision to maintain rates and monetary policy in light of the slow inflation. Market volatility is expected.

ECB Monthly Bulletin:

Thursday: 9:00. The January release of the European Central Bank's monthly bulletin revealed that the euro's low inflation is expected to continue with a gradual rise in the coming months. Regarding growth, weakness is still reflected by subdued economic activity, but gradual improvement is expected. 

 The ECB reiterated that it will maintain an accommodative monetary policy stance for as long as necessary to ensure the ongoing recovery in the Eurozone.

Preliminary GDP data: Friday. Eurozone's initial estimate of GDP posted a modest growth of 0.1% in the third quarter after a 0.3% expansion in the second quarter. Economists expected a stronger gain of 0.2%. The weak release indicates the Eurozone is still struggling to gain momentum amid high levels of unemployment, weak investment, tight credit conditions and government austerity. However, German economy expanded 0.3% in the third quarter, in line with market consensus. Germany accounts for more than one quarter of the Eurozone's GDP continues to advance. The balance of exports and imports is positive, despite the recent downward effect on GDP growth. Private consumption continues to strengthen, supported by low interest rates showing a solid growth trend. Meanwhile, the French and Italian economies shrank 0.1% indicating continuous downturn.  GDP figures are expected to imptove with a 0.2% expansion projected in the Eurozone, 0.2% gain in France, 0.3% expansion in Germany and 0.1% rise in Italy.
French Non-Farm Payrolls:

Friday, 7:45. French non-farm narrowed in the third quarter, falling 0.1%. The reading came in line with analysts' predictions. 

Excluding pat-time positions, employment declined sharply by 21,800 in the quarter. 

However services sector increased 5,300 in the third quarter, while the construction sector posted a 5,800 decline. French non-farm payrolls is expected to decline again by 0.1%.
* All times are GMT
EUR/USD Technical Analysis
Euro/dollar started the week by trading on low ground, above support at 1.3470 (a line that joins our chart and didn't appear last week). It then made a big breakout, eventually stopped just under the 1.3650 line to close at 1.3633.
Technical lines from top to bottom:
1.38 is a round number and also worked as a temporary cap during that period of time and also in October 2013. Another round number, 1.37, is another resistance line after capping the pair in December.
1.3650 provided support in December and worked as resistance in September 2013, and is also a significant line. Also the February rally fell short of this line. Below, 1.3580 worked in both direction in the winter of 2013-14.
The January 2014 low of 1.3515 provides minor support on the way down. 1.3450 worked as resistance in August 2013 and as support in September and October. It is now a key line on the downside.
The round number of 1.34 worked as resistance several times in 2013, and is strengthening now. 1.3320 worked as a double top in early September and it was crossed only with a Sunday gap. It remains a clear separator of ranges.
It is closely followed by 1.3295, which was the bottom in November and is part of the broken trend line. 1.3175 capped the pair during July 2013.
1.3100 is worked as temporary resistance in December 2012 and is becoming more important once again, after capping a recovery attempt in June and then in July and providing support in September. Below, 1.3050 is minor support after holding the pair in August 2013.
Long term uptrend support recapture
A line beginning in the lows of early September that was connected to a line in November gave support to EUR/USD for some time, was broken in the previous week but now very nicely recaptured at the last minute. Is this a bullish sign?
Downtrend support that began in December and was formed in January is getting further away now.
I am neutral on EUR/USD
Technically, the pair is stuck in the current trading range, and needs a serious trigger to break out. A big surprise in GDP or from Draghi are needed to make a move to the upside or to the downside, and this is not very likely.
While the door is still open to a negative deposit rate in March, only fresh inflation data can trigger expectations and this is not likely this week. In the US, the slowdown of job growth is certainly worrying, but the bigger picture has improved due to big revisions. This puzzling situation is not expected to move the taper train from its clear track. All in all, barring a really big surprise, range trading is probably the best option for this pair.
More:
If you are interested a different way of trading currencies, check out the weekly binary options setups, including EUR/USD and more.
Further reading:
Get the 5 most predictable currency pairs