EUR/USD had a dramatic week thanks to the ECB: falling to low support and eventually making a big comeback. Industrial production figures, ECB Monthly Bulletin and inflation data are the main events on our calendar. Here is an outlook on the highlights of this week and an updated technical analysis for EUR/USD.
Last week, the ECB made a historic move by setting a negative deposit rate of -0.10% and cutting the main rate to 0.15%. Draghi made commercial banks pay for lodging money at the ECB while giving incentives to banks willing to boost their lending to private companies. This move excludes lending to the real estate market. The European Central Bank also left the door open for further monetary-policy action, including further purchases of asset-backed securities but did practically close the door on more cuts, and this allowed the euro to recover. The Governing Council reiterated its commitment to using unconventional instruments in case inflation levels remain low. Will the ECB's historic measures boost inflation in the Eurozone? In the US, it was business as usual with the NFP coming out as expected. Let's start,
[do action="autoupdate" tag="EURUSDUpdate"/]
EUR/USD daily chart  with support and resistance lines on it. Click to enlarge: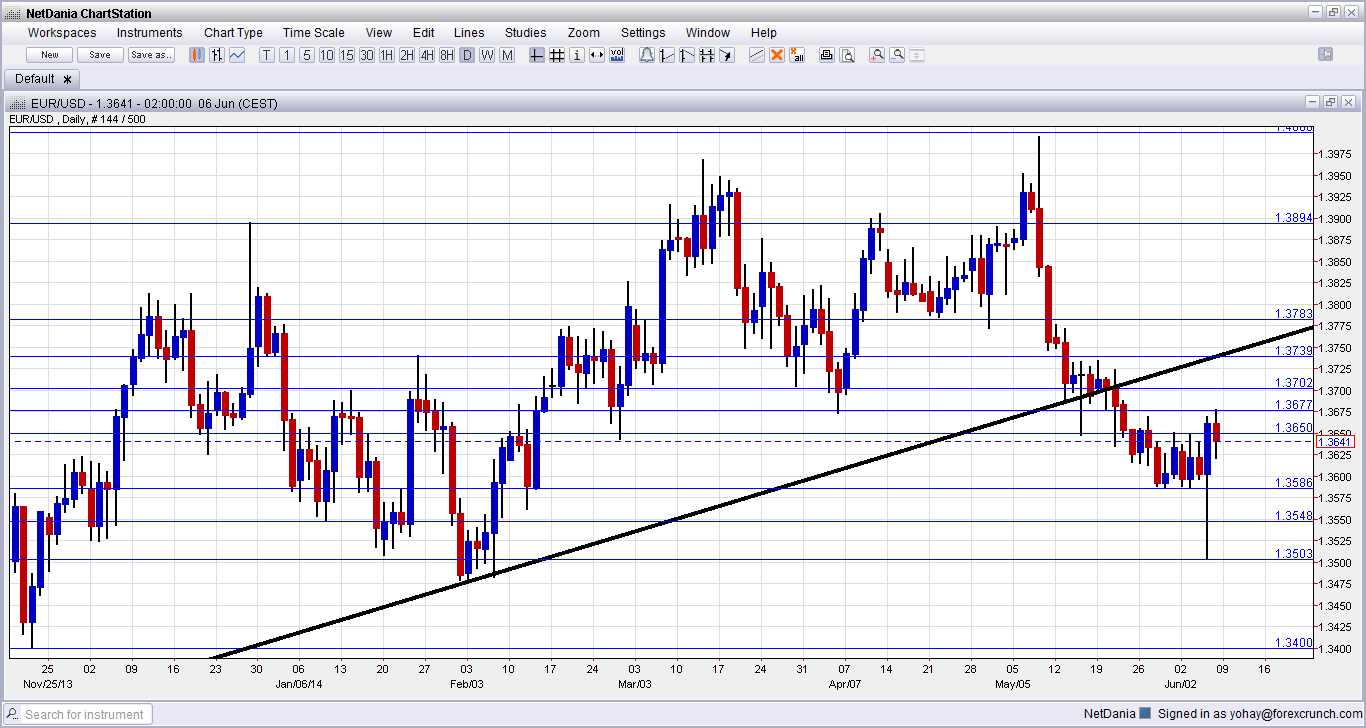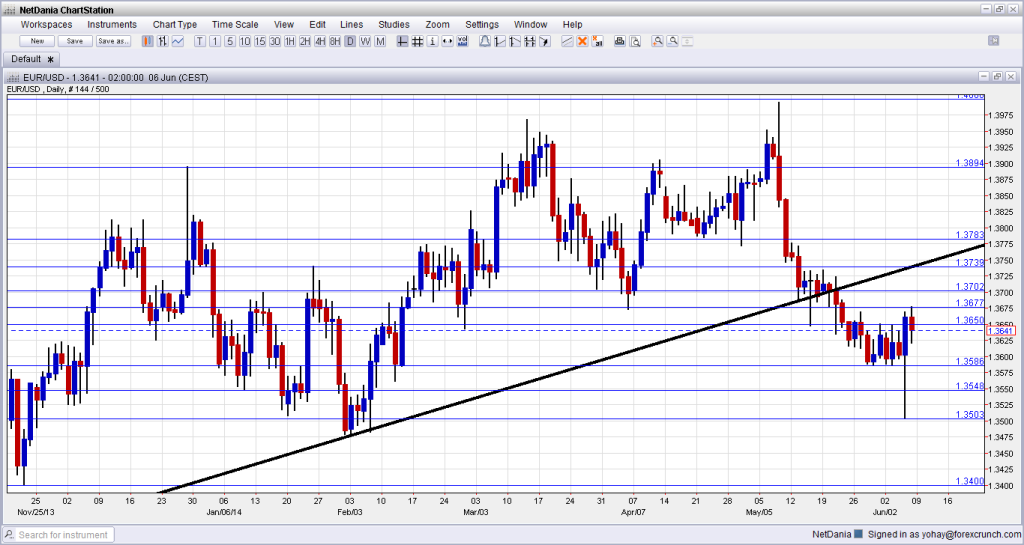 Sentix Investor Confidence: Monday, 8:30. Eurozone investor confidence declined unexpectedly in May, reaching 12.8 from 14.1 in April amid a plunge in economic expectations. Analysts expected a modest increase to 14.2. The current conditions index, however, climbed to 7.5 from 5.8 in the previous month. Investor sentiment is expected to rise to 13.5  this time.
French Industrial Production: Tuesday, 6:45. French factory output weakened more than expected in March dropping 0.7% after a 0.1% gain in the previous month. Production over the first quarter also fell 0.3% indicating recovery isn't proceeding according to Hollandes' forecast. These weak data reinforce expectations that GDP growth will be smaller in the first quarter of 2014 than in the last quarter of 2013. A gain of 0.3% is expected now.
Italian Industrial Production: Tuesday, 8:00. Industrial output in March fell 0.5% after a revised 0.4% contraction posted in February. The reading was contrary to market forecast of a 0.3% gain. Manufacturing as well as in mining and quarrying, registered sharp declines whereas electricity, gas, steam and air conditioning performed better compared to the previous month.  Industrial output is expected to grow by 0.4% now.
ECB Monthly Bulletin: Thursday, 8:00. The European Central Bank (ECB) said in May it will deploy unconventional monetary policy measures in order to cope with risks of continuous low inflation. Preparing markets for Draghi's rate cut announcement in June. The monthly report kept its pro-active tone, bit reiterated it would continue its forward guidance policy for an extended period of time.
Industrial Production: Thursday, 9:00. Euro zone industrial production fell 0.3% in March, in line with market. On a yearly base, this was the first decline time since August as energy production plunged; increasing concerns about the Eurozone's economic growth prospects. These figures were an addition to recent softer euro zone data including   a sharp drop in the ZEW German investor morale index in April prompting the ECB to act. A rise of 0.5% is expected this time.
Employment Change: Friday, 9:00.  Euro zone employment improved for the first time in nearly three years in the last quarter of 2013 adding 0.1% after staying flat in the previous two quarters. The reading was 0.5% lower year-on-year, but the pace of contraction slowed further from -0.8 % in the third quarter of 2013 and -1.1 in the second. Spain, which one of the highest unemployment rates in Europe gained  0.6% on the quarter. Greece, also improved by a 0.2%. Portugal, showed a 0.7% rise in the number of employed and a 0.5% year-on-year increase. Euro zone employment  is expected to improve by 0.1% this time.
* All times are GMT
EUR/USD Technical Analysis
Euro/dollar started the week by trading in the range under 1.3650 (mentioned last week). It then fell sharply, eventually bouncing at 1.35 before reaching new highs and closing at 1.3640, very close to last week's close.
Technical lines from top to bottom:
The April peak of 1.3905 serves as minor resistance. It is followed by  1.3865  which capped the pair during the same time as well.
1.3830, which was a long serving 2013 peak comes back into the focus after capping the pair in March 2014 and serving as a clear separator several times. 1.3785 worked as support for the pair during April and served as resistance beforehand.
1.3740, which provided some support at the end of 2013 is now key support to the downside. The round number of 1.37, is another support line after capping the pair in December yet it is weakening.
1.3677 was the peak in June so far, and could turn into important resistance. 1.3650 worked as strong resistance during May and June but is weakening now.
1.3585 served as the bottom of the range and still carries weight despite the breakdown in June. 1.3550 worked as support in January and regains its importance. The round number of 1.35 worked as the last cushion in June and is strong also due to the roundness.
1.3450 worked as resistance in August 2013 and as support in September and October. It is now a key line on the downside. The round number of 1.34 was last seen in December as a stepping stone for the pair on its way down.
Broken uptrend support
The uptrend support line that accompanies the pair since late February has been finally broken after a battle. This serves as another downside hint.
I am neutral  on EUR/USD
The ECB finally acted and acted big time. However, the change of forward guidance certainly backfired and EUR/USD remains high – not the desired effect. Looking forward, the actual implementation of the negative deposit rate on Wednesday, June 11th, could be euro negative, as well more talk about more steps. On the other hand, the positive economic signs from Germany could keep the euro strong.
If you are interested a different way of trading currencies, check out the  weekly binary options setups, including EUR/USD and more.
Further reading: