EUR/USD  remained depressed and tested lower ground. And now, it's money time with the ECB decision. What actions will the ECB take? Will the euro further fall or is it already priced in?    We have fresh inflation numbers preceding the decision, as well as quite a few other indicators on the docket.  Here is an outlook on the highlights of this week and an updated technical analysis for EUR/USD.
In the ECB conference,  Mario Draghi made it clear that action is imminent  in the ECB meeting. Also  a few other members of the central bank echoed these intentions. In addition, data has not been too positive, with disappointments coming from German employment and also from initial  weak inflation numbers coming out of Italy and Spain. In the US, the first quarter was worse than expected as  the US economy contracted by 1%,  but more up to date data for Q2 already looks better. Let's start:
[do action="autoupdate" tag="EURUSDUpdate"/]
EUR/USD daily chart  with support and resistance lines on it. Click to enlarge: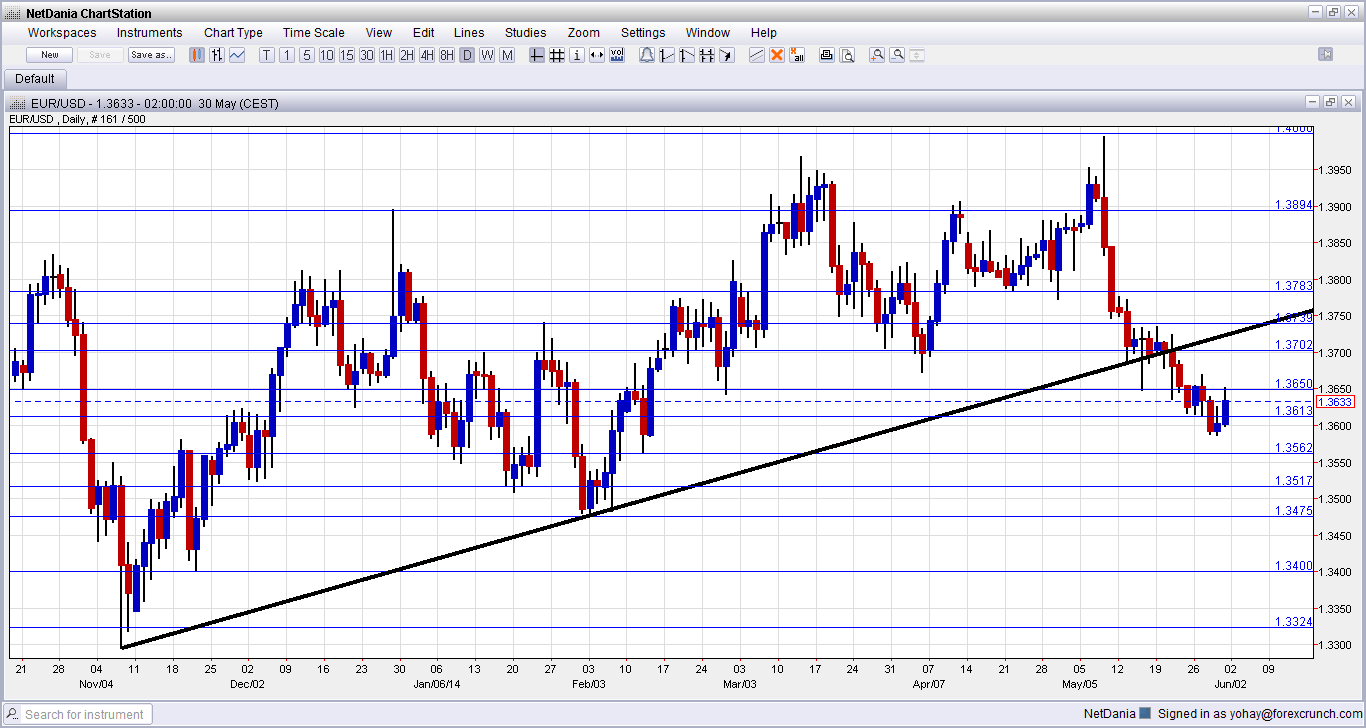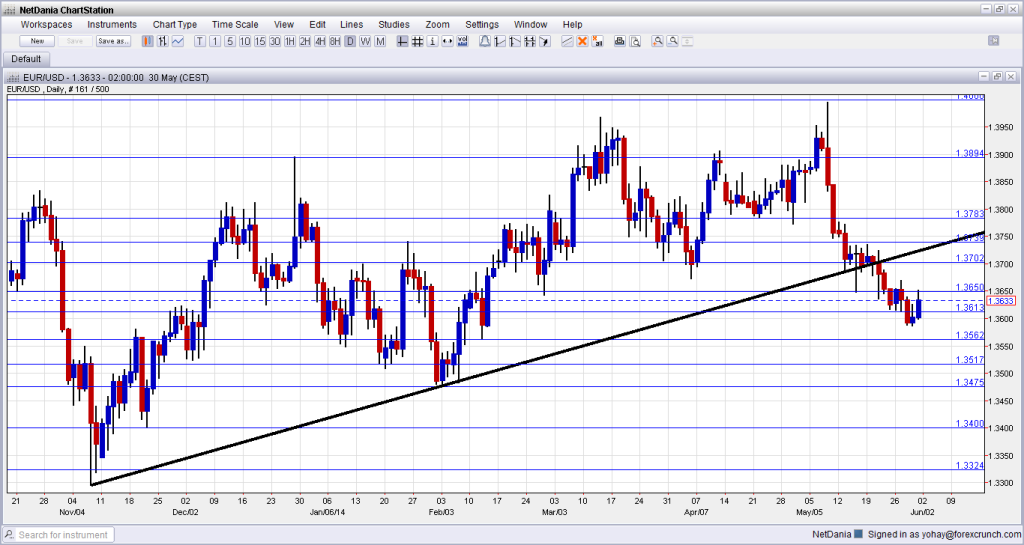 German CPI: Monday. Consumer prices declined 0.2% in April, more than the 0.1% drop projected by analysts and following a 0.3% gain in the previous month.  On an annual bases, CPI increased 1.3% in April after posting a 1.0% gain in March. These lower than expected figures worsened matters for the Eurozone inflation in April posting 0.7% while expected to reach 0.8%. Consumer prices are expected to advance 0.1% this time.
Manufacturing PMIs: Monday. Spain's  manufacturing sector  expanded for the fifth straight month in April reaching 52.7, lower by 0.1 compared to March but showing continued job creation with stronger economic activity. Meanwhile, the Italian manufacturing sector edged up to 54.0 in April from 52.4 in the prior month, beating expectations for 52.9. Exports increased and purchasing activity all reached three-year high. Likewise the Eurozone manufacturing purchasing managers' index expanded to 53.4 in April from 53.3, hitting a 3-month high. Price pressures remained low. Overall April was a good month for the European manufacturers. Spain is expected to reach 52.6, Italy 54.3 and the Eurozone 52.5.
Spanish Unemployment Change: Tuesday, 7:00. The number of unemployed in Spain plunged by 111,565 in April, following   a decline of 16,600   in March, posting the biggest drop since the statistical series began in 1996. The impressive drop in the number of registered unemployed indicated the Spanish labor market is in constant improvement.
CPI Flash Estimate: Tuesday, 9:00. Consumer price inflation in the euro zone increased less than expected in April rising by a seasonally adjusted 0.7% after a 0.5% increase in the previous month indicating low inflation levels continue to threat the region.   The rate stands well below the European Central Bank's target of just under 2%. Meanwhile, core CPI, excluding food, energy, alcohol, and tobacco costs edged up by a seasonally adjusted 1% in April, accelerating from 0.7% in March and in line with expectations. Consumer price inflation in the Eurozone is expected to remain 0.7%.
Unemployment Rate: Tuesday, 9:00. The euro zone's seasonally-adjusted unemployment rate remained stable at 11.8% in March for the fourth consecutive month. The steady pace of recovery in the manufacturing sector offers positive expectations regarding lower unemployment rates in the coming months. However there are concerns about the continuing high unemployment rates for Europe's younger workers.The unemployment rate is expected to remain at11.8% .
Services PMIs: Wednesday. Spanish service sector gained momentum in April rising to 56.5, the highest for seven years following 54 in March. Spanish economic sentiment has improved, boosting economic output and strengthening domestic demand. Italy's  service sector  also returned to growth  in April rising to 51.1 from a contraction of 49.5, as new business increased even while companies shed more staff. Services PMI in the Eurozone reached 53.1 in line with market forecast following 52.2 in the previous month. The large economies expanded better than predicted indicating the Euro-area is keeping up with recovery. Spanish services sector is expected to reach 56.1, Italy is predicted to advance to 51.4 and the Eurozone services sector is expected to remain at 53.45.
German Factory Orders: Thursday, 6:00. German factory orders slipped unexpectedly in March amid lower demand for capital and consumer goods both domestically and abroad, dropping 2.8%. Concerns over the Ukraine crisis contributed to this slump. The sharp drop was contrary to the 0.3% gain estimated by analysts, however this decline is believed to be temporary. German factory orders are predicted to climb 1.3% this time.
Retail Sales: Thursday, 9:00. Retail sales in the euro zone edged up unexpectedly in March, rising 0.3% from a 0.1% gain in February, while analysts expected a slump of 0.2%. Sales of food, drinks and tobacco boosted rates, but spending patterns differed widely across the bloc. Compared with the same period of last year, the rise in volume of sales was broadly in line with expectations at 0.9% in March, slowing from an upwardly revised 1.0% growth in February. Retail sales in the euro zone is expected to gain 0.1% in April.
ECB rate decision:  Thursday, 11:45, press conference at 12:30.

The ECB is likely to act  

as promised

 and to keep the pressure on the euro. While the euro dropped throughout May due to Draghi's comment last time, the exchange rate is probably still too high. This keeps inflation low. In addition, money supply is squeezing. A cut of 10 to 15 basis points is likely in both the main lending rate and the deposit rate. In addition, the ECB could accompany this move with some new kind of LTRO. While the governing council is likely to keep the QE powder dry, Draghi could certainly provide some more details about such a potential program, making it clear that the option is on the table. A negative rate by such a major central bank is uncharted territory. In addition and despite all the preparations, Draghi's action and words are not fully priced in. Draghi could  drag the euro down once again.

German Trade Balance: Friday, 6:00. Germany's exports dropped 1.8% in March, falling for the second consecutive month, while imports slipped 0.9%, pushing the trade surplus down to 14.8 billion euros. Analysts expected trade surplus to advance to 16.9 billion euros. The Ukraine crisis and the Chinese slowdown contributed to this contraction. In the first two months of 2014, German exports to  Russia  dropped by 16% and may continue falling in the coming months. Domestic demand is the main force to boost German economic growth this year. A further drop to 14.3 billion euros is expected now.
* All times are GMT
EUR/USD Technical Analysis
Euro/dollar began the week with a failed attempt to move higher. After the pair dropped below the 1.3615 level (mentioned  last week), it could not really recover.
Technical lines from top to bottom:
The all important round number of  1.40 is now even stronger after the pair was clearly rejected there  in early May.  Below, the 2014 high of  1.3964  will be closely watched.
The April peak of 1.3905 serves as minor resistance. It is followed by  1.3865  which capped the pair during the same time as well.
1.3830, which was a long serving 2013 peak comes back into the focus after capping the pair in March 2014 and serving as a clear separator several times. 1.3785 worked as support for the pair during April and served as resistance beforehand.
1.3740, which provided some support at the end of 2013 is now key support to the downside. The round number of 1.37, is another support line after capping the pair in December yet it is weakening.
1.3650  provided support in December and worked as resistance in September 2013, and is also a significant line, especially after the bounce in May. Also the February rally fell short of this line.  1.3615  is the new May 2014 low and it serves as the next line of support.
Below,  1.3560  worked as good support twice during February 2014. The January 2014 low of 1.3515 provides minor support on the way down.  1.3475 worked as strong support back in February and  previously worked in both directions.
1.3450 worked as resistance in August 2013 and as support in September and October. It is now a key line on the downside. The round number of 1.34 was last seen in December as a stepping stone for the pair on its way down.
Broken uptrend support
The uptrend support line that accompanies the pair since late February has been finally broken after a battle. This serves as another downside hint.
I remain  bearish on EUR/USD
A negative deposit  rate from a major central bank is uncharted territory and can have a strong negative impact on the euro, even if does not come as a surprise. In addition, Draghi is likely to maintain the dovish stance and leave the door open for more action, aiming for a lower exchange rate. Together with not-so-cheap European bonds, we could see outflows from the euro-area.
In the US, expectations are for a positive NFP, but not too outstanding. The top tier  US data may impact  the US dollar against most currencies in either direction, but is probably going to leave the most of the stage to Draghi's heavy hand.
More EUR/USD:
If you are interested a different way of trading currencies, check out the  weekly binary options setups, including EUR/USD and more.
Further reading: