Euro/dollar  sank down the previous range and couldn't fully recover, in a very tense and busy week. Are new falls awaiting us? The upcoming week consists of 9 events and the ongoing debt crisis in Europe. Here is an outlook for these events and an updated technical analysis for EUR/USD.
The Greek referendum was born at the beginning of the week and was buried towards the end. It definitely weakened the common currency, together with acknowledgement of a recession in the euro-zone  and the rate cut. After the Greek government survived a confidence vote, some of the focus shifts to Italy, which has its own political mess and with its yields, long term and short term at scary, almost "bailout level" highs, despite ECB intervention.
Update: Papandreou is cornered by all opposition parties. Elections in Greece seem closer, and this won't help the euro, but Papanderou might resign according to some reports. Update: the limelight moves from Greece to Italy: Two year Italian bonds pass the 6% mark, EUR/USD dives to lower end of the range. While it recovered afterwards, the weakness in the core and Berlusconi still in power all keep any rallies well contained. Berlusconi tentatively resigns and this helps the euro, although he's currently still in power, and yields remain super high. EUR/USD falls to critical support after margins on Italian bonds are raised and yields cross the 7% Rubicon. EUR/USD found a bottom at 1.3480 and then recovered nicely, thanks to rumors on ECB bond buying and an early Italian vote. Italian yields are lower, while French yields are becoming scary as well. EUR/USD found a very significant cap towards the end of the week, as Italy votes on austerity.
EUR/USD daily chart with support and resistance lines on it. Click to enlarge: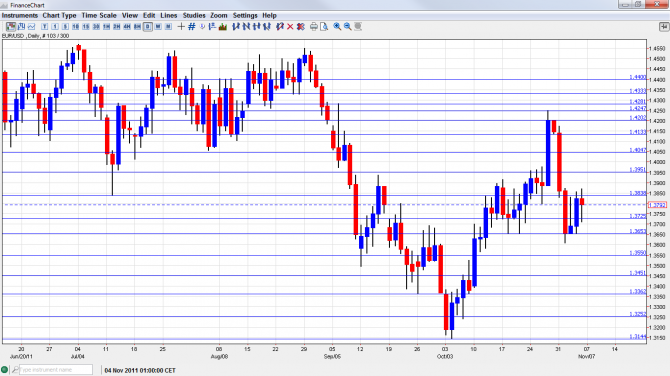 Sentix Investor Confidence: Monday, 9:30. This wide survey of investors has been falling in recent months, and has been negative in the past 3 months, expressing growing pessimism. The score is predicted to fall from -18.5 to -19.5 this time.
Retail Sales: Monday, 10:00. European consumers have been very cautious of late. The volume of sales dropped by 0.3% in August and is expected to have remained unchanged in September, the month reported now.
German Industrial Production: Monday, 11:00. Europe's locomotive is getting very slow, according to purchasing managers' indices and according to the plunging factory orders figure published on Friday, a drop of 4.3%. So, also industrial output carries little expectations, for a drop of 0.7%.
German Trade Balance: Tuesday, 7:00. The drop in orders still doesn't endanger the high trade surplus that Europe's No. 1 economy has. This surplus likely rose from 13.8 billion to 14.4 billion.
French Trade Balance: Tuesday, 7:00. On the other hand, Europe's No. 2 economy has a deficit in its trade balance, and this is now expected to widen from 5 billion to 5.2 billion. Note that France suffered from wider deficits in the past.
French CPI: Thursday, 6:30. France doesn't really feel the relatively elevated inflation in the euro-zone. A drop of 0.1% was recorded last month, and will likely be countered with a rise of 0.1% now.
German WPI: Thursday, 7:00. This secondary inflation figure does have a long term impact on prices – and this is something the ECB watches among other things. Here, a surprising rise of 0.3% was seen in September. Arise of 0.2% is expected now.
French Industrial Production: Thursday, 7:45. France's industry probably squeezed in September after two nice months of growth. A drop of 0.6% is on the cards.
ECB Monthly Bulletin: Thursday, 9:00. One week after the rate cut, we will get to see the negative numbers that  Mario Draghi and his colleagues saw in front of their eyes. This should shed some light on future decisions as well.
* All times are GMT.
EUR/USD Technical Analysis
Euro/dollar didn't stay long at high ground, due to the yen intervention. Only after a drop of around 200 pips, it stopped to rest above the 1.3950 line (mentioned last week) before digging deeper. Throughout most of the days that followed, the 1.3650 – 1.3838 range bounded the pair.
Technical lines from top to bottom:
We still start from high ground. The round number of 1.44 is another minor line, after holding the pair down in July. More significant support appears at 1.4335, which was support during during August.
1.4282 was the peak in November 1.4282 and played an important role afterwards as well. It is closely followed by 1.4250 which was the peak just now and also when the euro was climbing earlier in the year.
1.42 was a minor line of resistance in May and is immediate resistance. The pair managed to hold on to 1.4130 before collapsing at the end of October, and this is a new line on the chart.
1.4050 is an updated version of the veteran 1.4030 line. It capped recovery attempts in October and beforehand.  1.3950 was a notable bottom during May and a strong cap in during October before the break.
1.3838, which was a swing low a few months ago and was later tested on a failed recovery attempt, is now somewhat  weaker but still relevant, holding back attempts to rise.  1.3725 worked as support several times in October and served as a pivotal line in the range.
1.3650 worked quite well in recent weeks, and was only temporarily breached.  1.3550 provided support early in September and then switched to resistance after the fall. It worked better as support, but is now resistance.
1.3450 is the next line of support.. It capped the pair and also worked as minor support recently.  The bottom seen earlier in October  at 1.3360 is the next line. It is an important pivotal line.
More important support is at 1.3250 which held the pair early in the year. The recent 9 month low at 1.3145 is the next important line that will be closely watched on any downfall.
I remain bearish on EUR/USD
The full effect of the rate cut with the accompanying acknowledgement of a recession hasn't been seen yet. The same goes for the problems in Italy and Portugal.With current yields, Draghi may be dragged into a full scale QE.  And while the referendum is off and Papandreou survived for now (brilliant or foolish move?), the uncertainty  surrounding  Greece is still huge. Regarding Chinese or other investment in the EFSF bailout fund, certainty is higher: no help is on the way.
In the US, a recession now seems unlikely with more gains in jobs (especially in previous months) and also QE3 remains unlikely.
If you have interest in a different way of trading currencies, check out the  weekly binary options setups, including EUR/USD, GBP/JPY and more.
Further reading: