Euro/dollar slid to a 7 month low. Greece continues to float between the next tranche of aid to the trenches. Will the fate of this debt hit country be known this week? Apart from Greece, the calendar is very busy and we will get hints on a possible rate cut by the ECB. Here is an outlook for the upcoming events, and an updated technical analysis for EUR/USD.
The big blow to the euro and to most currencies came from Ben Bernanke. The Fed announced "Operation Twist" but provided downbeat language on the economy and no further easing steps such as QE3. The impact of Bernanke on financial markets will likely accompany us for many months to come.
Update: Reports say that an "orderly default" is planned for Greece in 6 weeks. Here is what this means for the 6 critical countries and the impact on the euro.
EUR/USD graph with support and resistance lines on it. Click to enlarge: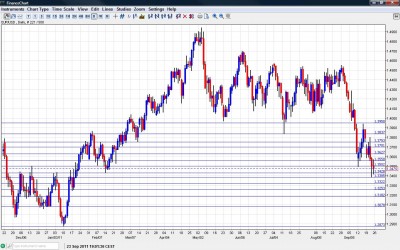 German Ifo Business Climate: Monday, 8:00. This survey from Europe's No. 1 think tank always rocks the euro. It usually exceeds expectations and rises, but last month was different, with a drop to 108.7 points. This hurt the euro. Another slide to 107 points is expected now.
GfK German Consumer Climate: Tuesday, 6:00. This survey of 2000 consumers has been very stable in recent months, showing that German consumers are still doing well. A tick down from last month's 5.2 points is expected now.
M3 Money Supply: Tuesday, 8:00. More money in circulation means more activity and more potential inflation. This is one of the factors that the ECB takes into consideration. The pace of expansion has slowed down to 2% last month. A similar number is likely now.
German CPI: Wednesday. This is the preliminary release, and is published separated for each German state. After remaining unchanged last month, this leading inflation indicator will likely show small drop in prices now, helping the ECB to lower the rates.
German Unemployment Change: Thursday, 7:55. This indicator is the best expression of the German strength. While it fell below expectations in recent months, this figure has still shown a steady drop in unemployment. A marginally bigger drop than last month's -8K number is estimated now.
German Retail Sales: Friday, 6:00. After a big jump two months ago, no correction was seen, and retail sales continued rising, by 0.3%. Germany will likely see a small dip in volume now: 0.4%.
French Consumer Spending: Friday, 6:45. Europe's second largest economy will publish consumer spending numbers for two months. After a few straight months of drops in spending, French consumers upped their spending two months ago by 1.2%. The figures that will be published now might offset each other, but the general direction will likely be more squeeze.
CPI Flash Estimate: Friday, 9:00. Inflation in the euro area has stabilized at a pace of 2.5%, lower than in previous months. Inflation is already less of a worry to the ECB, which changed its recent forecasts to balanced inflation and downside risks to growth. Lower inflation is expected now, but it will probably remain above the 2% target.
Unemployment Rate: Friday,9:00. The unemployment rate in the euro-zone has edged up to 10% after many months at 9.9%. The same depressing figure is expected now. Note that there is a big gap between countries like Spain, with more than 20% unemployment, and countries in the north with single digit figures.
* All times are GMT.
EUR/USD Technical Analysis
€/$ began the week with a big Sunday gap. When it finally closed the gap at around 1.3788 (discussed last week), the big plunge began.  The pair fell as low as 1.3385 before consolidating.
Technical lines from top to bottom:
We start from a lower line this week.  1.3950 was a pivotal line when the pair traded in lower ranges. The pair got quite close to it a few weeks, and it remains strong resistance in the horizon.  The swing low of 1.3838 held the pair and after EUR/USD fell to a six month low was a distinct line separating ranges during September.
1.3750 managed to cap the pair on a recovery attempt and is minor resistance.  The round number of 1.37 is another minor resistance line at the moment. It served as resistance early in the year.
The low of 1.3630 seen in earlier is already more important resistance. 1.3550 provided support early in September and then switched to resistance after the fall.
The round number of 1.35 was a trough early in September remains a pivotal line.  Very serious support is at 1.3430. This is a modification of the 1.3440 line, after the break. It separated ranges in a very clear way many times in the past, making it of very high importance.
The bottom at 1.3385 made just now is also of importance, as a break below this line will be a fresh 8 month low. Minor support is at 1.3322, which was a resistance line in the past.
More important resistance is at 1.3250 which held the pair early in the year. It's followed by 1.3180 which worked as significant support in December 2010 and is now weak.
A key line before the round number of 1.30 is  support at 1.3080. Towards the end of 2010, it prevented deeper falls.
The ultimate trough of 2011 at 1.2873.
I am bearish on EUR/USD.
Some currencies suffered more from Bernanke's twist and scream. But now the focus returns to the euro and to the deep complications regarding Greece. There's room for more falls. Note that the new austerity measures currently lack a majority in the Greek parliament, so this won't be so easy.
If you have interest in an alternative way of trading, check out the  weekly binary options setups, including EUR/USD of course.
Further reading: