GBP/USD  made a break to higher ground on growing hopes for a Brexit breakthrough on all fronts. PMIs stand out in the upcoming week, which is quite busy. Here are the key events and an updated technical analysis for GBP/USD.
Hopes for a deal on the divorce bill in the Brexit negotiations sent the pound to the highest levels in two months, with hopes, later cooled down, also on the question of the Irish border. The celebrations may have come too early. It's a race against the clock.The question of the Irish border remains problematic. BOE Governor Mark Carney said he assumed a smooth Brexit, which is somewhat questionable. In the US, the dollar got a boost from the excellent new home sales number while Powell hinted he will not rock the boat. The greenback also got a boost from upcoming tax cuts, Yellen's optimism, and also a strong GDP read of 3.3%. That wasn't enough to beat the pound.
[do action="autoupdate" tag="GBPUSDUpdate"/]
GBP/USD daily graph with resistance and support lines on it. Click to enlarge: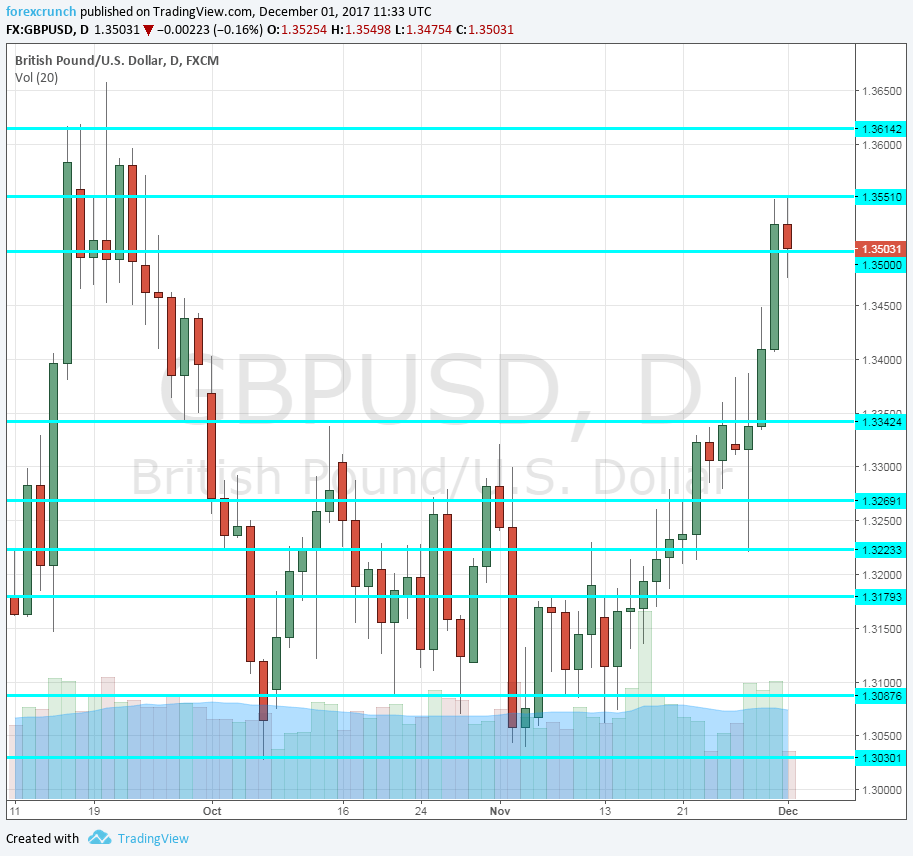 Construction PMI: Monday, 9:30. The construction sector in the UK hardly returned to growth territory, standing at 50.8 points in October after falling below the 50 point threshold in September. The recent GDP update showed that the UK construction sector is in recession. Another gain to 51.2 is on the cards.
BRC Retail Sales Monitor: Tuesday, 00:01. The  British Retail Consortium showed a disappointing drop of 1% in the volume of retail sales back in October after several months of annual rises. There are worries about consumers' ability to purchase, given higher costs related to the weaker pound.
Services PMI: Tuesday, 9:30. The third and most important PMI is for the largest sector: services. A score of 55.6 points in October was quite upbeat, exceeding expectations and rising back to levels not seen in quite a few months.  A small slide to 55.2 is forecast.
BRC Shop Price Index: Wednesday, 00:01. The second publication by the BRC focuses on prices. In the past three months, prices slipped by 0.1% every month according to the consortium. Will prices bounce back? These are annual figures.
Halifax HPI: Thursday, 8:30. This highly regarded measure of house prices slowed down in October to a 0.3% m/m increase after quicker rises beforehand. The construction sector is in recession but house prices are still on the rise. Another increase of 0.2% is projected.
Manufacturing Production: Friday, 9:30. Manufacturing output beat expectations back in September with an expansion worth 0.7%, the third positive surprise in a row. While manufacturing is a small sector, it is now a leading one, thanks to the weaker pound. A minor drop of 0.1% is predicted. The wider industrial production measure advanced by the same scale and is now expected to remain flat.
Goods Trade Balance: Friday, 9:30. Britain suffers a chronic deficit in its trade balance, but this deficit narrowed to 11.3 billion back in September. Can it fall below 10 billion pounds? Expectations stand at a deficit of 11.5 billion.
Construction Output: Friday, 9:30. Despite being a volatile measure, the construction sector remains important. A fall of 1.6% was seen in September, significantly worse the projected. A small increase of 0.2% is estimated.
Consumer Inflation Expectations: Friday, 9:30. This official publication from the Bank of England is rather stable in recent months, standing at 2.8% in October. The number for November may be 0.1% higher if we examine the CPI measures.
NIESR GDP Estimate: Friday, 13:00. The  National Institute of Economic and Social Research provides a rolling estimate of the size of the economy. For the three months ending in October, NIESR reported a growth rate of 0.5%, up from 0.4% in Q3. We will now get the figures for September to November.
GBP/USD Technical Analysis
Pound/dollar made a quick move above 1.3340 (mentioned last week) and held nicely.
Technical lines from top to bottom:
The recent cycle high of 1.3620 serves as strong resistance. 1.3550 was the November peak.
1.35 was the original post-Brexit high and also a round number.  The top of the previous range is 1.3340, capping the pair in both early October and late November.
Close by, 1.3270 worked in both directions.  1.3225 was the high point of September.  It is followed by 1.3180, which capped the pair in July.
1.3080 worked as support in mid-October and also was weak support during November. 1.3030 is the bottom of the range, cushioning cable in October and also in early November.
I remain bearish on GBP/USD
Optimism about Brexit may be a bit too early. The UK may have to give in to all the open topics and this may be too hard to swallow for the hard Brexiteers as well as for the DUP.  
Further reading:
Safe trading!