The British pound  lost about 80 points last week, as  GBP/USD closed at 1.4856. This week's highlights  are Current Account  and PMI reports. Here is an outlook on the major events moving the pound and an updated technical analysis for GBP/USD.
British inflation levels continue to stagnate, as CPI  fell to 0.0%, its lowest level since 1960. On the bright side, Retail Sales beat estimates, with a strong gain of 0.7%. In the US, key  releases were mixed.  Inflation beat expectations  and New Home Sales were also stronger than expected.  However, durable goods orders and GDP missed their estimates.
[do action="autoupdate" tag="GBPUSDUpdate"/]
GBP/USD graph with support and resistance lines on it. Click to enlarge: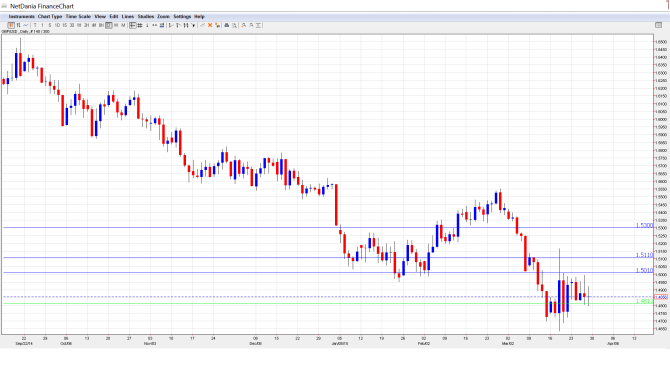 Net Lending to Individuals: Monday, 9:30. Consumer credit levels are important indicators since an increase in consumer borrowing usually leads to stronger consumer spending.  The indicator came in at 2.4 billion pounds in January, within expectations. Little change is expected in the February release.
GfK Consumer Confidence: Monday, 00:05. The indicator has been shown a gain of 1 point for two straight months, indicative of slight optimism by the British consumer.
Current Account: Tuesday, 9:30. Current Account is closely linked to currency demand, as foreigners must purchase pounds to buy British goods and services. The current account deficit has been rising and reached -27.0 billion pounds in Q3, well above the estimate of -21.1 billion pounds. The estimate for Q4 is almost unchanged, at -21.2 billion pounds.
Final GDP: Tuesday, 9:30. GDP is one of the most important economic indicators, and can have a significant impact on the movement of GBP/USD. GDP in Q3 dipped to 0.7%, matching the forecast. The downward trend is expected to continue, with an estimate of 0.5% in Q4.
Manufacturing PMI:  Wednesday, 9:30. The PMI has been moving upwards and reached 54.1 points in February, ahead of the forecast of 53.5 points. The indication is expected to continue, as the estimate stands at 54.5 points.
Halifax HPI: Thursday, 2nd-7th. The index helps gauge activity in the UK housing sector. The index came in at -0.3% in February,  its first decline since in four months. The markets are hoping for a better showing in the March report.
Construction PMI: Thursday, 9:30. This key index wraps up British releases for the week. The index pushed above the 60-point level in February, beating the forecast of 59.0 points. The estimate for March stands at 60.4 points.
* All times are GMT
GBP/USD Technical Analysis
GBP/USD opened the week at 1.4942 and climbed to 1.4994, as resistance held firm at 1.5008 (discussed last week). The pair then reversed  directions and slipped to 1.4797,  testing resistance at 1.5114  (discussed last week). The pair closed the week at 1.4856.
Live chart of GBP/USD:
[do action="tradingviews" pair="GBPUSD" interval="60″/]
Technical lines from top to bottom
1.5296 has provided resistance since the first week in March.
1.5114 strengthened as the pound lost ground.
1.5008  held firm as the pair pushed higher early in the week.
1.4813 is an immediate support line. It marked the start of a pound rally in July 2013 that saw GBP/USD climb above 1.61.
1.4621 was an important cap in August 2001.
1.4521 is the next support line.
The final support level for now is 1.4346, which has remained intact since June 2002.
I am  bearish on GBP/USD.
The pound continues to struggle as the pair dipped below the 1.48  last week. Is  the key 1.50 level slipping away? In the US, it seems that the  losing streak of poor data is reaching an end, as seen with last week's New Home Sales and Unemployment Claims.
In our latest podcast we interview David Stein on investment, QE and lots more
Subscribe to Market Movers on iTunes
Further reading: