GBP/USD  reversed directions last week, as the pair jumped 110 points, closing at 1.5423. This week has 11 events, led by PMI reports and BOE releases. Here is an outlook on the major events moving the pound and an updated technical analysis for GBP/USD.
British Prelimary GDP slipped in Q3, briefly sending the pound lower. GBP/USD posted sharp gains late in the week, taking advantage of US consumer confidence numbers, which missed the estimate.
[do action="autoupdate" tag="GBPUSDUpdate"/]
GBP/USD graph with support and resistance lines on it. Click to enlarge: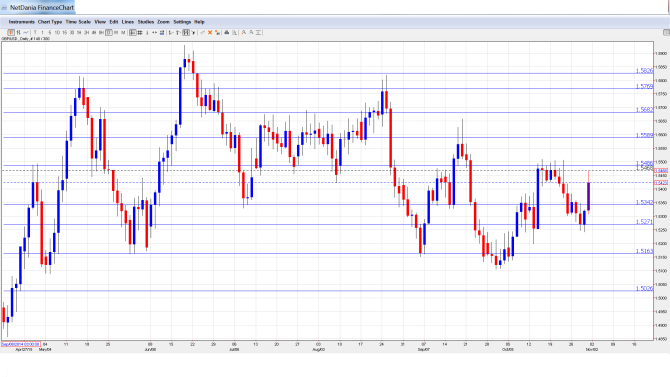 Manufacturing PMI:  Monday, 9:30. This PMI has been quite steady, posting readings just above the 50-point level, which indicates slight expansion. The  September reading came in at 51.5 points, and little change is expected in October, with an estimate of 51.3 points.
Construction PMI:  Tuesday, 9:30.  Construction PMI improved to 59 9 points in September, good enough to  beat the forecast of 57.5 points. This marked the index's best reading in 7 months. The forecast for October stands at 58.9 points.
BRC Shop Price Index:  Wednesday, 00:01. This index measures inflation in BRC shops. The indicator continues to post negative readings, and came in at -1.9% in September, marking a 4-month low.
Halifax HPI:  Wednesday, 4th -9th. This indicator provides a snapshot of the level of activity in the housing sector. The index disappointed in September with a decline of 0.9%, compared to the forecast of 0.1%. The markets are expecting much better news in October, with an estimate of 0.7%.
Services PMI:  Thursday, 9:30. Services PMI has now slipped for three straight releases, and dropped to 53.3 points in September, well off the estimate of 56.4 points. The estimate for October stands at 54.6 points.
BOE Inflation Report:  Thursday, 12:00. This report is released twice a year, and contains details of the BOE's projections for the  economy and inflation for the next two years. This event should be treated as a market-mover by traders. BOE Governor Carney will host a press conference after the report is released.
Official Bank Rate:  Thursday, 12:00. The BOE hasn't changed its benchmark rate since 2009, and no change is expected in the upcoming announcement. Currently, the rate is 0.50%. The vote at the previous meeting is expected to remain unchanged, with 1 MPC member in favor a rate hike, and 8 members in favor of maintaining the current rate.
Asset Purchase Facility:  Thursday, 12:00. The BOE is expected to maintain QE at 375 billion pounds. The vote at the previous meeting is expected to remain unchanged, with all 9 MPC members in favor of maintaining the current levels.
Manufacturing Production:  Friday, 9:30. This key event can have a strong impact on the movement of GBP/USD. The indicator bounced back in August with a gain of 0.4%, which was within expectations. The estimate for the   September release stands at 0.4%.
Trade Balance:  Friday, 9:30. The monthly deficit has come in at GBP 11.1 billion in the past two releases, each time missing expectations. The markets are expecting the deficit to narrow in September to GBP 10.7 billion.
NIESR GDP Estimate:  Thursday, 15:00. This indicator helps analysts track GDP, which is released each quarter, on a monthly basis. The indicator posted a strong gain of 1.0% in September, well above the estimate of 0.3%. However, the markets are bracing for a decline of 0.1% in the October report.
* All times are GMT
GBP/USD Technical Analysis
GBP/USD opened the week at 1.5313 and  touched a  low of 1.5242.  The pair reversed directions late in the week,  climbing to a  high of 1.5468,  as  resistance held firm at 1.5485  (discussed last week).  The pair closed the week at 1.5423.
Live chart of GBP/USD: [do action="tradingviews" pair="GBPUSD" interval="60″/]
Technical lines from top to bottom
1.5825 was an important cap in November 2014.
1.5769 is the next resistance line.
1.5682 was a key resistance line  in December 2014 and January 2015.
1.5590 is the next line of resistance.
1.5485 was tested but held firm as the pair posted sharp gains late last week.
1.5341  continues to be  busy and has switched to a  support role.
1.5269  has some breathing room following the pound's gains.
1.5163 is the next support line.
1.5026 has provided support since April. It is the final line for now.
I am  neutral on GBP/USD.
With  the  dramatic Fed statement, a rate hike in 2015  is once again a strong possibility, which is good news for the US dollar, as the greenback may look more attractive to investors  and could make  broad gains. At the same time, the pound has also shown strength, as the UK economy is in fairly good shape, especially compared to the Eurozone next door.
In our latest podcast we explain why the Fed doves cry, the Chinese economy and upcoming events:
Follow us on Sticher or on iTunes
Further reading: