A very busy week expects cable traders, with 9 important events. The rate decision is the peak but other data will also rock the rising Pound. Here's an outlook for the British events and an updated technical analysis for GBP/USD.
GBP/USD daily chart with support and resistance lines on it. Click to enlarge: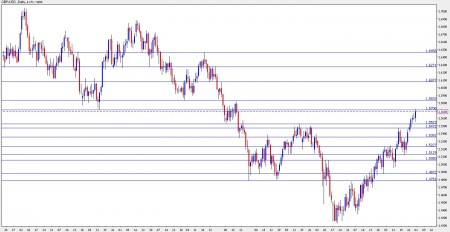 In the past week, Mervyn King finally ackowledged the rising inflation and sent the Pound over the tough 1.5520 resistance line, for the first time in 5 months. Will this continue? Let's start:
Halifax HPI: Publication time unknown at the moment. After the Nationwide HPI disappointed with a drop of 0.5% in prices of homes, also this indicator is expected to show a drop of 0.4% – the third consecutive drop. The figure is based on the internal data of HBOS, making it very reliable. The Pound will rock with every result.
Manufacturing PMI: Published on Monday at 8:30 GMT. According to this survey of 600 purchasing mangers in the manufacturing sector, Britain continues to grow at a stable and good pace, with the score standing at 57.5 points, high above the critical 50 point bar, meaning economic expansion. It's expected to slightly drop to 57.1
Construction PMI: Published on Tuesday at 8:30 GMT. Contrary to the manufacturing and services sectors, purchasing managers in the construction sector turned positive only 4 months ago, but this indicator also reached a high score of 58.4. Also here, it's expected to edge down to 58.2 points.
Nationwide Consumer Confidence: The Nationwide Building Society surveys 1000 consumers for this important indicator. Despite the recovery in employment, consumer confidence deteriorated in the past few months. After gradually dropping from 81 to 63 points, another slide is predicted – to 60. This indicator is highly regarded by the MPC, just before the rate decision.
Services PMI: Published on Wednesday at 8:30 GMT. Completing the array of PMIs, the services sector isn't doing as well as the other sectors. From a score of 54.4 (still positive), Services PMI is likely to rise to 54.8 points. This is the last indicator before the rate decision.
Rate decision: Published on Thursday at 11:00 GMT. Official expectations for the Official Bank Rate are for an unchanged value of 0.50%. But, things are starting to move in Britain. Apart from Andrew Sentance, that already voted for a rate hike, the improving employment and fast growth in Q2, together with inflation – all call for a rate hike. We've also seen a change in Mervyn King's attitude – expressing concerns from inflation for the first time. Will there finally be a hike to boost the Pound, or will it remain unchanged for an 18th time in a row? Anyway, the Pound will shake on the decision as well as on the wording of the MPC Rate Statement.
Manufacturing Production: Published on Friday at 8:30 GMT. This important indicator rose by only 0.3% last month, after dropping on the previous month. Another rise is expected this time, and it's expected to be at 0.6%. Note that manufacturing is around 80% of Industrial Production released at the same time (expected +0.3%), but manufacturing tends to draw attention.
PPI: Published on Friday at 8:30 GMT. Slightly overshadowed by manufacturing production, his important inflation figure is expected to drop for a third month in a row, indicating that consumer prices could also calm down. PPI Input, the more important figure, will probably drop by 0.4%, double last month's drop. PPI Output is expected to rise by 0.1% after falling by 0.3% last month.
NIESR GDP Estimate: Published on Friday at 14:00 GMT. The National Institute of Economic and Social Research is known for its accurate predictions. It releases a GDP estimate every month, filling the gap of the government releases that are published only once a quarter. NIESR showed that the economy grew by 0.7% in Q2, less than the official first release. Will this be revised upwards, or will the second release by the government be revised to the downside? Anyway, we'll get a peak at July – the first month of Q3.
GBP/USD Technical Analysis
The Pound managed to climb over the minor resistance line at the beginning of the week, and traded in a narrow range between 1.5472 and 1.5520. It finally made the breakout above this major hurdle. By the end of the week, it also made an attempt to cross 1.5720, but bounced back to close at 1.5688.
Note that some higher lines were added on last week's outlook. The Pound now ranges between 1.5520, which turned into a strong support line, and 1.5720, which was the bottom in October 2009.
Higher, 1.5833 is a very strong line of resistance – it supported the Pound before the collapse in February, and also worked as a resistance line immediately afterwards. Higher, 1.6080 is a minor resistance line after being a swing high in February.
Even higher, 1.6270 worked as a support line when the Pound traded at higher ground, and now works as resistance. It's followed by 1.6450.
Looking down below 1.5520, the 1.5470 line now works as minor support. It's followed by 1.5350, a pivotal line many times in the past. Below, 1.5230 and and 1.5130 worked as support and resistance lines in July, and cushion the pair now.
Lower, 1.5050 capped a recovery attempt in May and now works as resistance. It's followed by 1.4870, a support line in June, and 1.4780, which supported the Pound on the big collapse in May.
I continue being bullish on GBP/USD.
After getting a boost from the GDP, Mervyn King also began hinting that a rate hike will come, supplying more fuel for Pound bulls. After breaking above 1.5520, there's still lots of room for rises.
Further reading:
Want to see what other traders are doing in real accounts? Check out Currensee. It's free..