The end of 2010 saw the pound lagging behind some other currencies. The first week of 2011 promises lots of action, as the calendar is very busy, with reports from all sectors of the economy. Here's an outlook for British events and an updated technical analysis for GBP/USD.
Some of the austerity measures, such as a higher VAT, come into effect during 2011, and they are a big burden on the pound. Will it continue lagging behind?
GBP/USD daily chart with support and resistance lines marked. Click to enlarge: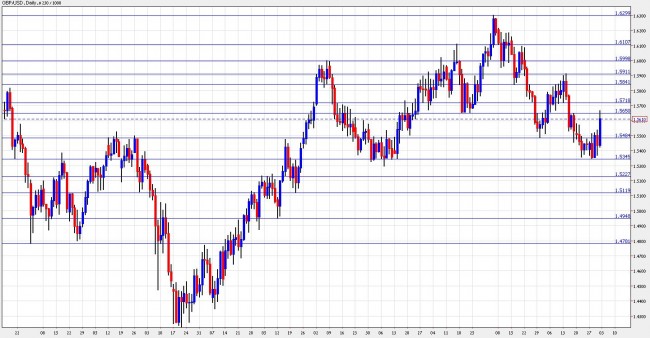 Halifax HPI: Publication time unknown at the moment. This is one of the most accurate indicators of house prices, as it's based on the internal figures that HBOS has. After two months of significant moves, a very modest drop of 0.1% was recorded last month. A small rise is expected now.
Manufacturing PMI: Tuesday, 9:30. The manufacturing sector surprised last month with a big leap forward – 58 points, much better than expected. This major indicator is now expected to give in some of its gains, but still remain above the critical 50 point mark – meaning that its still growing nicely.
Net Lending to Individuals: Tuesday, 9:30. More lending means more confidence and more economic activity. A significant rise was seen last month, from 0.2 to 1.3 billion. It's now expected to make a small correction.
Construction PMI: Wednesday, 9:30. The construction sector has been the "Achilles Heel" of purchasing managers' indices – an unexpected drop two months ago was very worrying. It's now expected to remain stable at around last month's score of 51.8 points.
Services PMI: Thursday, 9:30. The services sector is very important in Britain, and the release always rocks the pound. It has hardly changed in recent months, staying around 53 points. A small rise is expected here, but not as strong as seen in the manufacturing sector.
BOE Credit Conditions Survey: Thursday, 9:30. The Bank of England releases this report just after the quarter ends, making it very relevant. Credit conditions are expected to marginally deteriorate, as credit conditions worldwide have worsened.
GBP/USD Technical Analysis
Sterling traded in a narrow range throughout most of the week, between the very strong support line of 1.5350 (mentioned last week) and 1.5484. At the end of the week (and year), it managed to break higher, but didn't managed to conquer the strong 1.5650 line, eventually closing at 1.5610.
Looking up, 1.5650, which was a strong support line in recent months, serves as  strong resistance  at the moment. It worked just now. The next line is minor – 1.5720, which worked in both directions.
Higher, 1.5840 and 1.5910 capped an attempt to rise recently, and serves as caps before the stronger. 1.60, is a round number that also was a stubborn peak in August.
Even higher, 1.6107, the swing high, is the next line of resistance. The last line on the upside is 1.6280, which was a support line at the beginning of 2010 and then a resistance line, on the pound's attempt to rise.
Looking down, 1.5480 is now the first support line. It was the top border of the range that cable traded in in the last week. Below, 1.5350 provided to be a very strong support line. A break under this line means trouble for the pound.
Even lower, 1.4950 was a stepping stone for the pound on the way up. It's just under the round number of 1.50. The last line for now is 1.4770, which dates back in the spring.
I remain bearish on the pound.
British austerity measures, troubles in the government and in the central bank and a slower global economy point to a weaker pound.
* All times are GMT. Further reading: