GBP/USD took a break from  its impressive  September rally, as the pair was unchanged over the week. GBP/USD close around the 1.6330 line. This week has  eight releases,  with  Current Account the highlight.  Here is an outlook of the upcoming events, and an updated technical analysis for GBP/USD.
UK releases were generally close to estimates, although Public Sector Borrowing was better than expected. In the US, the zigzagging continued, as Existing Home Sales looked sharp, but employment data continued to disappoint.
Updates: BBA Mortgage Approvals hit a four-month high. The indicator  came in at 30.5 thousand,   beating the estimate of  28.4K.  BOE Executive Director Paul Fisher spoke at a university event in London.  The pound continues to push upwards, as GBP/USD was trading at 1.6262. Current Account looked awful, posting it highest deficit in over five years. The indicator came in at -20.8 billion pounds, much higher than the estimate of a deficit of-12.8M. Final GDP for Q2 contracted for the third consecutive release. GDP fell 0.4%, slightly better than the estimate of a 0.5%. decline.
GBP/USD graph with support and resistance lines on it. Click to enlarge: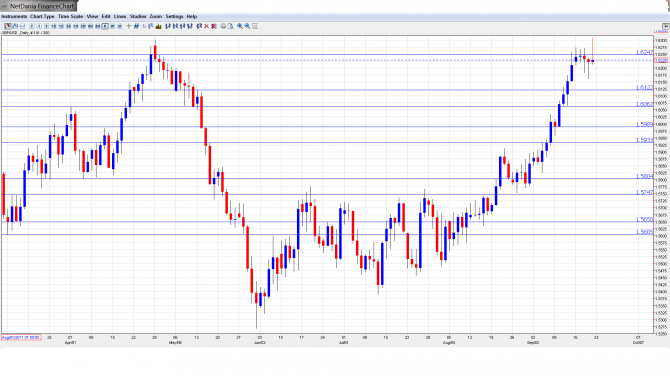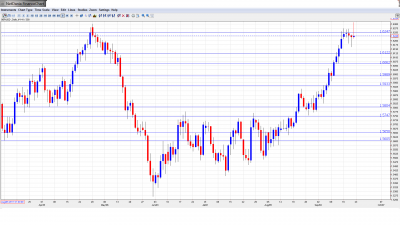 BBA Mortgage Approvals: Tuesday, 8:30. Mortgages Approvals is a leading indicator of demand in the housing sector. The markets are expecting little change in the September release.
BOE Credit Conditions Survey: Wednesday, 8:30. This BOE report is released each quarter. It examines credit conditions for households and small   businesses. The report is an important indicator of consumer and small business spending and confidence.
CBI Realized Sales: Wednesday, 10:00. The August release was terrible, plunging to -3 points. The markets are predicting a much better reading this month, with a forecast of 6 points.

Nationwide HPI: 27th-31st. This important housing inflation reached its highest level in three years in August, climbing 1.3%. The market forecast for the September release is much lower, with an estimate of a modest 0.2% gain.

Current Account: Thursday, 8:30. This key release disappointed in the previous reading, posting a wider deficit than forecast. The markets are bracing for an even wider deficit in September, of -12.2 billion pounds.
Final GDP: Thursday, 8:30. Final GDP has posted two consecutive  declines of 0.3. The markets are predicting more bad news, with an estimate of a 0.5% drop in September.
GfK Consumer Confidence: Thursday, 23:01. Consumer Confidence is mired in a deep slump, and the markets are not expecting any significant change in September.
Index of Services: Friday, 8:30. This index measures the change in total GVA (Gross Value Added) of the private and public  sectors. The  previous reading posted a decline, but the markets are expecting an improvement  in September, with an estimate of 0.3%.
*All times are GMT
GBP/USD Technical Analysis
GBP/USD opened the week at 1.6222. The pair dropped to a low of 1.6162,  and surged late in  the week, touching a high of 1.6309.  The pair then retracted, closing the week at 1.6228, slightly below the resistance line of 1.6247 (discussed last week).
Technical lines from top to bottom:
We  begin  with resistance at 1.6738. The next line of resistance is at the round number of 1.66. This line was last tested in August 2011. Next, there is resistance at 1.6475.   This is followed by the 1.6343 line. Next is 1.6247, which was breached again last week. The line continues to provide resistance, but it is weak.  Look for it to be continue to be tested if the pound makes any improvement.
GBP/USD is receiving support at 1.6122.  This line was breached in mid-September, as the pound rallied. The next line of support is at 1.6060. Below, there is support at 1.5992. This line had provided  resistance since May, before being breached earlier this month.
Next, 1.5930 continues to provide support. The next support line is at 1.5805.   This is followed by 1.5750, which was last tested in late August. This is followed by support at 1.5648. The final support line for now is at the round figure of 1.5600.
I am neutral on GBP/USD.
The pound  has  had an excellent September run,  but with  QE behind us, will  the rally  run out of steam?  The UK economy continues to struggle, and more signs of trouble in the US could send investors to the snap up the safe haven greenback  at the expense of the pound.
Further reading: