GBP/USD  continued its stellar September, as the pound  climbed  over two cents last week. The pair punched across the 1.62 line, closing  at 1.6210. This week's highlights include CPI, Retail Sales and Public Sector Net Borrowing. Here is an outlook of the upcoming events, and an updated technical analysis for GBP/USD.
Strong UK data and disappointing US numbers helped the pound continue its impressive rally against the greenback. The UK Trade Balance narrowed, and unemployment numbers were much   better than the estimate.  This was in sharp contrast to  the US, where Unemployment Claims disappointed, and Industrial Production took a sharp drop. As well, the dramatic QE announcement by the Federal Reserve bolstered the pound.
Updates: GBP/USD remains stable around 1.6250. Inflation figures showed that price rises are easing, with CPI at 2.5%, within the government's target. The MPC Meeting Minutes indicated that the vote to maintain interest rates at 0.50% was a unanimous 9-0 in favor. The pound  has edged downwards, as GBP/USD was trading at 1.6216. Retail Sales declined 0.2%, slightly better than the estimate of -0.3%. CBI Industrial Order Expectations was up sharply, posting a figure  of -8 points. This was much better than the forecast of -14 points. BOE Governor Mervyn King will be speaking on a television interview later on Thursday. The pound is testing 1.62. GBP/USD was trading at 1.6192.
GBP/USD graph with support and resistance lines on it. Click to enlarge: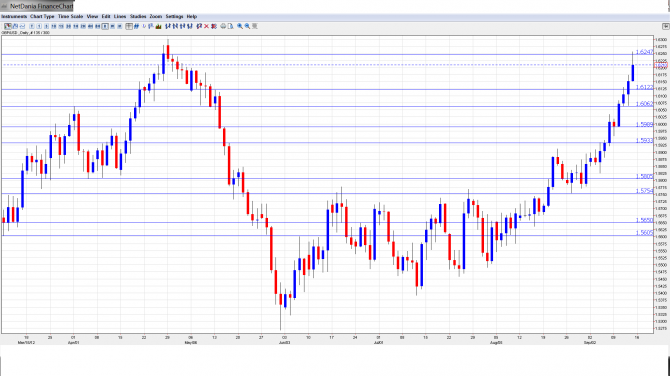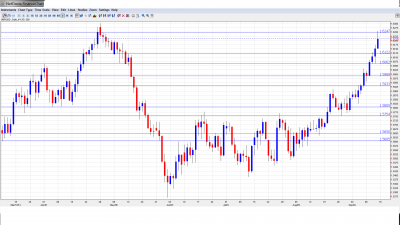 Rightmove HPI: Sunday, 23:01. The housing sector continues to look sluggish, as the housing inflation index has contracted over two consecutive readings. The markets will be hoping for some improvement in the September release.
CPI: Tuesday, 8:30. This key inflation index rose 2.6% last month. The markets are expecting a similar reading in September.
RPI: Tuesday, 8:30. This inflation index rose 3.2% in August. The market estimate calls for a slightly lower increase of 3% in September.

BOE Inflation Letter: Tentative. Analysts carefully comb through this report for insights into future monetary bank policy. The report will only be issued if inflation reaches above 3.0% for this month's reading.

MPC Meeting  Minutes: Wednesday, 8:30. This key release includes details the vote breakdown on the most recent interest rate and QE decisions by the BOE. A report which is more hawkish than forecast is bullish for the pound.
Retail Sales: Thursday, 8:30. Retail Sales was up a modest 0.3% in August. The markets are predicting a sharp decline this month, with an estimate of -04%. Will the key consumer indicator surprise the markets with a strong reading?
CBI Industrial Order Expectations: Thursday, 10:00. The diffusion index posted its worst reading of the year in August, with an awful -21 points. The markets are predicting some improvement this month, with an estimate of -14 points.
Public Sector Net Borrowing: Friday, 8:30. The indicator pointed to a modest surplus in August, but this month, the forecast is for a large deficit of -13.0 billion pounds.
*All times are GMT
GBP/USD Technical Analysis
GBP/USD opened the week at 1.5991,which was also the low of the week. The pair climb as high as 1.6256, briefly breaking resistance at 1.6247 (discussed last week). The pair closed the week at 1.6210.
Technical lines from top to bottom:
With GBP/USD continuing to climb, we  start our analysis  at higher levels. There is resistance at 1.6738. The next line of resistance is at the round number of 1.66. This line was last tested in August 2011. Next, there is resistance at 1.6475.   This is followed by the 1.6343 line. Next is the line of 1.6247. This line was briefly breached last week as the pair pushed higher, and is currently providing weak resistance. Look for this line to be tested if the pound continues to improve.
GBP/USD is receiving support  at 1.6122. This line had been  providing strong resistance since last  May. The next line of support is at 1.6060. Below, there is support at 1.5992. This line  has strengthened as the pair trades at higher levels.
Next, 1.5930  continues to provide support.  The next support line is at 1.5805.   This is followed by 1.5750, which was last tested in late August. This is followed by support at 1.5648. The final support line for now is at the round figure of 1.5600.
I  remain bullish on GBP/USD.
The pound continues to impress, as it has now gained over seven cents againt the greenback since early August. Stronger UK releases and unimpressive US data have  helped fuel the  pound's rally. The trend is upwards, and the pound still has more room to push upwards as the markets digest the dramatic QE3 announcment late last week.
Further reading: