Idea of the Day
With the Fed out of the way, volatility in markets has died down and is likely to remain muted today and for the early part of next week. With tapering having started, markets are struggling to find the next 'theme' that will dominate for the early part of next year. They may struggle to do so, because our belief is that markets are likely to remain messy in the early part of 2014, before a stronger dollar takes hold from the second quarter onwards. The main standout from overnight trade is the modestly firmer tone to the dollar, which has allowed USDJPY to move to the 104.50 area. In contrast, the Aussie has managed to recover some of its poise and pull away from the lows made early yesterday. Today is the end of the week, which could make for some positioning flows later on, but again these are likely to be minor.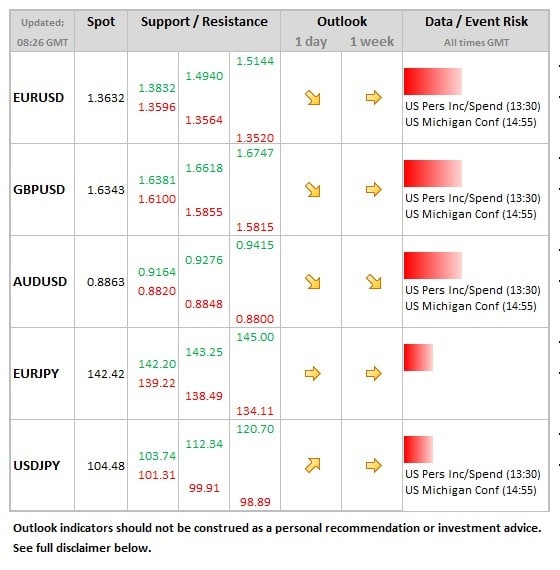 Data/Event Risks
USD:  Today's data not a major risk event for the dollar, with just personal income and spending. Michigan confidence just the final release, so is also not likely to move markets.
Latest FX News
AUD:  Some short covering in Asia trade and suggesting that the recent weakness may have run its course. AUDUSD holding above 0.8850 in Asia trade.
GBP:  Latest consumer confidence data form the GfK weaker than expected at -13 (from -12), which is still just off levels last seen in 2008. Cable succumbed to the firmer dollar tone overnight, but holding above the 1.63 level.
Further reading:
EUR/USD Dec. 20 – Downward Trend Continues Following Fed Taper
Monetary policy divergence will guide future price actions of currency markets