MATIC Price Slides By Around 20% since 24 August And In Decline
A Good Buying Opportunity For MATIC Which Appears Very Cheap At Present
Possible Reversal On The Way If Instability In Crypto Market Dissipates
The MATIC price is having a torrid time of late with a considerable crash from its monthly high of $1.63 registered on 24 August. In fact, Polygon is down to the $1.38 level which makes it one of the worst performing cryptos over the past week.
At present, MATIC is in the grips of selling pressure and will probably descend more in the short term before beginning a bounceback. Altcoins appear to be suffering from the current indecision in the crypto market although some like Solana and LUNA have actually outperformed the market.
At present, all eyes are on Bitcoin as its next moves will undoubtedly affect crypto coins such as MATIC. The current trend remains slightly bearish.
If you haven't yet bought some MATIC then you should take a look at this How To Buy Cryptocurrency Beginner's Guide.
Short Term Prediction For MATIC Price: More Losses Expected Before A Recovery?
Although there has been a slight dip in the crypto market of late, some altcoins have been hit harder tan most and that includes MATIC. On a positive note, the MATIC price appreciated by well over 100% from its July low of $0.68 up to the price point of $1.63 on 23 August. This makes it one of the best performing cryptos over a month but the drop has been quite pronounced over the past week.
If a bullish thesis were to come into play, then the MATIC price would most likely rise by about 8% to the $1.50 mark, a level last seen only 3 days ago. If that resistance level were to break, Polygon could go all the way up to the $1.5 level on the back of sustained buying momentum. That scenario looks unlikely at the moment though.
Alternatively, a bearish thesis would see the MATIC price descend to below the $1.30 level. A sell off could precipitate further descent although the $1.30 level seems quite well supported. With a bearish mode entering the crypto market at present, a smallish descent would be more plausible.
If you haven't yet started trading cryptocurrency, then you should have a look at these Top Cryptocurrency Brokers.
Long Term Prediction For Polygon: Still Bullish Although Longer Period Expected For ATH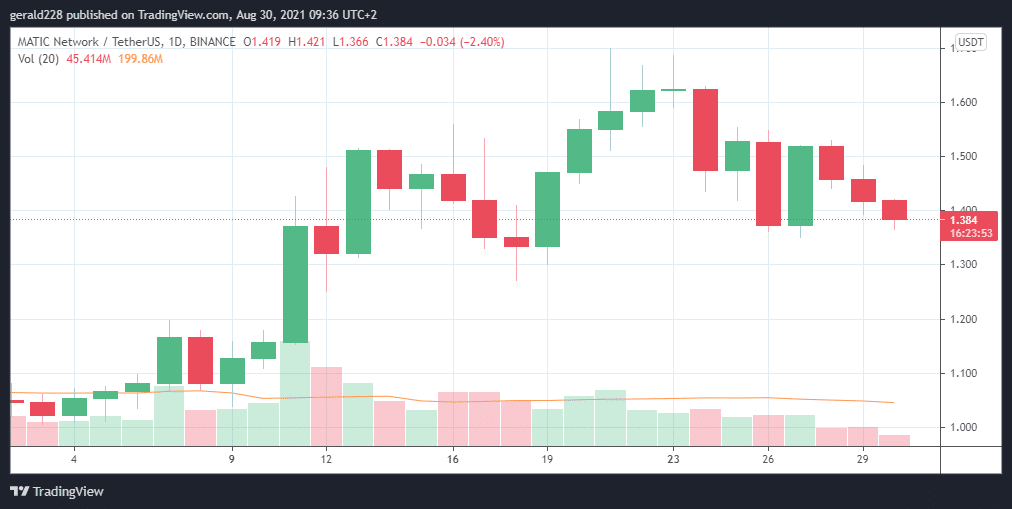 The situation appears rather bearish for the whole cryptocurrency market at present. The MATIC price could experience a further pullback although the long term forecast for it remains quite positive.
The ascending triangle that began on the 21 July appears to have been halted although the MATIC is still around 90% up from that level presently. Another 90% move would see Polygon well over its All Time High registered in April so this prediction is not at all impossible till end of year.
Where to Buy MATIC
If you want to purchase Ripple, you can do so on the following exchanges:
• eToro
eToro is one of the trusted exchange platforms in the crypto space. eToro supports copy trading, which allows new traders to learn from market experts. eToro also charges low trading fees and commissions.
• Binance
The other platform where you can buy MATIC is Binance. Binance is one of the largest exchange platforms. It supports a wide range of cryptocurrencies and trading pairs. It also offers user-friendly features.
Looking to buy or trade MATIC now? Invest at eToro!
Capital at risk