The  New Zealand dollar  enjoyed the US dollar's weakness to recover nicely and even break to new multi-year highs. The quarterly CPI release is the main event of the week. Here is an analysis of fundamentals and an updated technical analysis for NZD/USD.
Business confidence remains solid in New Zealand, with  NZIER Business Confidence holding high at 52 points. In the US, the dollar was on the back foot despite a strong JOLTS report  and due to the dovish FOMC meeting minutes. Can the kiwi reach new highs?
[do action="autoupdate" tag="NZDUSDUpdate"/]
NZD/USD  daily graph with support and resistance lines on it. Click to enlarge: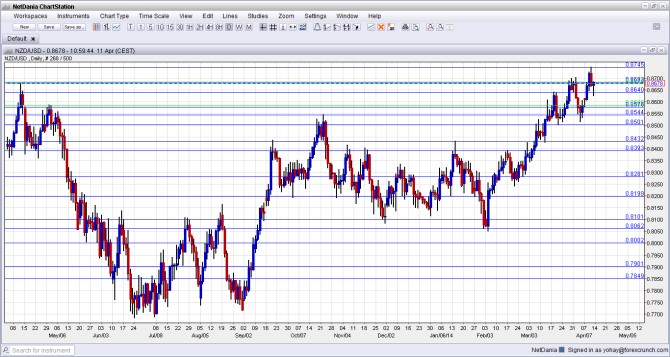 CPI: Tuesday, 22:45. New Zealand releases inflation data only once per quarter, making the impact of the publication highly important. In the last quarter of 2013, prices rose by only 0.1%, lower than 0.9% in Q3. A similar slow advance is likely now for Q1, due to the strong value of NZD during this quarter.
* All times are GMT.
NZD/USD  Technical  Analysis
Kiwi/dollar began the week trading just above the 0.8586 line (mentioned last week) before making a move higher and encountering the 0.8676 level. After a struggle around that line, the pair made a strong move and reached a new multi-year high at 87.45.
Technical lines, from top to bottom:
The multi year high of 0.8832 is not that far away. Below this level, we can mark the round number of 0.88 as minor resistance.
The new 2014 peak of 0.8745 joins the chart and will be watched on any upside move.
The 2013 peak of 0.8676 now switches to a pivotal line in the range. The previous 2014 peak of 0.8640 is close by and is still of significance.
It is followed by the stubborn May 2013 high of 0.8586 is another important line.  The October peak of 0.8544 is an important resistance line.
0.85 is around number and could trigger comments by policymakers. A move above this line didn't hold in early March 2014.  0.8435  was the peak in September and was retested in January. It is a strong double top.
0.8392 served as resistance was a recurring peak between November and February.  0.8335  capped a move higher in December and also had a role in the past. The pair fell short of this line in January 2014.
Below,  0.8280  supported the pair in February 2014 and also in the past.  0.82, worked as support several times: in September, October and also in December. It is somewhat weaker now.
I am bullish on NZD/USD
The consolidation period for the kiwi seems to be over especially as data remains upbeat. Another positive CPI could fuel expectations for the next rate hike. While the US Fed is on track to another tapering at the end of the month, this is already priced in.
The kiwi is among the  5 most predictable currency pairs
Further reading: