The New Zealand dollar enjoyed the talk of QE3 and managed to stage a recovery after falling earlier. The rate decision is the major event this week. Here's an  outlook  for the events in New  Zealand, and an updated technical analysis for NZD/USD.
Headwinds from China weighed on the New Zealand dollar, until positive news from Europe and the bad US jobs report triggered high expectations of QE3. It's important to note that QE3 is not 100% certain. The focus now shifts back to Wellington.
Updates: REINZ HPI moved up sharply, gaining 1.3%. This  marked a three-month high for the housing index. The kiwi continues to push upwards, and was trading at 0.8134. The RBNZ will release its benchmark interest rate on Thursday. The central bank is expected to maintain the rate at its current level of 2.50%. The rate announcement will be accompanied by a Rate Statement and Monetary Policy Statement. The kiwi continues its impressive rally, and has pushed above the 0.82 line. NZD/USD was trading at 0.8214. As expected, the RBNZ maintained its key interest rate at 2.50%. In its quarterly Monetary Policy Statement, the Bank noted that the demand for exports remains weak, given the slower growth in China and recession affecting some Euro-zone members. The Bank expects domestic growth to continue at a modest pace. The Business NZ Manufacturing Index fell to 47.2 points, its lowest level in 2012. NZD/USD is steady, as the pair was trading at 0.8215.  It finally happened:  the Fed announced QE3  – open ended, $40 billion per month, in addition to more twist and a longer pledge for low rates through 2015. NZD/USD likes cheap money and high commodity prices and continued marching north.
NZD/USD  daily chart with support and resistance lines on it. Click to enlarge: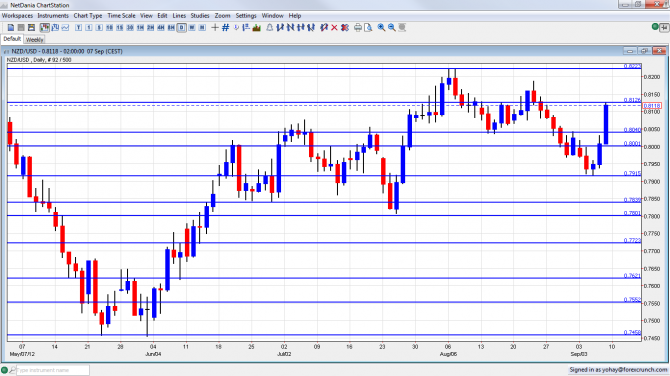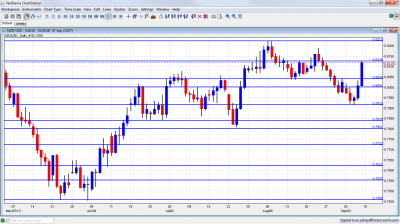 REINZ HPI: Tue-Fri. The REINZ Housing Price Index declined 0.7% in July compared with June registering record highs inAuckland and Christchurch. Compared to July 2011, REINZ Housing Price Index rose 5.2%,Auckland rose 9.3% andChristchurch 6.6%.
Rate decision: Wednesday, 21:00. The Reserve Bank of NZ has maintained its official cash at 2.50%. Alan Bollard Governor of the Reserve Bank did not change June's policy statement saying "New Zealand's trading partner outlook remains poor, with several euro-area economies in recession," A modest growth is registered in NZ domestic economic activity and it is expected to continue in this direction. However, the EU debt crisis still poses a serious threat to NZ economic outlook. No change is forecasted this time.
RBNZ Monetary Policy Statement: Wednesday, 21:00. NZ Reserve Bank stated in its last monetary policy statement, that NZ growth rate has been downgraded by 1.2% over the last few years due to subdued investment, slow growth in the working age population, and low labor productivity. Household debt and strong currency together with global uncertainty also weigh on NZ's growth.
Business NZ Manufacturing Index: Wednesday, 22:30. New Zealand manufacturing sector flipped to contraction in July, dropping to 49.4 from 50.0 in the preceding month to its lowest level in three months. Four of the five diffusion indexes in the survey indicated contraction.
Food Price Index: Thursday, 22:45.New Zealand's food price index increased 0.2% in July, lower from June's 1.4% climb. On an annual bases food prices fell 1.8% after a 0.2% fall in June in light of cheaper vegetables, dairy products, and lamb.
* All times are GMT.
NZD/USD  Technical  Analysis
NZD/$ had a weak start to the week, falling lower and finding a bottom at 0.7915. It then made an impressive comeback and eventually stopped at the 0.8125 line (mentioned last week).
Technical lines, from top to bottom:
0.8573 capped the pair in September 2011 and is distant resistance. 0.8505 served as support at the same time.
0.8470 was the swing high seen in February. 0.84 was resistance back in February 2012. 0.8320 was a wing high in April, just before the big dive.
0.8260 capped the pair during March, and is stubborn resistance. 0.8220 worked as stubborn resistance in August 2012 and joins the chart.
0.8125 separated ranges in August 2012 and has renewed strength now after capping the pair in September 2012. 0.8040 capped the pair in August 2012 and also served as support during the same month. It is weak support after temporarily holding the pair down.
The round number of 0.80 managed to cap the pair in November and remains of high importance, especially due to its psychological importance. It was hit by the recent moves and somewhat weaker now. 0.7915 served as an important cushion when the pair was falling in September 2012.
0.7840 provided support for the pair several times during June 2012 and also worked as resistance back at the end of 2011. The round number of 0.78 is significant support after working as such in July 2012.
0.7723 supported the pair back at the beginning of 2012 and also worked in the other direction in June 2012. 0.7620 provided support in May 2012 and is resistance once again, although weaker than in previous weeks.
0.7550 is resistance once again, even after the breakdown. It was a very distinct line separating ranges and had a similar role back in January.
Lower, 0.7450 serves as strong support line after working as such in May.
I am neutral on NZD/USD
The kiwi seems to have reached a limit. Even with hopes of QE3 in the US (not a certainty yet), it didn't reach new highs. If QE3 isn't launched there's lots of room for big falls.
Further reading: