The Ripple price has seen quite a decline of late, as with the vast majority of cryptocurrencies. From a high of $1.95 in mid-April, XRP went down to the $0.55 mark in early June, a capitulation of almost 75%. Lately, it has seen another decline after once again regaining the $0.70 mark and was down to the $0.52 level on July 20.
The XRP token seems to be primed for another massive move upwards with all indicators showing bullish tendencies. However other factors, as always, could also come into play. Negative crypto market sentiment is still around although the worst seems to have passed with all major coins showing strong rebounds from their recent lows.
If you haven't bought any Ripple yet, it would be worthwhile to take a look at this How To Buy XRP Beginner's guide.
Ripple Price Short Term Forecast: Looking To Make Strong Gains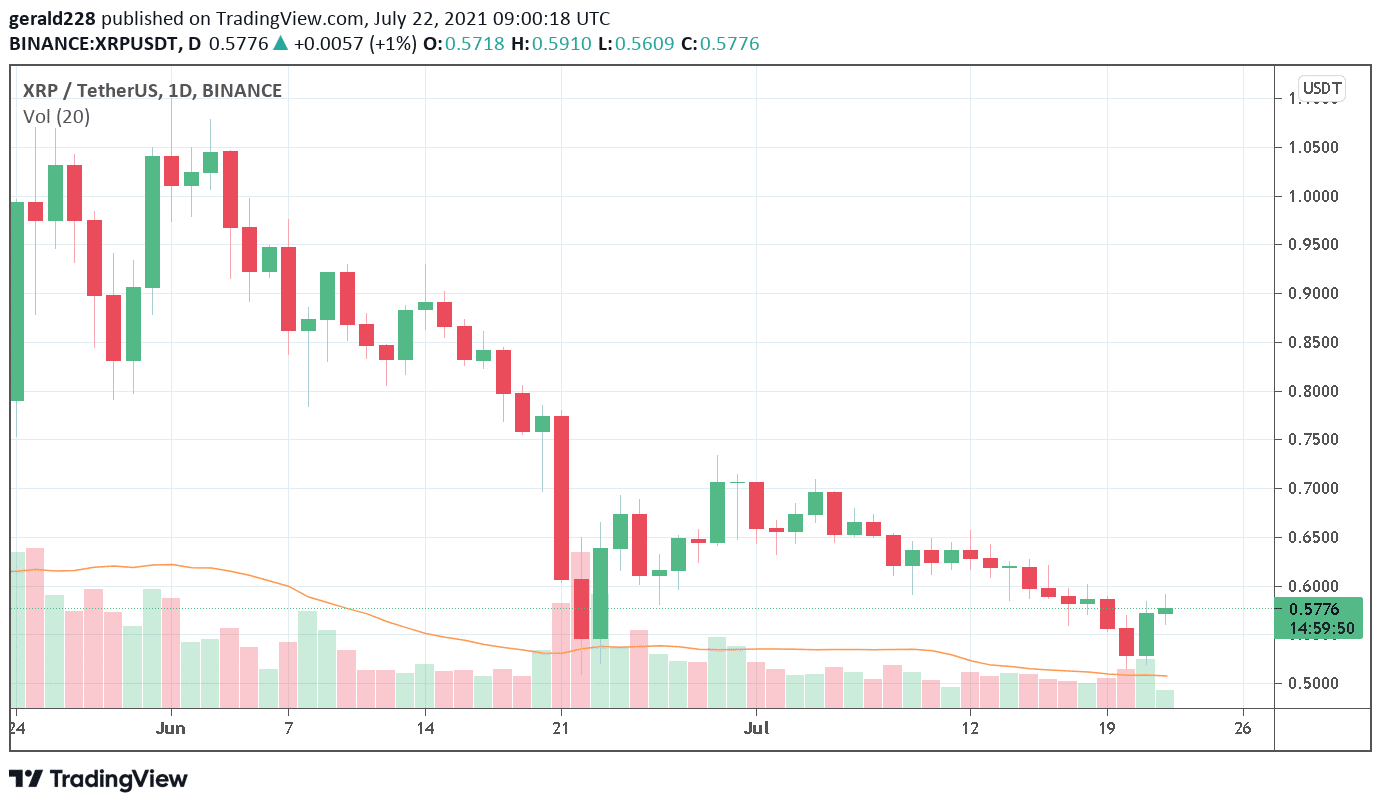 As present, the Ripple price is trading at the $0.58 level which represents a 10% gain over the low of $0.53 registered on July 20. The decline which took it there and which started on June 22 seems to have been halted although the recovery has been somewhat muted.
With a 9% gain for the Ripple price, this places it in similar territory to the December 2020 level where an advance began from the $0.55 price level. If the $0.57 weekly close holds, then a bullish candlestick should be forming that will take the XRP price to further highs.
The Ripple price will likely continue to consolidate above the June 22 low of $0.51 with an oversold indicator. If the Ripple price is going up, then it needs to close above May's declining trend line of $0.63 as well as the critical resistance of $0.65 registered on May 23. This represents a 15% gain from the current price of $0.577.
A bullish thesis would then enter into play with the next creditable target being the $0.72 level where resistance will be encountered. The 200-day SMA at $0.755 is also another key resistance point for the Ripple price. If the price then rallies to the $0.77 level this would signify a solid gain of 18% from the $0.65 level.
Long Term Forecast For XRP: Is The $1 Mark Next?
If the Ripple price continues to break boundary levels, then there is no further resistance left until the psychologically significant $1 mark. This achievement would mean that Ripple has finally started its bullish drive to make money for long-suffering investors who poured into it in 2017/18.
If you haven't yet bought some cryptocurrency, then take a look at these Best Cryptocurrency Brokers.
Looking to buy or trade [coin name here] now? Invest at eToro!
Capital at risk