The Ripple price seems to be on an onward trajectory as it recovered from the dump last week to close above the $0.60 mark. If the price manages to hold at the $0.62 level, then there should be a move to the next resistance level of $0.65 as buyers continue to enter the market.
XRP continues to trade within a rather tight range although there is the possibility of a breakout if the bullish sentiment in the market continues to prevail. The Ripple price recorded a somewhat muted rebound from its July 20 low and there appears to be considerable resistance at the $0.65 level for further gains.
If you haven't yet bought some Ripple have a look at this How To Buy XRP Beginners Guide.
Short Term Ripple Price Forecast: Blocked at The $0.65 mark?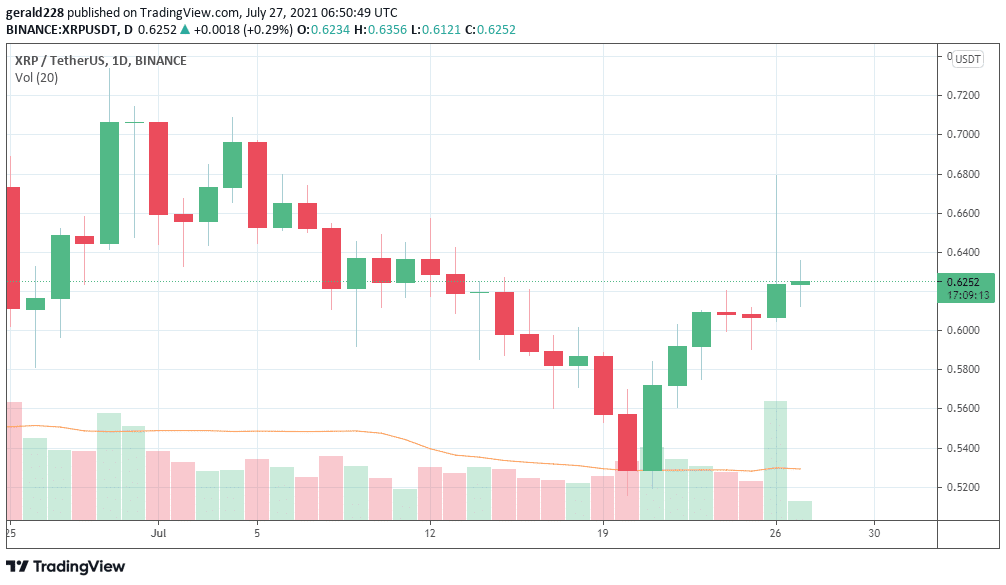 It looks like the Ripple price is moving within a tight range and there is very little prospect of a big move upwards, at least for now. Since its collapse in May, the Ripple price has been on a downward spiral and had settled between the $0.51 and $0.55 levels with the rally from the December 2020 low encountering considerable resistance.
If a proper rebound is to continue, then the XRP price needs a daily close above the $0.61 level and slightly below the $0.65 mark which is the level reached in mid-July. There are also the highs reached in February and December which continue strengthening the May 23 low.
However, there are still considerable pitfalls for the Ripple price if it has to continue moving upwards. The next crucial level of resistance is the $0.693 level and if that manages to break there is another strong inflexion point at $0.72. Further layers of resistance lie in Ripple's path all the way up to the $0.775 mark. After these are overcome, then the charge to $1 seems to be without obstacles. However, at least for the moment, this scenario looks unlikely.
If you haven't yet bought some cryptocurrency then check out these Best Cryptocurrency Brokers.
Long Term Forecast For XRP: Considerable Resistance Before The Next Leg Up
The XRP price needs to hold the $0.55 resistance levels as well as the $0.53 mark to entertain any hope of a rebound. If the Ripple price does not hold, then a bearish scenario will ensue and the price will continue crashing to the $0.512 mark as well as a further descent to the $0.392 level.
However, the last 24 hours have shown encouraging signs that the Ripple price will remain above the $0.62 mark. This is crucial for the next charges, all the way up to the $1.96 level which is the April high. However, this will take a considerable time with the current interest in the crypto market.
Looking to buy or trade Ripple now? Invest at eToro!
Capital at risk