After a considerable rush forward, the Ripple price seems to have settled at just under the $0.80 level before its next big leg up. XRP managed to exceed the $0.815 level on 6 August but fell back again on 8 Aug to settle at just under the $0.80 mark at $0.785. Buyers seem to have entered the market once again.
As the week begins, it does seem to seem that the Ripple price is starting its engines for another big push forward. Although there are always bearish consideration to take into account, the overall picture seems positive.
If you haven't yet bought some XRP, take a look at this How To Buy Ripple Beginner's Guide.
Short Term Prediction For Ripple Price: $0.85 The next Target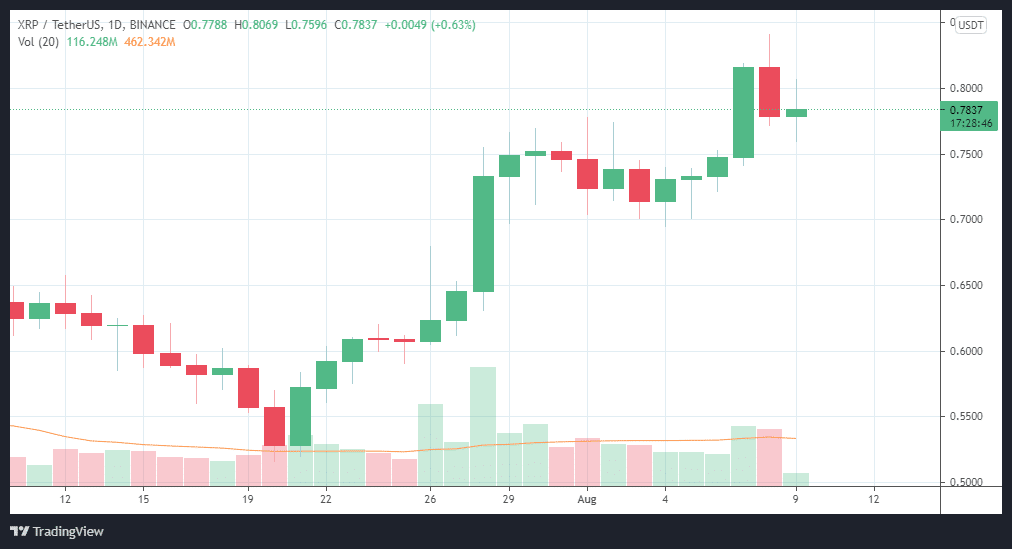 It seems that the Ripple price is consolidating at the $0.8-$0.79 to prepare itself for the next rise. While the $0.85 mark would be the next logical step forward, a move further higher to the $0.90 level may also be considered. XRP would then start a charge forward to the $1 mark which is the next point of large resistance.
As predicted by this site, there has been considerable bullish turnover over the past few days for the Ripple price. Since 4 Aug, the XRP price went up by over 12% or from $0.71 to the $0.815 mark. The slight retracement does change the scheme of things much.
With a bullish thesis, the Ripple price should continue moving forward and tag the $0.85 level. This price was last seen in June and is expected to provide some initial resistance, although not that much. After that, XRP is expected to tackle the $0.915 level which would represent a 20% rise from the Aug 4 price.
Alternatively, a bearish thesis would invalidate all this. An amount of selling pressure would push the price down to the $0.74 level after which it would again be expected the Aug 4 low of $0.71. However, that scenario does look quite unlikely at this point.
If you haven't yet started trading cryptocurrency, then you should consider having a look at these Best Cryptocurrency brokers.
Long Term Prediction For XRP: The Rise Is Expected To Continue
The Ripple price looks set to make more extensive gains in the long term. As more clarity is gained over the SEC decision regarding Ripple, investor confidence seems to have increased considerably. Several analysts are predicting a $1 price for Ripple over the next few weeks whilst the $1.80-$2.00 level is not an unrealistic target for the end of the year.
There are always some bearish clouds on the horizon for cryptos such as Ripple. However, on the whole, positives seem to outweigh the negatives for the long term prediction of the Ripple price.
Looking to buy or trade Ripple now? Invest at eToro!
Capital at risk