Dollar/CAD  continued leaning lower amid rising oil prices but did not collapse. Where next? Housing figures are expected in the upcoming week. Here are the highlights and an updated technical analysis for USD/CAD.
Oil prices remained high but did not breach the 2015 highs. This prevented USD/CAD from breaking below 1.25. In the US, the greenback continued struggling despite good data and a balanced Fed, according to the meeting minutes.
[do action="autoupdate" tag="EURUSDUpdate"/]
USD/CAD daily graph with support and resistance lines on it. Click to enlarge: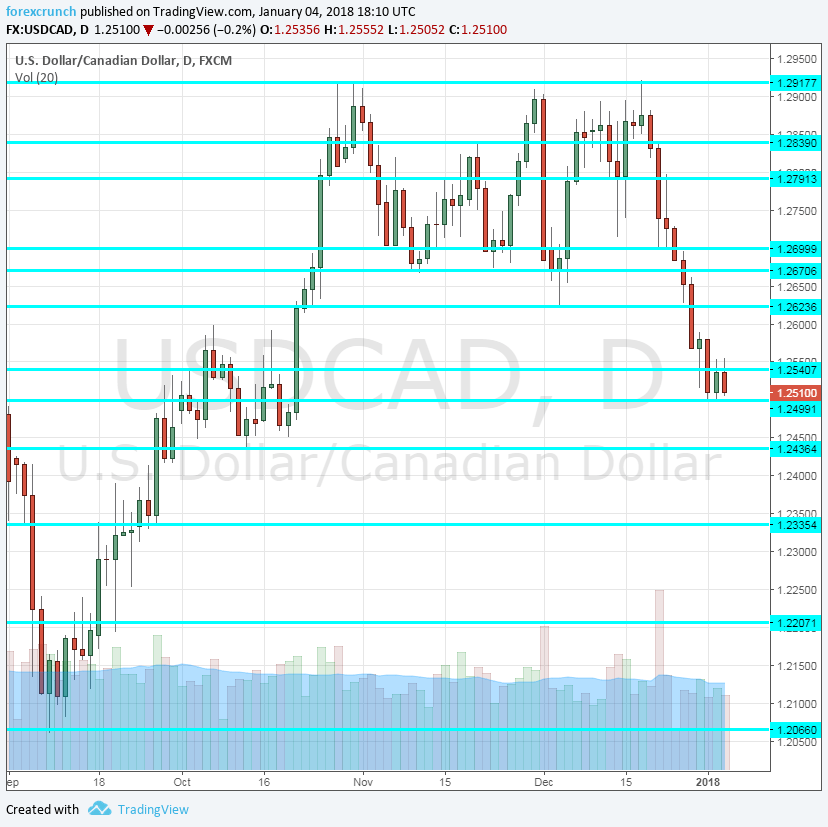 BOC Business Outlook Survey: Monday, 15:30. This quarterly report by the Bank of Canada provides an overview of the economy, not only businesses. The Canadian economy enjoyed an excellent first half of 2017 but slowed down afterward. Recent signs are more positive, and it will be interesting to see if the BOC acknowledges the improvement.
Housing Starts: Tuesday, 13:15. Despite worries about the housing markets in Vancouver and Toronto, the sector looks good. Data for November showed a rise to 252K, which is the highest since 2008. A drop to 240K is forecast.
Building Permits: Wednesday, 13:30. Building permits lag housing starts by a month but have still shown the same trend. Permits increased by 3.5% in October, double the expectations.
NHPI: Thursday, 13:30. The last housing figure hasn't been that great of late. The New Housing Pirce Index ticked up by only 0.1% in October. A rise of 0.2% is projected.
* All times are GMT
USD/CAD Technical Analysis
Dollar/CAD made attempts to break below 1.25 (mentioned last week).
Technical lines from top to bottom:
1.2920 capped the pair in late October and turned into a double-top in No. It is followed by 1.2840 capped the pair in mid-November and also had a role in the past.
1.2790 was the high in mid-November and serves as resistance. 1.2665 was a was a double-bottom in November and works as strong support.
It is followed by 1.26, a round number that worked as resistance in October.  1.2540 capped the pair in early October when it traded in a narrow range.
1.2435 was a cushion for the pair during the month of October. 1.2335 gave support to the pair in late September.
I remain bearish on USD/CAD
High oil prices, an economy that looks good and a weak US dollar all support further falls of Dollar/CAD.
Follow us on Sticher or iTunes
Further reading:
Safe trading!