USD/CAD was almost unchanged for a second consecutive week.  There are four releases in the upcoming week, including GDP. Here is an outlook at the highlights and an updated technical analysis for USD/CAD.
There were no economic events in Canada last week. Tiff Macklem delivered his first public speech as Bank of Canada Governor, stating that the bank would continue to use asset purchases programs if needed, rather than negative rates.
In the U.S., manufacturing improved sharply, as Manufacturing PMI climbed from 39.8 to 49.6 points. The estimate stood at 50.0, which separates contraction from expansion. Durable goods orders sparkled in May. The headline figure climbed 4.0%, rebounding after a decline of 7.4 percent. The core reading surged 15.8%, rebounding from a read of   -17.2% beforehand.
Final GDP for the first quarter showed a decline of 5.0%, unchanged from the advance estimate.   Unemployment claims dropped from 2.43 million to 2.12 million, which was within expectations. The news was not as good on the consumer front, personal spending declined by 13.6%, after a decline of 7.5% beforehand.
USD/CAD daily chart with support and resistance lines on it. Click to enlarge: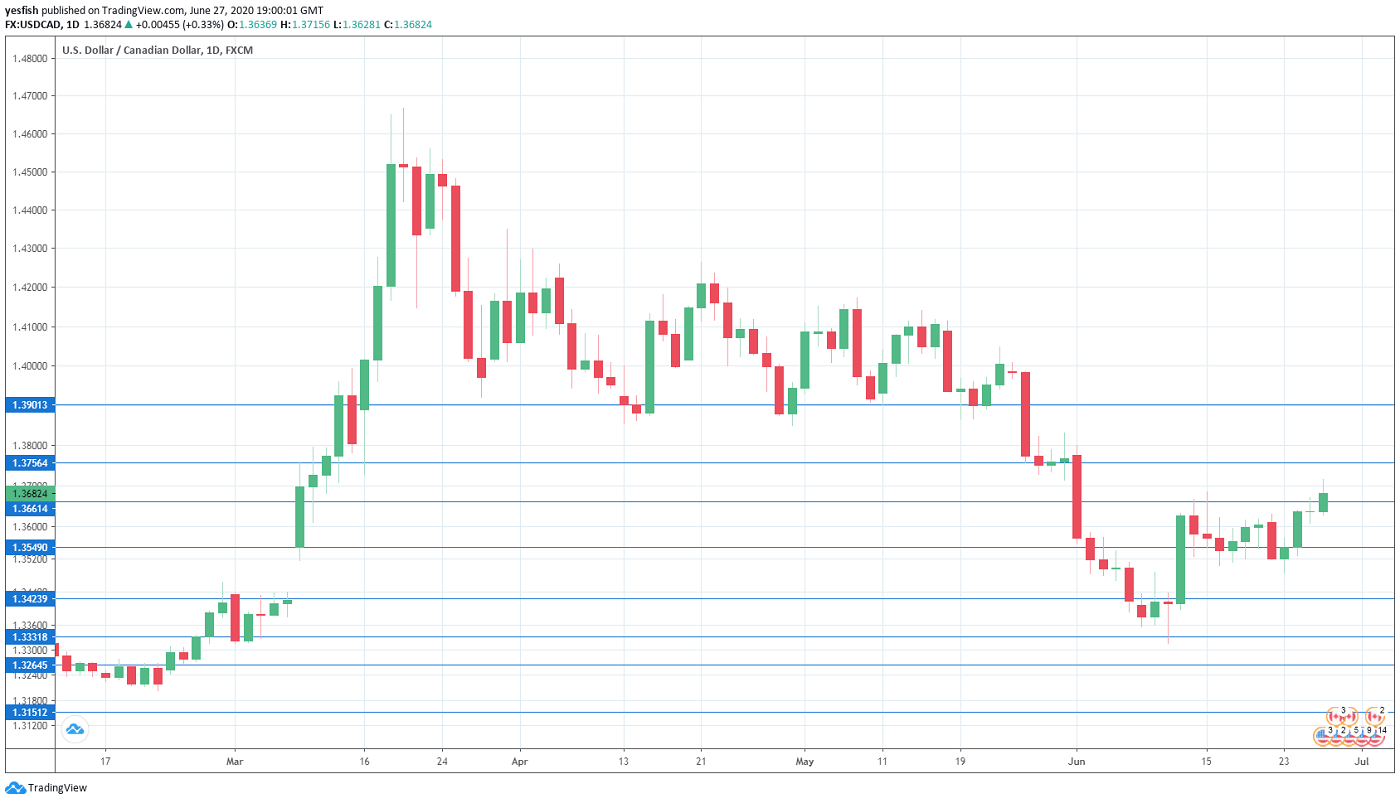 Raw Materials Price Index:

Monday, 12:30. This manufacturing inflation index continues to head south, pointing to significant weakness in manufacturing. The index posted declines of 15.6% in March and 13.4% in April. Will we see an improvement in the May release?

GDP:

Tuesday, 12:30. Canada releases GDP every month, unlike other major economies, which publish GDP each quarter. In March, the economy showed the effects of Corvid-19, with a sharp decline of 7.2 percent. Still, this was better than the forecast of 9.0 percent. Analysts are braced for an even sharper decline in April, with a forecast of -10.5 percent.

Trade Balance:

Thursday, 12:30. Canada continues to record trade deficits. In April, the trade deficit climbed to C$3.3 billion. higher than the estimate of C$2.7 billion. This marked the largest deficit since January. Will the deficit continue to rise in May?

Manufacturing PMI:

Tuesday, 13:30. The PMI has been in contraction mode since February, with three straight readings below the 50-level. Still, there was an improvement in May, as the PMI climbed from 33.0 to 40.6 points. Will the upturn continue in the upcoming release?
USD/CAD Technical Analysis
Technical lines from top to bottom:
We start at 1.4019, slightly above the symbolic 1.40 level.
The round number of 1.39 has been a resistance line since late May.  1.3757 is next.
1.3661 (mentioned  last week) has switched to a support role after gains by USD/CAD last week. It is a weak line.
1.3550 has strengthened in support.
1.3420 was tested in mid-June.
1.3330 is the final support level for now.
I am bullish on USD/CAD
The Canadian dollar lost close to 5 percent in March but has since recovered much of these losses. As a minor currency, the Canadian dollar remains vulnerable due to the severe global economic conditions. With the Canadian and U.S. economies struggling under the weight of the Covid-19 outbreak, the Canadian dollar could face a bumpy road ahead.
Further reading:
Safe trading!