Dollar/CAD  tackled the 1.30 level but eventually dropped as Canada was made exempt from Trump's tariffs. Will this continue? A speech by Poloz stands out this week. Here are the highlights and an updated technical analysis for USD/CAD.
The Bank of Canada expressed serious concern about the future of trade but still maintained its hawkish bias, saying that rates will further rise. The Trump Administration initially rejected exceptions to tariffs and linked exemptions to reaching a successful deal on NAFTA. However, Trump eventually exempted Canada and Mexico, allowing the loonie to recover. Canada's jobs report slightly missed expectations but not by much. The US jobs report showed a huge gain in positions but a slowdown in wage growth.
[do action="autoupdate" tag="EURUSDUpdate"/]
USD/CAD daily graph with support and resistance lines on it. Click to enlarge: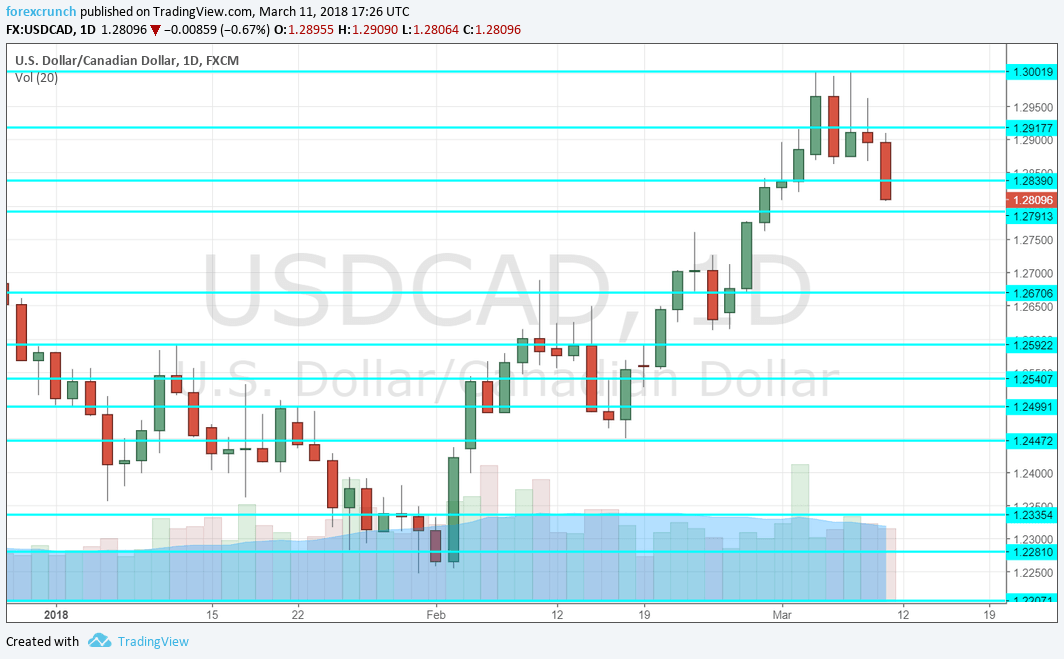 Stephen Poloz talks, Tuesday, 14:15. The Governor of the Bank of Canada will talk about the labor market in a speech in Ottawa and will also face questions from the audience. Any comment on trade or monetary policy may move the Canadian dollar.
ADP Non-Farm Payrolls: Thursday, 12:30. While ADP publishes its report for private sector jobs after the official employment report by the government, it still has an impact and the report is gaining traction. A gain of 10,700 positions was seen in January. We will now get the figures for February.
Manufacturing Sales:  Friday, 12:30. Sales at the manufacturing level feed into the overall economic activity of the country. After a drop of 0.3% in December, we may see a rise in January
Foreign Securities Purchases: Friday, 12:30. The ebb and flow of funds into and out of Canada also has an impact on the currency. A surpsing fall of 1.97 billion was seen in December and the figure for January will likely see a net inflow.
All times are GMT
USD/CAD Technical Analysis
Dollar/CAD advanced nicely and tackled the 1.30 level, mentioned last week, several times. It then turned sharply lower.
Technical lines from top to bottom:
1.3180 was a support line in 2017 and now turns into resistance. 1.3080 is the extension of the move from 1.2920 to 1.30.
1.30 is a round number that is eyed by many. 1.2920 was a triple top in late 2017 and switches positions.
1.2790 was the high in mid-November and serves as resistance. 1.2665 was a was a double-bottom in November and works as strong support.
It is followed by 1.26, a round number that worked as resistance in October.  1.2540 capped the pair in early October when it traded in a narrow range.
1.25 remains a battleground.  1.2450 served as support in February. 1.2335 gave support to the pair in late September and it worked well in January 2018.
I turn bearish on USD/CAD
The exemptions from trade tariffs are a sharp relief. While uncertainty is far from over, the Canadian dollar could continue recovering after it suffered from this story for so long.
Follow us on Sticher or iTunes
Further reading:
Safe trading!