The Canadian dollar enjoyed a strong week as  USD/CAD  fell 160 points. The pair closed at 1.2868.  This week's key event is Employment Change. Here is an outlook on the major market-movers and an updated technical analysis for USD/CAD.
Canadian GDP posted a small gain of 0.1%, matching the forecast. This broke a nasty string of two declines, and the markets get the Canadian currency a thumbs up.  In the US, GDP posted came in at 1.1%, beating the estimate of 1.0%.  The week wrapped up on a positive week, as  ISM Manufacturing PMI beat expectations.
[do action="autoupdate" tag="USDCADUpdate"/]
USD/CAD daily graph  with support and resistance lines on it. Click to enlarge: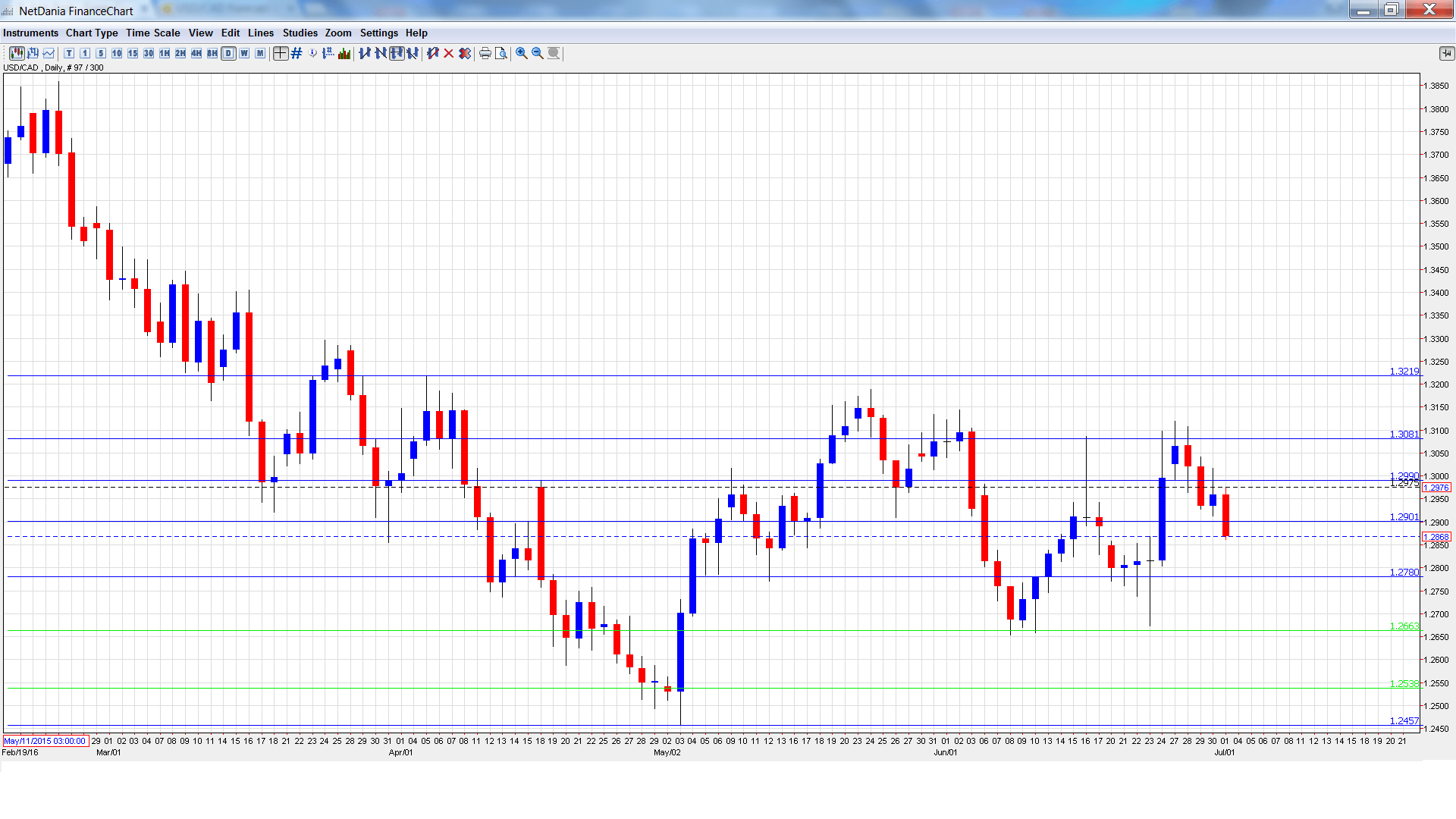 RBC Manufacturing PMI:  Monday, 13:30. The indicator continues to point to slight expansion in the manufacturing sector. In May, the PMI came in at 52.1 points, almost unchanged from last month's reading.
BOC Business Outlook Survey:  Monday, 14:30. This quarterly report is highly-regarded and provides a snapshot of sentiment in the business sector. The report surveys businesses plans for hiring, spending and investment.
Trade Balance:  Wednesday, 12:30. This key event is closely linked to currency demand. Canada's trade deficit narrowed to C$2.9 billion in April, but this was higher than the estimate of C$2.5 billion. The deficit for the May report stands at C$2.7 billion.
Building Permits:  Thursday, 12:30.  Building Permits has struggled, posting 3 declines in the past four months. The markets are expecting a strong turnaround in the April report, with an estimate of 2.1%.
Ivey PMI:  Thursday, 14:00. The index dipped to 49.5 points in May, the first time the indicator has pointed to contraction in 2016. The markets are expecting a slight improvement in June, with an estimate of 50.2 points.
Employment Change:  Friday, 12:30. Canada created 13.8 thousand jobs in May, crushing the estimate of 3.1 thousand. Another gain is expected in the June report, with an estimate of 6.9 thousand. The unemployment rate is expected to edge up to 7.0%.
USD/CAD Technical Analysis
USD/CAD opened the week at 1.3025 and quickly touched a high of 1.3120. The pair then dropped sharply to a low of 1.2662, testing support at 1.2663 (discussed last week).  USD/CAD dropped late in the week and closed at 1.2868.
Live chart of USD/CAD: [do action="tradingviews" pair="USDCAD" interval="60″/]
Technical lines, from top to bottom
1.3219 was a cap in April.
1.3081 was tested early in the week as USD/CAD posted strong gains before retracting.
1.2990 is next.
1.2900 is an immediate resistance line. It could see action early in the week.
1.2780 is providing support.
1.2663 has held firm in support since early May.
1.2538 is  next.
1.2459 is the final support level for now.
I am neutral on USD/CAD
Brexit uncertainty could hurt risk currencies like the Canadian dollar. At the same time, the Fed is likely to continue twiddling its thumbs. Canada is releasing several key indicators this week, highlighted by employment data. If Canadian numbers impress, the Canadian dollar could continue to improve.
Our latest podcast is titled Brexit Boiling Point
Follow us on Sticher or on iTunes
Further reading: