The Canadian dollar flexed some muscle last week, as USD/CAD  dropped almost 200 points, closing  at 1.3150. There are 9 events this week,  highlighted by Employment Change. Here is an outlook on the major market-movers and an updated technical analysis for USD/CAD. The Canadian dollar gained ground as a result.
Canadian GDP beat the forecast, which also helped the loonie improve against the greenback after hitting a new 11 year low.In the US, the week ended on a sour note,  as NFP report was a huge disappointment. The Canadian dollar gained ground as a result. Have the tables turned for the pair?
[do action="autoupdate" tag="USDCADUpdate"/]
USD/CAD daily chart with support and resistance lines on it.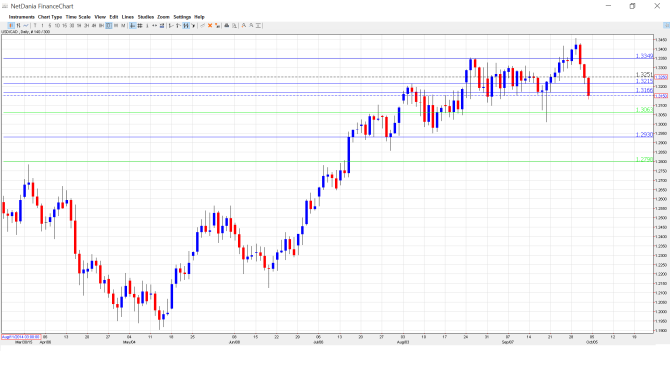 Trade Balance:  Tuesday, 12:30. Canada's trade deficit has improved dramatically in the last few months, and  came in at  C$-0.5 billion in July. This easily beat the estimate of C$-1.4 billion. The deficit is expected to shrink to C$-0.3 billion in the August release.
Ivey PMI:  Tuesday, 14:00. The index jumped to 58.0 points in August, compared to 52.9 points a month earlier. This was well above the estimate of 53.5 points. Will the upward swing continue in August?
Building Permits:  Wednesday, 12:30. Building Permits tends to show sharp fluctuations, making accurate estimates a tricky task. In July, the indicator came in at -0.6%, much better than the estimate of -4.7%.
Housing Starts:  Thursday, 12:15. Housing Starts jumped to 217 thousand in August, easily beating the  estimate of 194 thousand. Will the upward trend continue in the September release?
NHPI:  Thursday, 12:30. This housing inflation index is an important gauge of the level of activity in the housing sector. The index slipped to 0.1% in July, within expectations. Little change is expected in the August report, with an estimate of 0.2%.
Building Permits:  Thursday, 12:30. This housing index  is an important gauge of the level of activity in the housing  sector. The index slipped to 0.1% in July, which was within  expectations. Little change  is anticipated in the August report, with an estimate of 0.2%.
Employment Change:  Friday, 12:30. Employment Change is one of the most important economic indicators, and an unexpected reading can have an immediate impact on the movement of USD/CAD. The indicator posted a 3- month high in August, with a gain of 12.0 thousand. This crushed the forecast of -4.8 thousand. The unemployment rate rose to 7.0% in August, marking a 12-month high. This was higher than the forecast of 6.8%.
BOC Business Outlook Survey:  Friday, 14:30. This report, released each quarter, is based on a survey of about 100 businesses, which are asked about their hiring, spending and investment plans. Analysts keep close tabs on this report and it can be a market-mover.
BOC Governor Stephen Poloz Speaks:  Saturday, 18:45. Poloz will speak at an event in Lima, Peru. The markets will be listening closely for any hints regarding the BOC's future monetary policy.
* All times are GMT.
USD/CAD Technical Analysis
USD/CAD opened the week at 1.3335 and  quickly  touched a  high of 1.3457.  It  was all downhill after that, as USD/CAD dropped to a low of 1.3131,  breaking below support at 1.3165 (discussed last week).  USD/CAD closed the week at 1.3150.
Live chart of USD/CAD: [do action="tradingviews" pair="USDCAD" interval="60″/]
Technical lines, from top to bottom
1.3587 was a cap in March 2004.
1.3443 is the next line of resistance.
1.3346  has some breathing room as  USD/CAD trades at lower levels.
1.3213 was an important cap in early August.
1.3165 was breached as the pair posted sharp losses last week. It has switched to a resistance role and is a weak line.
1.3063  continues to  protect the  symbolic line of 1.30.
1.2930 has held firm since late July.
1.2798 is the final support line for now.
I am  neutral on USD/CAD
The Canadian dollar has finally showed some improvement against its US counterpart, and the rally could continue if the markets remain nervous after last week's nightmarish Nonfarm Payrolls report. This week's key Canadian events, led by Employment Change, could have a big bearing on the Canadian dollar's fortune this week.
In our latest podcast we discuss the Nightmare NFP,  Judge  Japan and Natural Gas:
Follow us on Sticher or on iTunes
Further reading: