USD/CAD  showed some strength last week,  as the pair gained over 100 points, closing  at 1.3334. This week's highlight in  an otherwise quiet week is  the  GDP release. Here is an outlook on the major market-movers and an updated technical analysis for USD/CAD.
In Canada, a weak Core Retail Sales report weighed on the struggling loonie and the loonie reached a low unseen since 2004 before stabilizing.  The greenback posted sharp gains as Yellen surprised with a relatively hawkish speech,  and  the week  ended on a positive note  as  Final GDP for Q2  posted a strong gain.
[do action="autoupdate" tag="USDCADUpdate"/]
USD/CAD daily chart with support and resistance lines on it.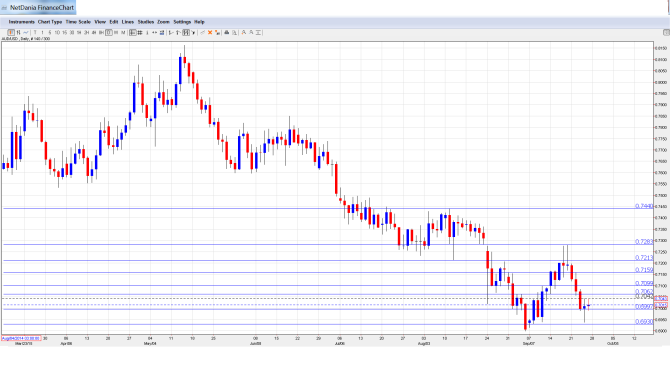 RMPI:  Tuesday, 12:30. This index measures inflation in the manufacturing sector, and is a leading indicator of consumer inflation. The index recorded a sharp decline of 5.9% in July, worse than the forecast of a 4.0% decline. This marked the indicator's first drop in 4 months.
GDP:  Wednesday, 12:30. GDP is one of the most important economic indicators, and an unexpected reading can have a significant impact on the movement of USD/CAD. The indicator was a pleasant surprise in June, posting a gain of 0.5%. This exceeded the forecast of 0.2% and was the strongest GDP report since January 2014. The markets are expecting a softer reading for July, with an estimate of 0.2%.
RBC Manufacturing PMI:  Thursday, 13:30. In recent months, this PMI has been trading close to the 50-point level, which separates contraction from expansion. The index slipped in August, dropping to 49.4 points, 4-month low. Will the indicator push above the 50 mark in the upcoming release?
* All times are GMT.
USD/CAD Technical Analysis
USD/CAD opened the week at 1.3219 and  quickly  touched a  low  of 1.3171.  It  was all uphill after that, as USD/CAD climbed as high as 1.3416,  before closing the week at 1.3334, just shy of resistance at 1.3336 (discussed last week).
Live chart of USD/CAD: [do action="tradingviews" pair="USDCAD" interval="60″/]
Technical lines, from top to bottom
We  start with resistance at 1.3759.
1.3587 was a cap in March 2004.
1.3443 is the next line of resistance.
1.3346  was tested in  for the first time since August 2004. This line could break early in the week.
1.3213 was an important cap in early August.
1.3165 held firm as support and has some breathing room as the pair posted sharp gains last week.
1.3063  continues to  protect the  symbolic line of 1.30.
1.2930 has held firm since late July.
1.2798 is the final support line for now.
I am  bullish on USD/CAD
The Fed balked at a rate hike in September, but  if the US can  post some strong readings,  we  could see  Yellen press the rate trigger before the end of the year. The Canadian dollar is flirting with 11-year lows, and could lose more ground this week against the surging US dollar.
In our latest podcast we explain why the dollar defies the doves
Further reading: