For the second straight week the Canadian dollar  showed little change, closing slightly above the 1.10 line.  This week has just three releases, highlighted by Core Retail Sales.   Here is an outlook on the major events and an updated technical analysis for USD/CAD.
Canadian Manufacturing Sales posted strong gains for the second straight month, and the Bank of Canada held its benchmark interest rate, as expected.  In the US, Unemployment Claims beat the estimate, while dovish comments by Fed chair Janet Yellen weighed on the greenback.
[do action="autoupdate" tag="USDCADUpdate"/] USD/CAD daily chart with support and resistance lines on it.
Click to enlarge: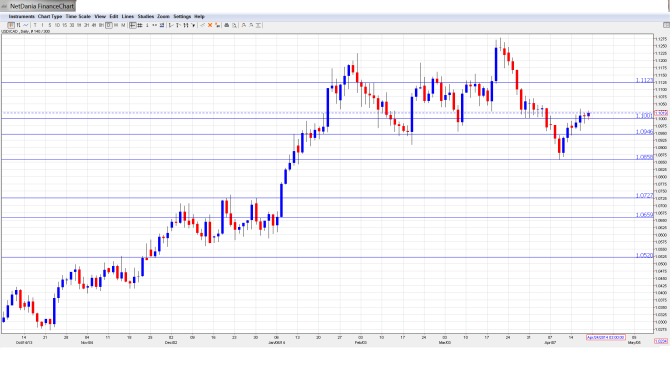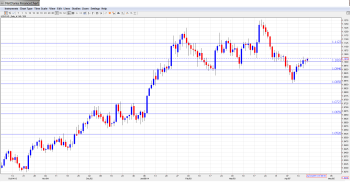 Wholesale Sales: Tuesday, 12:30. Wholesale Sales bounced back in February, posting a gain of 0.8%. However, this fell short of the estimate of 1.2%. The markets are expecting a similar reading in the upcoming release, with the estimate standing at 0.7%.
Core Retail Sales: Wednesday, 12:30. This is the key event of the week. Core Retail Sales excludes automobile sales, which makes it a more reliable gauge of consumer spending than Retail Sales. The indicator posted a gain of 1.0%, marking a six-month high. The markets are expecting a smaller gain of 0.6% in the March reading.
Retail Sales: Wednesday, 12:30. Retail Sales is considered the primary gauge of consumer spending. The indicator looked sharp in March, posting a gain of 1.3%, well above the estimate of 0.8%. This was the highest gain in close to a year. The April estimate is significantly weaker, with an estimate of 0.5%.
*All times are GMT.
USD/CAD Technical Analysis
USD/CAD  opened the week at 1.0975 and dropped to a low of 1.0942, breaking through support at 1.0945 (discussed last week). The pair then reversed directions,  rising to a high of 1.1034. USD/CAD  closed the week at 1.1019.
Live chart of USD/CAD: [do action="tradingviews" pair="USDCAD" interval="60″/]
Technical lines, from top to bottom:
We  start with resistance at 1.1617, which  marked a high point for the pair in July 2009, when  the Canadian dollar posted  a rally in which USD/CAD dipped below the 0.94 line.
1.1535 provided key support back in early 2007. It has been a resistance line since July 2009.
1.1369 fell in October 2008 as the US dollar posted  sharp gains, climbing as high as the 1.21 level.
1.1124  remains a strong  resistance line. It has held firm since late March.
The key psychological barrier of 1.10  was breached again last week,  and has switched to a support  role. It is a weak line and could see more action early this week.
1.0945  is the  next line of support for the pair. It was breached as the Canadian dollar showed some strength before retracting.
1.0853 is a strong support line. It has remained intact since January.
1.0723 was a cap in mid-2010, before the US dollar tumbled and dropped all the way into 0.93 territory.
1.0660 saw a lot of activity in the second half of December and continues to provide strong support.
1.0519 is the final support level for now. It has been a strong support line since late November.
I am  bullish on USD/CAD
The Canadian dollar has made some breakthroughs below the 1.10 line, but has not been able to consolidate these gains. US releases have looked solid for the most part, and the Fed will likely trim QE at the end of the month, which is US dollar -positive.
Further reading: