The Canadian dollar has traded in a choppy manner against the greenback, especially after the release of US GDP. Gross domestic product in Canada is the main event this week. Here's an  outlook  for the Canadian events and an updated technical analysis for the Canadian dollar.
Last week Retail sales gained 0.7% above the 0.6% increase expected while Core retail sales dropped unexpectedly by 0.1% when 0.3% gain was estimated. Will the US slowdown continue to effect the Canadian economy?
USD/CAD  daily chart with support and resistance lines on it. Click to enlarge: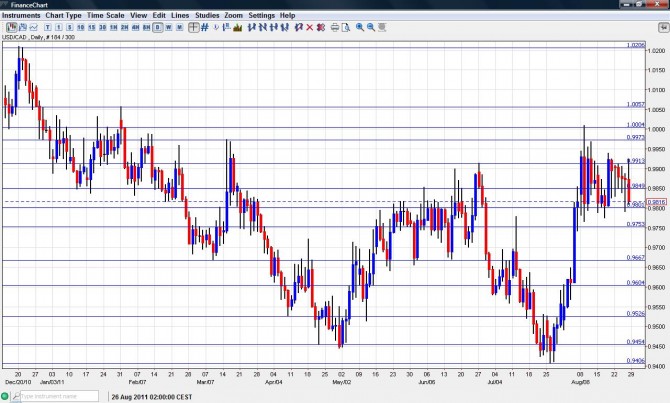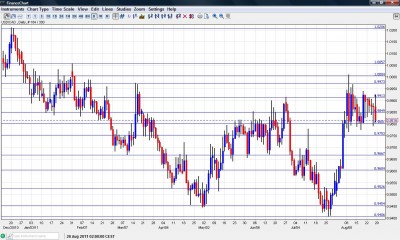 Let's Start:
Current account: Tuesday, 12:30. Canada's current account deficit shrank in the first quarter to C$8.9 billion amid sturdy exports to the United States following C$10.3 billion deficit in the previous quarter. Deficit is expected to widen to C13.5 billion.
RMPI: Tuesday, 12:30. The Raw Materials Price Index (RMPI) slid 2.2% as a result of lower prices for mineral fuels following a 5.3% plunge in May. Meanwhile Industrial Product Price Index (IPPI) dropped 0.3% in June due to lower prices for fuel and coal products. RMPI and IPPI are likely to continue dropping.
GDP: Wednesday, 12:30. The Canadian  economy shrank unexpectedly in May by 0.3% following extensive wildfires damaging mining, oil and gas extraction. This reading and growing uncertainty regarding the US economy have ominous effects on the second quarter GDP. GDP is not expected to grow this quarter remaining flat.
*All times are GMT.
USD/CAD  Technical  Analysis
Dollar/CAD failed to conquer the 0.9913 line (previously mentioned) early in the week, and traded in a choppy manner, gradually lower. It eventually closed lower, at 0.9816.
Technical lines, from top to bottom:
1.02 was the historic low of 2009, and is a significant line of resistance, currently far off. It is followed by 1.0140, which capped the pair towards the end of 2010.
The last line above parity is 1.0060. This was the highest level in 2011 and is getting closer.  The very round number of USD/CAD parity is the obvious line below, and it returns to strength after the recent test.
Under parity, we have two close lines – 0.9977, which was a trough in 2010, was also tested at the beginning of March and proved to be significant on the recent rise.  Below, 0.9915 was a peak back in June and is now minor resistance, after being run through now.
0.9850 was a swing high in May, and provided some support once again. The round number of 0.98 also served as a cushion, and its role is stronger now, after cushioning the recent fall.
0.9750 was a very distinctive line earlier, separating ranges in a great way. It provided a bouncing spot for further moves higher and proved to be strong. 0.9667 was a cushion in March and later worked as resistance. This line provided support a few weeks ago, and had an important role in holding back recovery attempts, over and over again. The break above it pushed the pair quickly.
0.96 was a minor support line that played a role earlier in the year. It is weaker now.  0.9520 becomes a minor line after being shattered. It worked as support and also as minor resistance during April. It managed to cap the recovery attempt for some time.
0.9450 was a double bottom just now and is very important – it's the new 2011 low. USD/CAD went as low as 0.9406 before the surge began.
Below this line, we have lines last seen in 2007 – 0.9250 is notable, as well as the historic low of 0.9056.
I am bullish on USD/CAD.
The Canadian economy is dependent on the US economy. With the even stronger slowdown in its southern neighbor, the Canadian dollar has room for falls against the greenback – USD/CAD has room for gains.
Further reading: