The Canadian dollar made a comeback and eventually won parity. Ivey PMI, housing and employment data and trade balance are the major events this week. Here is an outlook on the major market-movers and an updated technical analysis for USD/CAD.
Canada's economy expanded faster than expected in November, rising 0.3% following a minor climb of 0.1% in October, beating market predictions for a 0.2% growth rate. This reading will definitely improve the fourth quarter reading. Will Canadian economy continue to surprise in 2013?
Updates: There are no Canadian releases until Wednesday, when Ivey PMI will be published. The markets are expecting a slight improvement over the previous reading. USD/CAD was showing little change, as the pair traded at 0.9980. Ivey PMI looked very sharp, posting its best number since October. The index rose to 58.9 points, well above the forecast of 53.7 points. The markets are expecting a rebound from Building Permits, which will be released later on Thursday. The previous reading saw the construction indicator plummet by 17.29%. NHPI will be released at the same time. We could see some movement from USD/CAD on Friday, as Canada releases Trade Balance and key employment data. The pair is steady, and was trading at 0.9956.
USD/CAD daily chart with support and resistance lines on it. Click to enlarge: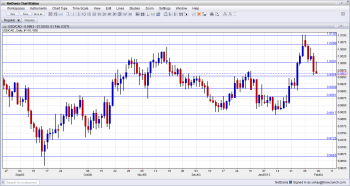 Ivey PMI:

Wednesday, 15:00. Canada's Ivey purchasing activity rose in December to 52.8 flipping to expansion after posting a reading of 47.5 in November. Although the reading was a bit higher than the 51.3 predicted, economists are still worried about the pace of Canada's economic growth especially in the employment section where the reading came below 50 for the first time in seven months. A further improvement to 54.1 is forecast.

Building Permits:

Thursday, 13:30.  The value of building permits in November plunged to the lowest point since January 2012, dropping 17.9% to C$6.2 billion due to a slowdown in the province of Ontario. Nevertheless, permits issued in the first 11 months of 2012 were 11% higher than in the same period of 2011 exceeding the pre-recession peak in 2007. A rise of 4.6% is expected now.

NHPI:

Thursday, 13:30. Prices of new homes increased 0.1% in November, continuing a rise of prices that began in mid-2009. The reading came below the 0.2% increase expected, following a 0.2% rise in the previous month. The Canadian government's effort to cool down the housing bubble has not yet proved effective. Another 0.2% rise is expected this time.

Housing Starts:

Friday, 13:15. Canadian housing starts declined modestly in December, reaching an annualized rate of 197,976,  following  201,376 starts  in November. The reading was broadly in line with predictions. A small drop to 196,000 is anticipated.

Employment data: Friday, 13:30. The Canadian unemployment rate declined in December to 7.1% from 7.2% in November, amid an unexpected rise in the number of jobs in December. Employment remained unchanged at 60.4%, with a few full-time positions gained, while losing some part-time jobs. Canadian job market added 39,800 new positions while economists expected a small rise of 5,000 jobs. December's gains were entirely from new full-time work. A gain of 4,200 jobs is expected no change in unemployment rate.
Trade Balance:

Friday, 13:30.  Canada's trade deficit expanded unexpectedly in November reaching C$1.96 billion ($2.00 billion), up from C$552 million in October, amid  a rise in imports and a decline in exports indicating slower growth in the fourth quarter. However economists forecast growth in 2013.  A smaller deficit of 1.5 billion is expected now.
* All times are GMT.
USD/CAD Technical Analysis
$/CAD started the week with another failed attempt to breach the 1.01 line (mentioned last week). It then began its descent, trying to battle 1.0066 at first and eventually settling above parity. After parity was broken, USD/CAD traded in a limited range above 0.9950. All in all, USD/CAD is becoming a much more technically friendly pair.
Technical lines, from top to bottom:
1.0250 was a peak before the pair moved below parity. 1.02 was the trough of 2009 and remains important since then, working in both directions.
Another round number, 1.01, was a trough back in July, and switched to resistance afterwards. 1.0066 was key support before parity. It's strength during July 2012 was clearly seen and it gave a fight before surrendering. It has a stronger role after capping the pair during November 2012.
The very round number of USD/CAD parity is a clear line of course, and the battle was very clear to see at the beginning of August 2012. 0.9950 provided some support for the pair during November and worked as resistance earlier. Its stubborn behavior as resistance in December proved its strength. This line is close once again.
0.9910 remains the chart after serving as a bottom border for the pair in November 2012. It already managed to work as weak resistance in December 2012. 0.9880 showed that it is a clear separator in October 2012. It also had a role in the past. This line switches roles once again.
0.9817 was a stubborn peak in September and is now significant support. As seen in December 2012, this line worked as a cushion. It worked very nicely in January 2013. Lower, 0.9725 worked as strong support back at the fall of 2011 and showed its strength once again in October 2012.
0.9667, which was another strong cushion in June 2011 is the next line. The round number of 0.96 provided some support back in 2011 and is minor now.
I am bearish on USD/CAD.
Despite the relatively dovish rate decision in Canada, the BOC is still more hawkish than the FED, as we could see just now. All in all, the Canadian economy is still doing well, and we could see a return to lower levels.
 Further reading:
Get the 5 most predictable currency pairs