After reaching multi year highs against the greenback, the Canadian dollar took some air. Where will it go from here? Gross domestic product is the highlight of this week. Here's an  outlook  for the Canadian events, and an updated technical analysis for the Canadian dollar
Last week brought good tidings for the Canadian economy with strong figures in the housing sector job market conditions topped by positive forecasts from the BOC. These positive readings caused the USD/CAD  pair to fall  at fresh multi-year low. Will this positive trend continue?
USD/CAD  daily chart with support and resistance lines on it. Click to enlarge: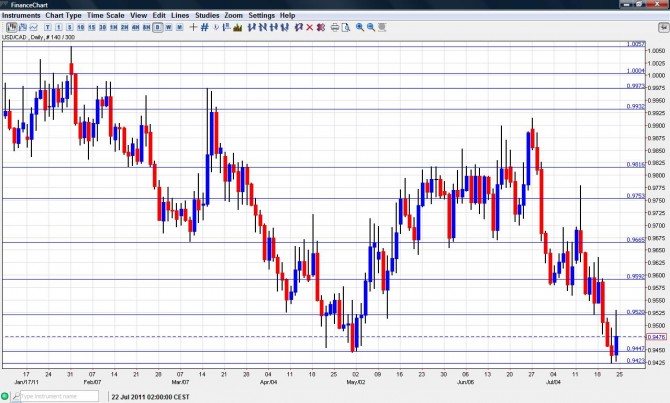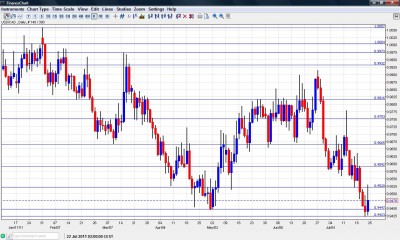 GDP: Friday, 12:30.Canada's gross domestic product was flat in April because of balanced increases and declines in various sectors. Gains were achieved in coal and metal mining, retail sales, the public sector, construction and utilities where important gains were noted. These positive readings were offset by decreases in manufacturing, wholesale trade, finance, real estate and the insurance industries. A rise of 0.1% is expected now.
RMPI / IPPI: Friday, 12:30. The cost raw material and finished goods declined more than expected in May. Industrial product price index (IPPI) fell 0.2% while Raw Materials Price Index plunged 5.2% following 6.7% gain in the previous month. Analysts expected RMPI to drop 2.5% while IPPI remain was forecasted to remain flat. These reading are contrary to the worries reflected from the recent CPI rise. RMPI is predicted to rise by 1.4% this time and IPPI by 0.4%.
*All times are GMT.
USD/CAD  Technical  Analysis
Dollar/CAD began the week with a move upwards, very temporarily breaching the 0.96 line (discussed  last week). It then changed its course. After a clear break under 0.9520 it managed to set new multi year lows and to bounce off 0.9420 before retracing some of the move.
Technical lines, from top to bottom:
Distant and minor resistance, above parity, appears above parity, at 1.0060. This was the highest level in 2011 and is still far out.  The very round number of USD/CAD parity is the obvious line below, although it isn't too strong.
Under parity, we have two close lines – 0.9977, which was a trough in 2010, was also tested at the beginning of March and proved to be significant.  The 2009 low of 0.9930 is just beneath, now weaker than earlier, and is now further in the distance.
0.9816 capped the pair over and over again, but after temporarily failing to hold a month ago. It is somewhat weaker.  0.9750 was a very distinctive line earlier, separating ranges in a great way.
0.9667 was a cushion in March and later worked as resistance. This line provided support a few weeks ago, and had an important role in holding back recovery attempts, over and over again 0.96 was a minor support line that played a role earlier in the year. After being broken, it worked very well as resistance. The same scenario repeated itself yet again.
A more important line is 0.9520 – it worked as support and also as minor resistance during April. It was challenged now. 0.9450 was a double bottom just now and is very important – it's the new 2011 low.
The break below 0.9450 sent the pair to a new low 0.9420, which is the next and close line. Below this line, we have lines last seen in 2007 – 0.9250 is notable, as well as the historic low of 0.9056.
I remain bearish on USD/CAD.
The  prices of oil  are ticking higher once again, and this helps the loonie. With  Canadian jobs are on the rise, and a stronger housing sector seen this week, there is room for more gains. A reversal in the positive atmosphere in Europe could weaken the Canadian dollar.
Further reading: