The monthly release of GDP on Friday is stands out in a light-calendered week. Here's an outlook for the Canadian events and an updated technical analysis for USD/CAD.
USD/CAD chart with support and resistance lines on it. Click to enlarge: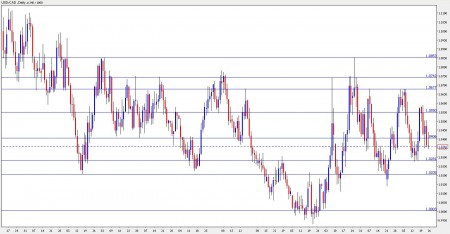 The initial reaction to the rate hike was weak, as the BOC also lowered the economic forecasts. But all in all, the loonie made gains, enjoying good fundamentals. Will the overall activity also be positive?
RMPI: Published on Thursday at 12:30 GMT. The Raw Materials Price Index is significant for Canada, with its export oriented economy. Last month's number was for the month of May, which saw prices plunge due the economic turmoil – 7.2%. A correction is expected now, with a 1.1% rise.
GDP: Published on Friday at 12:30 GMT. Canada is unique by publishing its GDP once per month. After a strong first quarter, the economy slightly slowed down, with an unchanged GDP last month, for the first time in 8 months. The economy is expected to return to growth now, but probably only 0.1%.
USD/CAD Technical Analysis
The loonie flirted with the 1.0550 line at the beginning of the week, following the rise on the previous Friday. But it then dropped and struggled with 1.04, before closing slightly lower, at 1.0360.
Most lines haven't changed since last week's outlook. If the break below 1.04 will hold, the pair will aim for the next target – 1.0280. This was a strong line of support during the previous week, and also way back in October.
Below, the 2009 low of 1.02 is the next line of support, and it's quite strong. It also worked as a resistance line after the pair went to parity. And parity is indeed the next support line. A break below 1.0000 which will probably not be seen this week, will send the pair towards 0.98, followed by 0.97.
Looking up above 1.04, the 1.0550 line remains an important hurdle for the pair. A convincing break above it will send the pair towards 1.0680, which capped the pair at the beginning of the month.
Higher, 1.0750 was the top border of a long term range, and also worked as a resistance line in May. It's followed by 1.0850, which stopped the pair in the autumn of 2009 and also in May.
I remain bearish on USD/CAD.
The second rate hike, and the strong Canadian job market, should continue sending the pair south.
Further reading:
Want to see what other traders are doing in real accounts? Check out Currensee. It's free..