The Swiss franc looked sharp against the dollar last week, as USD/CHF  dropped below the 0.96 line, closing at 0.9594. The upcoming week has three releases, including the KOF Economic Barometer. Here is an outlook for the Swiss events, and an updated technical analysis for USD/CHF.
The Swiss franc pushed higher  on rekindled speculation of QE, as well as  weak employment figures out the US.
Updates: UBS Consumption Indicator dropped to 1.55 points. This marked a  three-month low for the consumer indicator. Employment level had its best numbers in over a year, posting a reading of 4.07 million. The market estimate stood at 4.03M. The Swiss franc has edged upwards, as USD/CHF was trading at 0.9577. The KOF Economic Barometer continued its upward trend, as it climbed to 1.57 points. This beat the forecast of 1.51 points. USD/CHF is steady, as the pair was trading at 0.9563. The Swiss franc continues to be rangebound against the dollar, as the markets wait for Fed head Bernanke to address the Federal Reserve Symposium at Jackson Hole on Friday. USD/CHF was trading at 0.9574.
USD/CHF daily graph with support and resistance lines on it. Click to enlarge: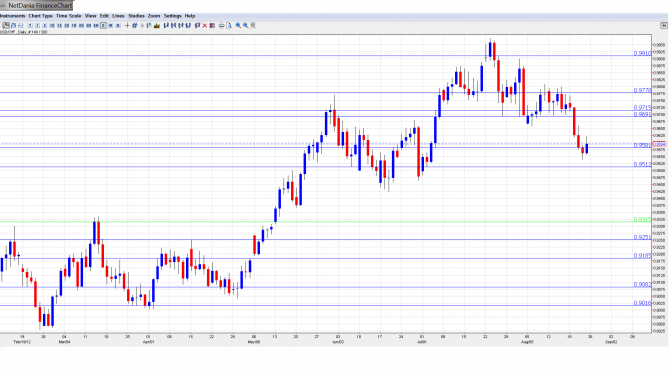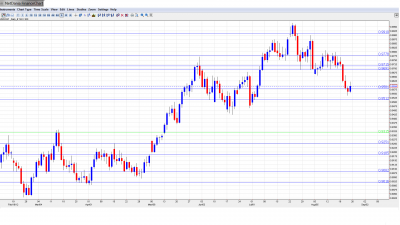 UBS Consumption Indicator: Tuesday, 6:00. This important composite index  posted its best performance in over a year, at 1.60 points.  The markets will be hoping that the August release can keep pace.

Employment Level: Tuesday, 7:15. Employment Level has been very steady, with the previous release at 4.04 million employed people in Q1. A similar reading is predicted for Q2.

KOF Economic Barometer: Wednesday, 7:00. This well-respected indicator has been on the upswing, and has beat the market forecasts for five straight months. The markets are expecting an even  stronger reading in August, with an estimate of 1.52 points.
*All times are GMT
USD/CHF Technical Analysis
USD/CHF opened the week at 0.9740, and touched a high of 0.9767. The pair then dropped to a low of 0.9538, and  retraced to close  the week at 0.9594, as the support line of 0.9584 (discussed last week) held firm.
Technical lines from top to bottom:
With the Swiss franc posting strong gains, we begin our analysis at lower levels this week. There is  resistance at 1.0136. Next is the resistance line at 1.0066, which was last tested in November 2010. This is followed by parity, which continues to provide strong resistance. Next, there is resistance at 0.9915.
Below is 0.9783, which held firm as the  pair briefly pushed upwards early in the week. There is followed by 0.9719, which was providing weak support last week.  This line has strengthened  in resistance as the  USD/CHF trades at lower levels.
The pair  is receiving weak support at 0.9584. This line had held firm in a support role since July, but was briefly breached as the swissie pushed upwards.  Next, there is support is at 0.9510. This line held firm this week, but look for it to be further tested if the pair continues its downward swing. This is followed by support at 0.9412, which was last tested in May.
Below, there is strong support at 0.9317, which has held firm since mid-May. This is followed by support at 0.9250. Further support can be found at 0.9182, which was last tested in early May. Next, there  is resistance at 0.9093. The final line for now is 0.9016 which has held firm since April.
I am  bearish on USD/CHF.
With weakness in the US economy persisting, Federal Reserve officials are now openly discussing the possibility of QE intervention. This has hurt the dollar, and the swissie could improve further if US  data  is not to the market's liking.
Further reading: